Using his background in biology, Jake Boy is a senior application scientist at Scientific Bioprocessing, Inc. The company designs biomass and metabolite sensors that help researchers and engineers gather quicker, more accurate data for emerging technologies including tissue engineering and organ-on-a-chip technology. In his role, Jake assists companies and institutions in installing and using the sensor products in various research applications.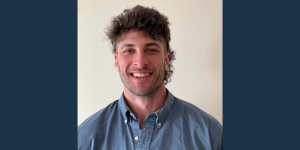 Scientific Bioprocessing, Inc. is located in Pittsburgh, which is nearby Jake's hometown of Slippery Rock, PA. As a scaling startup, the company has been seeking to grow its presence in major life science hubs around the world including North Carolina, New England, and Germany. The team at Scientific Bioprocessing wanted to integrate into the innovation ecosystem in Winston-Salem, NC, where the Wake Forest Institute for Regenerative Medicine (WFIRM), the Regenerative Medicine Development Organization (ReMDO), and other major institutions are known for world-renowned research, particularly in the field of regenerative medicine. Jake was intrigued by the opportunity to relocate to Winston-Salem, and decided to make the move in 2020.  
"Life sciences is taking off in Winston-Salem, and the medical breakthroughs being developed here, especially in regenerative medicine, are attracting researchers from around the world. It is exciting to be in a place that is growing and changing because there is so much opportunity to make a difference in the future of medicine." 
Although his job is complex, it also offers a lot of flexibility. Jake splits his time between working from home, working on-site at ReMDO's lab in Winston-Salem's Innovation Quarter, and traveling when possible to meet with clients. He says Winston-Salem is a perfect location for hybrid work, where moderate housing and rental markets offer plenty of extra space for a home office and convenient access to major airports makes work travel easy. 
When he's in the lab, ReMDO's headquarters in the Innovation Quarter allows for easy collaborations between the dozens of companies and educational institutions on-site, which fuels the development of new ideas on a broader scale. Jake says "There's a strong sense of community and support working in Winston-Salem. The city is committed to innovation and the people here want to hear your ideas and perspectives."  
Jake is embracing his new community and all it has to offer. When he's not focused on work, he has enjoyed visiting new restaurants, getting involved with local yoga studios, and taking short trips to the mountains or the coast. 
Related Links