As an attorney with Kilpatrick Townsend, Mike Grace focuses his law practice on helping entrepreneurs and startups with their business needs. He routinely advises entrepreneurs and investors with financial matters like venture capital and mergers and acquisitions.
In Winston-Salem's thriving entrepreneurial ecosystem there are plenty of startups and emerging companies that can benefit from Mike's expertise. Mike says he enjoys helping his clients through the startup lifecycle, guiding entrepreneurs as they form, grow, and scale their companies.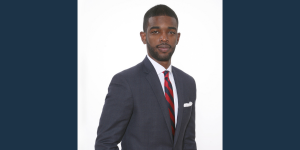 As a Winston-Salem native, Mike knew he wanted to return to North Carolina after graduating from Yale University. He earned his law degree from the Wake Forest University School of Law and following the Bar, he moved to Raleigh to clerk for Chief Justice Mark Martin of the North Carolina Supreme Court. He also served as legal counsel to the Chief Justice.
Working for North Carolina's Supreme Court was an incredible experience, but a desire to be closer to family and to give back to the community where he was raised brought Mike back home to Winston-Salem in 2019.
"There is a strong sense of community in Winston-Salem that sets it apart from other cities. People here are truly working for the same team helping to grow the city and create a positive environment."
Mike says as he grew up in Winston-Salem the community provided opportunities that helped him succeed and now he wants to do the same for others.
"I focus my community involvement on interacting with our city's youth through various activities such as coaching basketball and mentorship programs. It is my belief that Winston-Salem's greatest asset are the children that live here and the onus is on us to give every child the opportunities, knowledge and tools to succeed," says Mike.
Mike is the assistant varsity basketball coach at Walkertown High School. In addition to his work with youth, he gives back through other volunteer efforts. He serves on the boards of the National Black Theatre Festival, Winston Under 40, Forsyth Futures, and Wake Forest's Face to Face Speaker Forum.
Related Links