What if I told you that by working with other groups you can raise both of your organization's profiles while also increasing audiences and name recognition? And, on top of that – you can even save money and time — these are just a few of the benefits of collaboration or what I call "working well with others."
2019 marks my tenth year with Bookmarks, a literary nonprofit that was built on collaborations. It began with the Junior League of Winston-Salem believing in the idea of providing a new literary experience for our community and helping us to host our first book festival in Old Salem in 2004. Later, we partnered with Historic Bethabara Park, the Downtown Arts District, and now, the Arts Council of Winston-Salem and the Milton Rhodes Center for the Arts and the surrounding area on Spruce Street to host what is now the largest annual book festival in the Carolinas.
When we decided to build a home that combines an independent bookstore, a gathering space, and Bookmarks' offices at 634 West Fourth Street, further opportunities for collaborations have abounded since we opened our doors in July of 2017. Thanks to this expansion, in 2018, we partnered with 109 organizations and nonprofits, provided 20 book-related programs each month, and increased outreach to 55,000 people.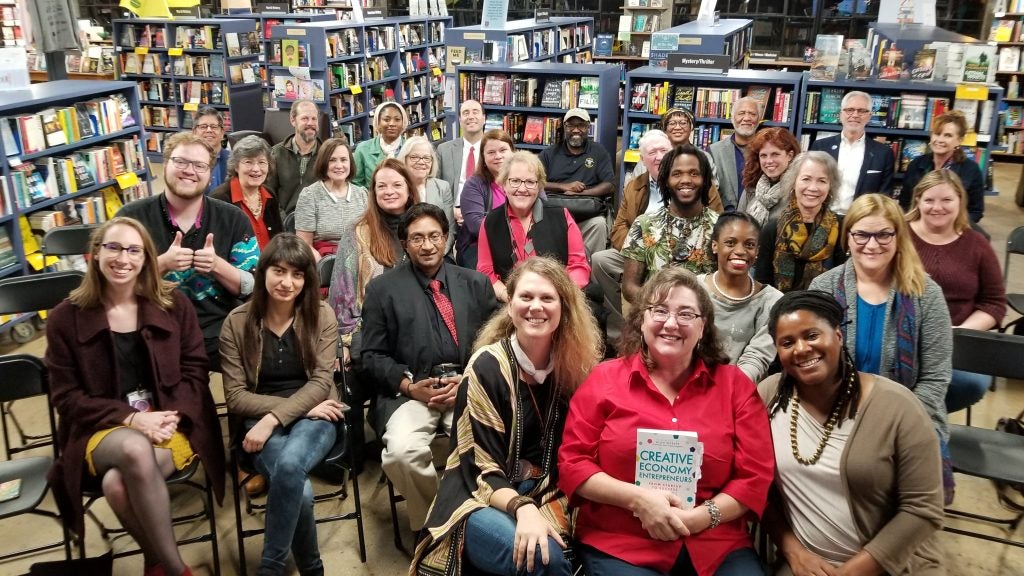 One of our most visible collaborations is with Foothills Brewing, owner of Footnote Café and Cocktails. The 10,000 square foot building we renovated was split between Bookmarks and Footnote which serves coffee, lunch, amazing sweets as well as beer and wine. This amenity – along with their event space for up to 300 – has proved an amazing addition – as anyone can get a drink from Footnote and bring it over to Bookmarks – and we can host larger name authors at Footnote. We have a blast working with their staff to create magical cocktails in honor of our authors' visits and people love having the option to grab a bite or a drink before events and meetings.
Bookmarks wants to be a resource for other local groups and help them avoid hefty speaker fees, so we work with groups like the Hispanic League to bring an author that has books in Spanish and English to our book festival to shine a light on the mission and amazing outreach of the Hispanic League. We also bring the author into schools and the Hispanic League often hosts the author in a private event for donors and Board members.  Together, the author is able to have multiple opportunities to interact with the public and special groups – increasing visibility for both organizations to those who may not have heard of them prior – all thanks to collaboration!
This past Festival, we collaborated with Reynolda House to bring award-winning author, Carole Boston Weatherford, who had written a children's book about the photographer Dorothea Lange. In collaboration with the Reynolda Staff, Carole was able to give a family friendly reading at Reynolda House on the opening night of our Festival. This event led up to the opening of the national exhibit of Lange's work that Reynolda hosted. Carole visited two schools on Friday, and a grant from the Arts Council of Winston-Salem and Wells Fargo made sure each school library had multiple copies of her Dorothea Lange book to check out. Carole did another event at our Saturday Festival featuring many of her award-winning books – where Reynolda House introduced her and had the opportunity to give out further information about their Lange exhibit. By working together we each brought in new constituents to our nonprofits resulting in increased recognition.
With each collaboration it takes imagination and hard work, a lot of e-mails and meetings, but when we find ways to help one another with our individual organization's goals, we are able to ultimately create something bigger and more impactful than we could have imagined.