As Forsyth Tech commemorates National Apprenticeship Week, November 8-14, Forsyth Tech recognizes all apprentices in the Learn and Earn Apprenticeship program (LEAP@Forsyth Tech). 
The new apprentices are: Stephen Hendrix, Titus Brannan, Justin Howes and Logan Adcock signed with Clarios, as Industrial Maintenance Technicians; Cance Cardwell signed with Herbalife as an Industrial Maintenance Technician; and Travis Flinchum signed with Siemens Energy as a Computer Numerical Control Machinist.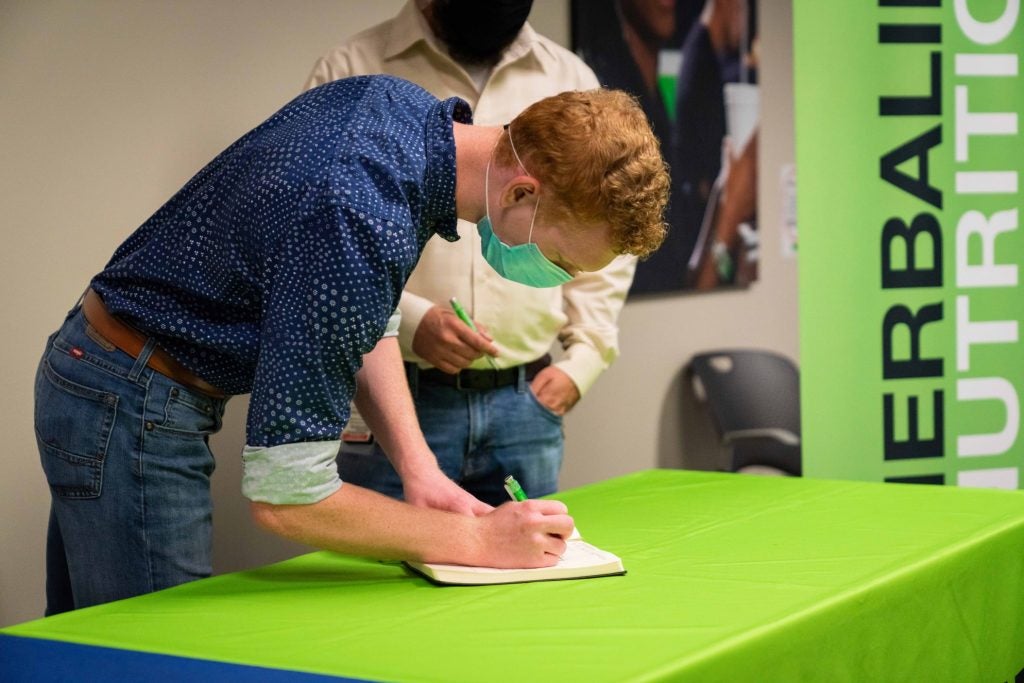 These companies joined the eight other companies already participating in LEAP@Forsyth Tech: Collins Aerospace, DM Squared, Polyvlies, Progress Rail, (a Caterpillar Company); TE Connectivity, Thermcraft and Triumph Actuation Systems, LLC, and Ziehl-Abegg.
"I have a passion for hands-on, creative work in industry," said apprentice Cardwell. "LEAP@Forsyth Tech will help me translate the knowledge I learn in class immediately on the job."
The LEAP@Forysth Tech program is a structured collaboration between Forsyth Tech as the apprenticeship sponsor and instructional provider, and local companies committed to employing the apprentices throughout their educational journey. LEAP@Forsyth Tech expands the skilled workforce for the region, creates a strong positive impact for our economy, and increases our region's ability to attract new and expanding industries to our community. During COVID-19, Forsyth Tech is still teaching these classes in a hybrid version with lectures online and labs in person using masks and social distancing.
"Our apprenticeship programs are also an important part of our comprehensive and diverse educational portfolio here at Forsyth Tech and it will help us achieve our vision of being a catalyst for equitable economic mobility, by empowering our students so they can be active participants in transforming our communities," said President of Forsyth Tech, Janet N. Spriggs.
As more and more skilled workers are reaching retirement age, businesses like Herbalife that needs highly-skilled workers to help them maintain, grow and expand their business operations and to fill gaps left when employees move up into other roles or reach retirement age.
"Today, manufacturers across the country are facing a gap between the technical skills their employees need and the skills they find in applicants. Apprenticeships provide the practical, along with the conceptual learning to create that highly skilled individual," said Dean of Engineering Technologies John Carstens. "We are illuminating the pathways to a good career with life sustaining wages and opportunity for advancement.
Another apprenticeship cohort will begin in January. If you are interested in LEAP@Forsyth or for more information about LEAP@Forsyth, contact Danielle Rose, Apprenticeship Coordinator, 336-734-7232.