Forsyth Technical Community College  has been awarded a $5 million grant from the Department of Labor to support community colleges in advancing career pathways in manufacturing to meet employers' demand for more skilled workers.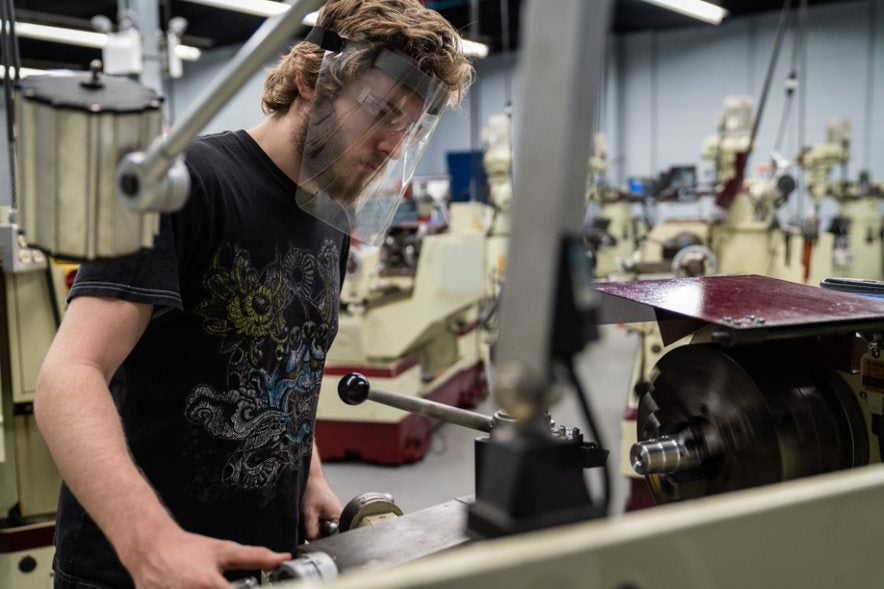 Forsyth Tech will lead a consortium of eight community colleges across the Piedmont Triad in a project called Aligning the Workforce Education System for Manufacturing. Forsyth Tech is the only community college in North Carolina, only one of 11 colleges nationally to receive an award and one of two colleges receiving the maximum amount under the Department of Labor's Strengthening Community Colleges program. 
"This is an extraordinary opportunity for Forsyth Tech and our partner community colleges to build a clearer education-workforce development system, ultimately making North Carolina more prosperous," said President of Forsyth Tech Janet Spriggs. "The ultimate outcome will ensure coordination between workers' skills and employers' expectations, resulting in an increased number of adults with well-paying jobs in advanced manufacturing."  
Joining with Forsyth Tech are Alamance Community College, Davidson-Davie Community College, Guilford Technical Community College, Montgomery Community College, Randolph Community College, Rockingham Community College and Surry Community College. Their foundational activity will be creating a Business & Industry Leadership Team (BILT) giving regional employers a co-leadership role for technical programs in machining and mechatronics.
Through the BILT, the consortium will define the skills and competencies that students need to meet the needs of manufacturing employers. The consortium will introduce competency-based digital "badges" that students can earn. The badges will identify for employers those applicants who have demonstrated the skills required for a particular manufacturing-related job.  
Forsyth Tech has already embarked on the creation of Business and Industry Leadership Teams within advanced manufacturing led by David Dinkins, department chair. The college will take a leadership role in expanding that work across the region, supporting the partner colleges and aligning workforce development across a 12-county region.
With an emphasis on machining, welding, and industrial maintenance, the teams will work together to revise or start training programs and related credentials that are both portable and more impactful for employees and employers. One goal is to give students credit for skills they already have to maximize their time and connect them with training that would fill the gaps.
The curriculum is designed so that students can work as they earn badges. Courses, including night and weekend options, will be available from any college in the region.
Related Links
Industry Sector: Advanced Manufacturing