The Upland Development Company, who is represented by The Meridian Realty Group, Inc., has closed on land for a new industrial spec building on the campus of Union Cross Business Park. The property will offer a new modern industrial option for companies looking to locate or expand in Forsyth County.
"We are excited to invest in Forsyth County, and particularly to offer an option that is needed in the market and one that is primed for job creation. The building is in an ideal location and will be suited to a variety of uses, especially in the growing industries of manufacturing and distribution," says Jesse Jarrell, a broker with Meridian Realty and a minority investor.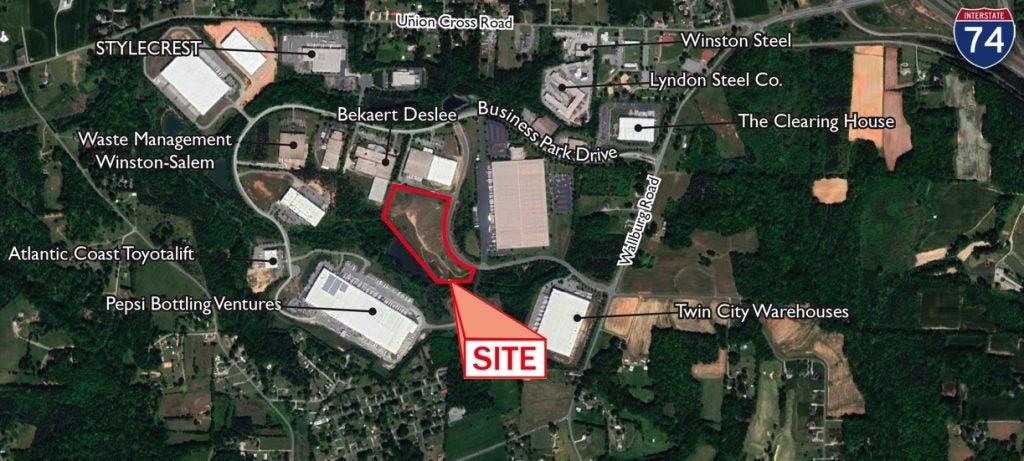 The spec building is currently entering the permitting process and is anticipated to be completed in late 2021. It will be designed for use by one or two tenants and will offer a total of 110,000 square feet.
The spec building will offer 32-foot clear spans, 50'x50' bay sizes, and the option to customize build-out for tenants that sign a lease in the design/build phase. Specialty equipment specifications, office space configuration, and other details can be customized according to a tenant's needs.
Located within Union Cross Business Park, the building will also feature amenities that tie into the upscale campus design such as a masonry exterior walls, upgraded landscaping, and parking with full curb and gutter. With newer and modernized industrial facilities in-demand in Forsyth County, the spec building is an asset to Winston-Salem's commercial real estate offerings. The new building will be included in Greater Winston-Salem, Inc.'s commercial real estate listings, which are also searchable through the Economic Development Partnership of North Carolina and the Carolina Core. 
"Our state and regional partnerships enable us to position development opportunities in Winston-Salem and Forsyth County to a broad audience of companies and site selectors. We are seeing an increase in interest from the manufacturing and distribution sectors, especially within food and beverage manufacturing and advanced manufacturing. We are seeing an increase in local distribution as well, making this site ideal for a new investment or a local expansion project," says Laura Lee, Senior Vice President of Economic Development for Greater Winston-Salem, Inc.
Other companies with operations in Union Cross Business Park include Pepsi Bottling Ventures, Bekaert Deslee, and The Clearing House. The site is convenient to I-40, Business-40, and I-74, from which air, intermodal, and port modes of transport are easily accessible.