Greater Winston-Salem, Inc. and Forsyth Technical Community College are partnering to host a conversation on post-pandemic workforce needs.
Tuesday, April 20 2021 | 9:00am-12:00pm | Virtual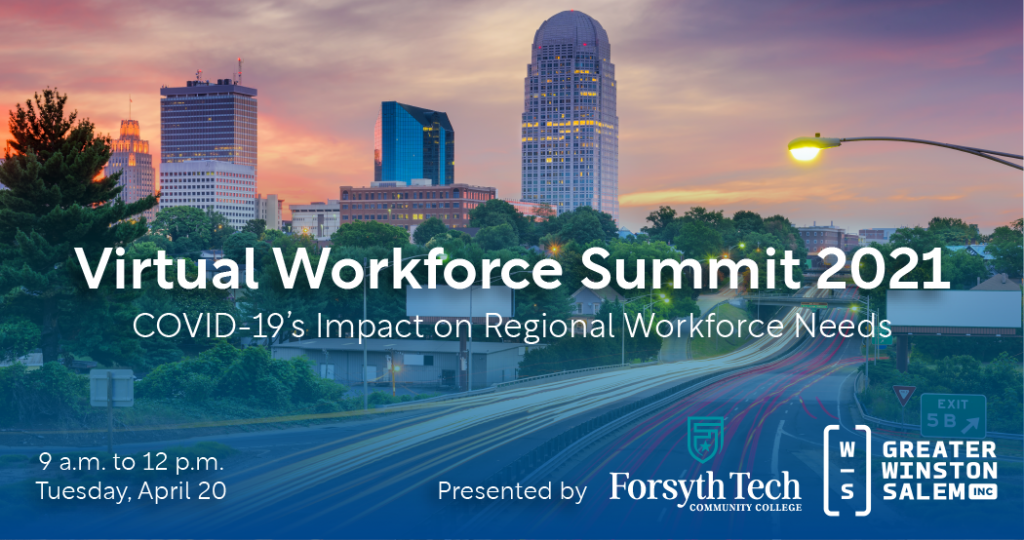 COVID-19 has had a significant impact on the workforce here in the Triad and around the world. How we work has changed, and the workforce skills that our businesses need to compete and thrive is ever-evolving. Because of this, the need for flexible, competent and skilled workers has never been greater.
The first-ever Workforce Summit sponsored by Forsyth Tech and Greater Winston-Salem, Inc. will examine these issues and bring to light new opportunities for Triad companies and educational institutions to move forward together in developing a talented workforce.
The event features a keynote address from Dr. Janet Spriggs, President of Forsyth Tech, and a panel discussion with industry leaders facilitated by Mark Owens, President and CEO of Greater Winston-Salem, Inc. Roundtable breakout sessions provide attendees the opportunity to share successes and challenges and get support for their workforce development strategies.
The Workforce Summit will highlight these key topics and more:
The state of employers right here in the Triad and their current needs
Tactics to increase in-demand competencies in the workforce
The impact of COVID-19 on shifting industry and workforce trends
Workplace safety and return-to-work best practices
Actions to align the workforce, particularly now in the ongoing pandemic, are critical to the community's economic health in the future. "While COVID-19 has dramatically changed our workforce's landscape in the Triad, one thing that remains constant is Forsyth Tech's critical role in training skilled and competent workers to bolster the recovery of our economy," says Dr. Janet Spriggs, President of Forsyth Tech.
Employers can and should take an active role in workforce training, says Mark Owens, President and CEO of Greater Winston-Salem, Inc. "Programs that combine classroom learning with real-world experience are an essential component of an effective workforce pipeline. In this Workforce Summit we will look at ways that business and industry can team up with our education institutions to enhance those learning opportunities. Programs like internships and apprenticeships benefit everyone involved, and they will be key in realigning our talent needs after COVID-19."
The Workforce Summit is an invitation to local business and HR leaders to take part in comprehensive local strategies to grow talent, put more people to work, and fill pipelines for in-demand career sectors.