The project to transform Business 40 in downtown Winston-Salem into what now is called Salem Parkway earned prestigious recognition during the "Academy Awards" of the engineering industry.
The project was one of just 16 out of 173 nominees nationwide to win a Grand Award in the national 2021 American Council of Engineering Companies Engineering Excellence Awards competition. 
"We couldn't be more thrilled to see this amazing collaboration between NCDOT, Winston-Salem, and our contractors and various partners receive such high praise," said NCDOT Division 9 Engineer Pat Ivey. "This modern freeway and its numerous aesthetic touches are something the City of Arts and Innovation can truly be proud of."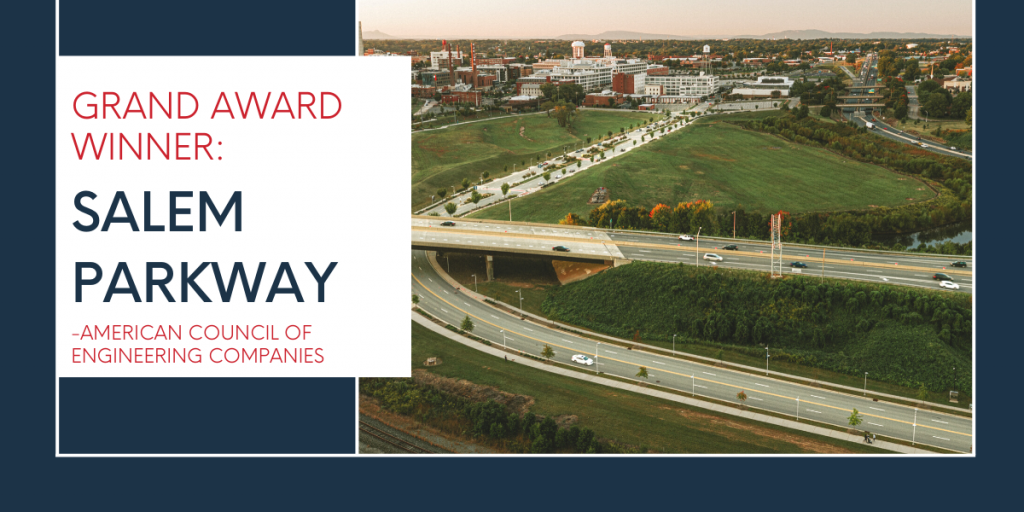 This section of highway first opened in 1958 and was designated the first section of Interstate 40 in North Carolina. Decades later, the N.C. Department of Transportation prioritized improvements along the 1.2-mile stretch of the route to redefine the gateway into downtown Winston-Salem.
The project features a series of safety upgrades, multimodal improvements, and aesthetic enhancements including the addition of a multi-use path, reduced interchanges, rehabilitated pavement, reconstructed shoulders and ramps, 10 bridge replacements, bike lanes, and two new, signature pedestrian bridges.
The community decided the proposed improvements should be constructed while the freeway was fully closed for a period of no more than two years, rather than under partial closures over the course of six years.
NCDOT, the city, and residents committed to improving the project's aesthetics during the environmental review process. The city and the Creative Corridors Coalition, a local independent citizen group, contributed $9.7 million toward a double-tied arch pedestrian bridge at Green Street, the Strollway land bridge, multi-use path design and partial construction, a transparent noise wall on the Peter's Creek Parkway bridge adjacent to the multi-use path, and brick veneer on the retaining walls along the project corridor.