Nature's Value expands to Whitaker Park, investing $18 million and creating 250 jobs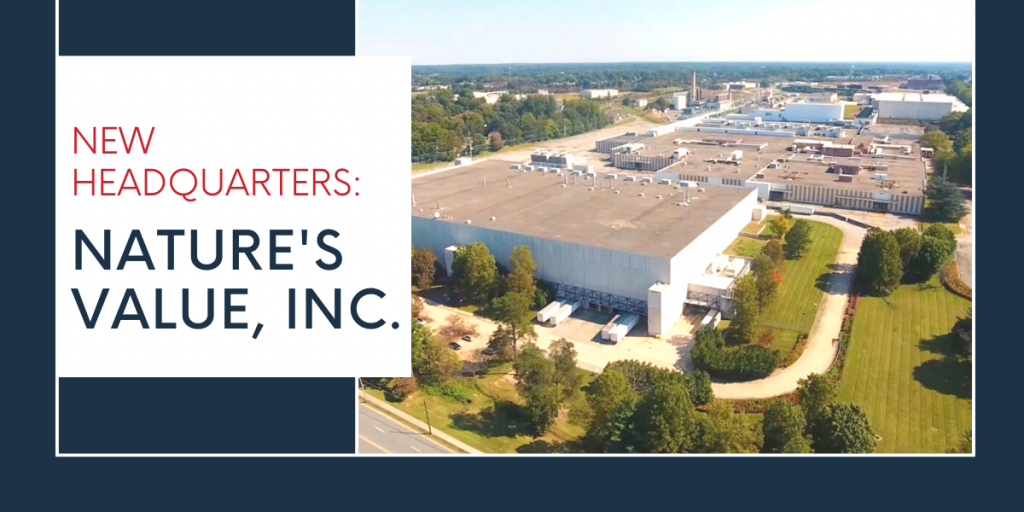 Winston-Salem welcomes a new corporate headquarters with the announcement that Nature's Value, a manufacturer of vitamins and dietary supplements, will be expanding some of its operating headquarters here from Coram, New York. The company is in contract to purchase a 426,000 square foot building in the Whitaker Park development. It plans to invest a minimum of $18 million in property, renovations, machinery, and equipment. The expansion is expected to create at least 250 new jobs by the end of 2023, however, as a result of the pandemic there is a severe shortage of construction materials, supplies, and equipment which could lengthen the time this project takes.
Nature's Value currently operates facilities in Coram, NY and in Davidson County. It will consolidate its headquarters, manufacturing, and distributing operations into the new facility in Winston-Salem.
"Our company already feels at home in the Triad having existing operations here. It was easy to narrow our focus for a new headquarters to the Carolina Core and Forsyth County specifically due to the significant workforce and location advantages here," says Oscar Ramjeet, CEO of Nature's Value. "We distribute our products to 21 countries, and our capabilities to reach clients around the globe is unmatched from here in Winston-Salem."
"The company's choice to bring their headquarters here exemplifies Forsyth County's excellence as a place to establish and grow a business," says Mark Owens, President and CEO of Greater Winston-Salem, Inc. "We are seeing particular strength and growing interest in both the life sciences and manufacturing sectors, making Nature's Value a perfect fit for moving here and benefiting from the advantages Forsyth County has in these industries. We are expecting the pace to continue to grow in both of these sectors."
The addition of Nature's Value brings another life sciences related headquarters into Forsyth County's growing healthcare, bio-tech, and research sector. Healthcare and life sciences encompass the largest industry sector in the county with nearly 40,000 total employment. By helping to facilitate projects like the expansion of Nature's Value, the community is committed to continued industry growth.
With the company's decision to make the expansion into Whitaker Park, one of Forsyth County's most significant economic redevelopment projects comes full circle. The former RJ Reynolds manufacturing campus is now over 90% leased or sold with over $100 million in additional development planned or in-progress on-site.
"We are excited that Nature's Value has selected Whitaker Park for the location of their headquarters," says Bob Leak, President and CEO of the Whitaker Park Development Authority (WPDA, Inc.). "Our vision for re-energizing the campus is coming to life. We've got an exciting group of companies spanning research and development, advanced manufacturing, distribution, and more. Retail and residential projects underway will further complete the transformation."
"The strategic investments Forsyth County is making in our local workforce, critical infrastructure, and industrial sites continue to pay off. This is the exact type of project the County envisioned when supporting the redevelopment of Whitaker Park. We are excited to welcome Nature's Value to our existing ecosystem of advanced manufacturing and life sciences companies and look forward to supporting their expansion and growth," says Kyle Haney, Community and Economic Development Director for Forsyth County.
The new jobs generated by the expansion will have an average salary of $46,377 and span a wide range of fields, from manufacturing positions to office administration.
"We're very excited that Nature's Value will be consolidating its operations in Winston-Salem and bringing 250 or more jobs to the city," said Winston-Salem Mayor Allen Joines. "This further validates our vision of breathing new life into Whitaker Park and making it again a center for manufacturing and employment in our community. Additionally, the company is a great fit with our overall strategic initiative of building a portion of our economy around bio-tech and medical technology industries."
Winston-Salem Mayor Pro Tempore DD Adams says "I am pleased to welcome Nature's Value and the jobs it is bringing to the North Ward. We have a lot of great people in our ward and in our city who are anxious to take advantage of the job opportunities the company is bringing, and I look forward to working with Nature's Value as it develops a diverse and inclusive workforce that represents the best that Winston-Salem has to offer."
Nature's Value worked with Greater Winston-Salem, Inc., the City of Winston-Salem, Forsyth County, Whitaker Park Development Authority (WPDA), the Economic Development Partnership of NC (EDPNC), and the North Carolina Department of Commerce to facilitate the project. The company was awarded a Job Development Investment Grant (JDIG) by the North Carolina Department of Commerce. WPDA, Inc. was also supported by a grant from the Golden Leaf Foundation.