Medical device manufacturer to add 60 jobs and invest $1.9 million
Cathtek, a medical device development and manufacturing company, will create 60 new jobs and invest more than $1.9 million in Forsyth County. The project will expand their existing 15,000-square-foot facility and a newly acquired 5,300-square-foot building. On June 16, the company was awarded a $300,000 Building Reuse grant from the North Carolina Rural Infrastructure Authority (RIA).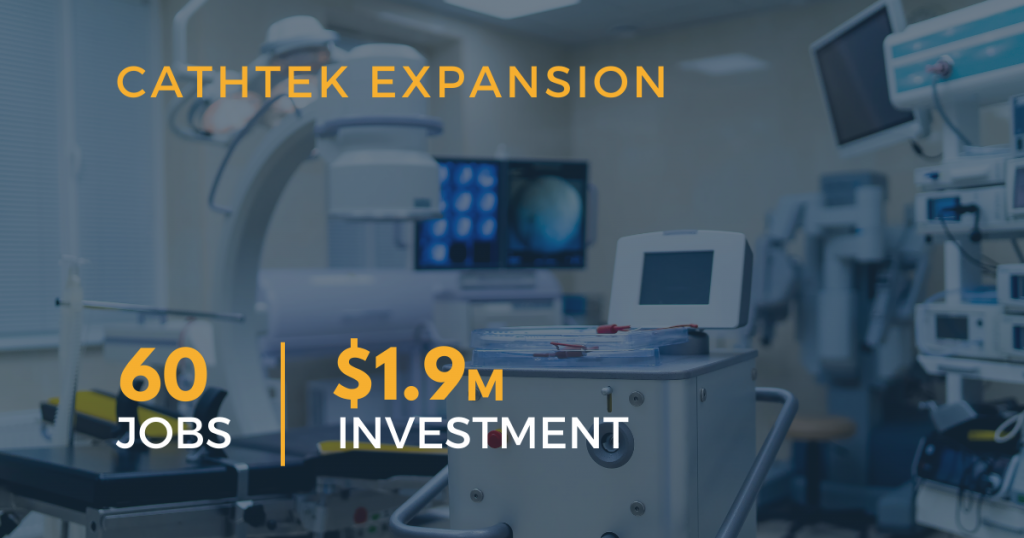 Cathtek was formed in 2000 and provides medical devices to the healthcare industry. The company manufactures disposable instruments for surgery and gastrointestinal, coronary and hemodialysis products.
---
"We are excited to expand our operations in Winston-Salem which allows us to serve a growing number of clients nationwide. We work with clients along every step of the way, from prototyping and development to full supply chain management. Being located in Winston-Salem is ideal because we have access to the right talent and we can easily handle logistics and distribution."
Todd Cassidy, CEO of Cathtek
---
The project aligns with strategic target industry sectors for Winston-Salem and Forsyth County, identified by collaborative efforts among City and County officials, industry partners, and Greater Winston-Salem, Inc. Life Sciences/Biotech and Advanced Manufacturing are both target industries for growth of existing companies and new investments.
"The life science industry continues to grow in Winston-Salem and Forsyth County, both with expansions of existing companies and new interest. The industry is so much broader than just direct patient care providers such as hospitals. It includes many vendors and companies involved in research and development, manufacturing, and more – and all those companies can collaborate here as the industry grows," says Laura Johnson Lee, Senior Vice President of Economic Development for Greater Winston-Salem, Inc.
This project was made possible by the coordination and support of the Forsyth County Board of Commissioners, the Economic Development Partnership of North Carolina (EDPNC), and the North Carolina Department of Commerce.
"Forsyth County is proud to support Cathtek's expansion. We are eager to work with them to facilitate the growth of their workforce. This project will provide good jobs in a variety of fields that align with the kinds of talent we are generating in our workforce pipeline," says County Commissioner Chair David Plyler.
"We appreciate Cathtek's continued investment into our community," says Mayor Allen Joines. "Successful projects in our life sciences, healthcare, and advanced manufacturing sectors indicate the growth of our next-generation economy, which benefits Winston-Salem and the greater region."
Related Links