Forsyth Tech, along with representatives from Atrium Health Wake Forest Baptist and Novant Health, announced that apprenticeships for magnetic resonance imaging (MRI) at the two healthcare providers will be available.
The apprenticeships are part of Forsyth Tech's award-winning Learn and Earn Apprenticeship Program (LEAP), and is the only registered MRI apprenticeship in the state of NC. LEAP allows students to receive full-time pay while earning their degree, with many other benefits: they are paired with a mentor at their employer, receive state and national Journeyworker credentials at program completion, and receive pay increases throughout the program as they gain new skills.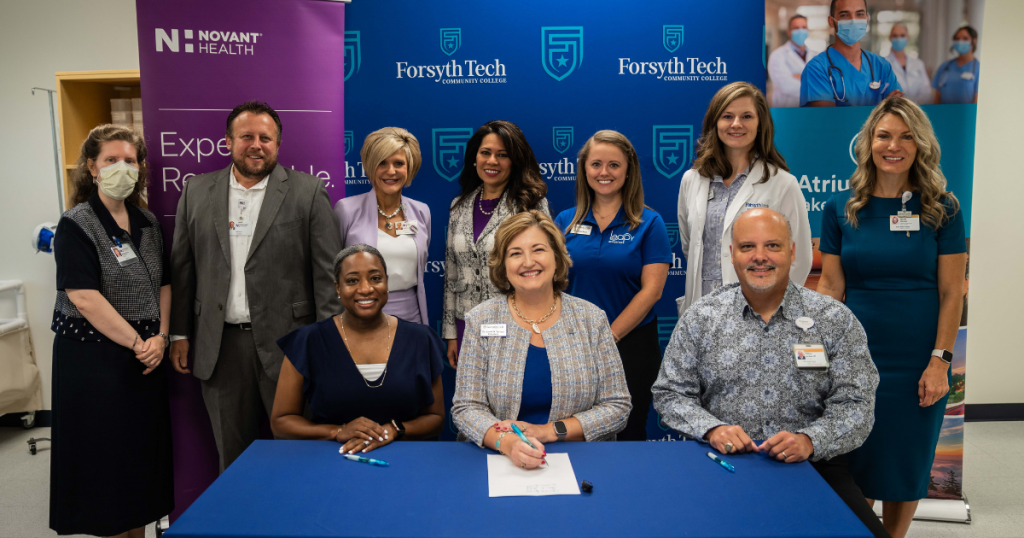 "We know this added layer of training and hands-on learning is essential for healthcare workers, and it is critical to prepare them for the life-saving work they will go on to do every day in their careers," said Dr. Janet Spriggs, President of Forsyth Tech. "We are proud to be a part of our students' journey, and to work with our employer partners, which now include Novant and Atrium."
"We are grateful for our longstanding partnerships with Novant and Atrium," said Danielle Rose, Director of Experiential Learning at Forsyth Tech. "Our students have benefitted for many years from being able to hold their clinical labs with these two healthcare providers. Thanks to the dedication of our partners, and the help of ApprenticeshipNC, we are now able to offer even more educational and career paths with hands-on learning for our students."
LEAP at Forsyth Tech now has 30 employer partners, and Forsyth Tech offers more health care program pathways than any other community college in the state.  
Related Links