The Minority Business Enterprise (MBE) Grant fund will soon be open for applications. The MBE Fund provides Black and Latinx-owned small businesses with up to $25,000 and is focused on improving business success, job retention, and job creation. 
Businesses must be located in Forsyth County and in operation as of January 1st, 2022 to qualify. Businesses with 1-25 full-time employees and under $1 million in gross annual sales are eligible.
Applications are accepted from August 26 to September 26, 2022.
Two virtual information sessions are planned for businesses interested in learning more about the grant and how to apply: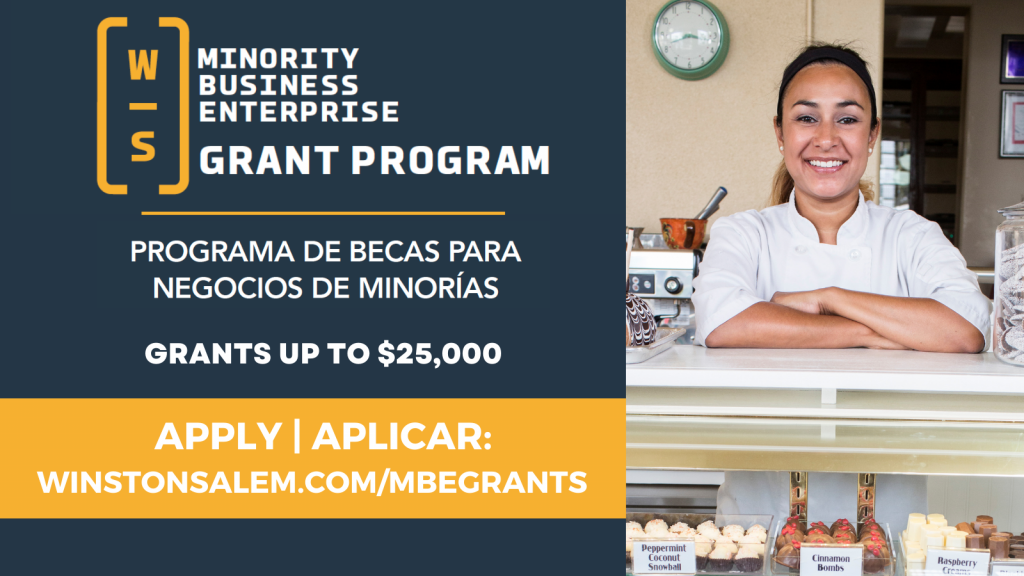 The MBE Fund launched in 2020 and has provided $449,000 to 29 local businesses to-date, creating or retaining 40 jobs.
Consuelo Flores owns Creando Familias Felices, an organization that provides mental health and counseling services. She says that receiving a grant last year has allowed her to retain a therapist and counselor on her staff and expand services to more clients. "It is very important that we are able to continue to provide mental health services to the minority groups we serve. With the MBE Grant, I was able to retain staff and upgrade equipment so that we could accommodate clients whom because of transportation or a busy schedule, would prefer to get services online."
The MBE Grant program is managed by the Entrepreneurial Advisory Committee, consisting of Black and Latinx business leaders in Forsyth County. This committee reviews applications, provides technical assistance, and determines grant recipients.
Committee co-chair Lorena Muñoz-Holladay says "the MBE Grant program was funded by local donations which gives our community an advantage to support minority small business growth. We were able to plan out a long-term strategy that goes beyond the initial response to the COVID-19 pandemic. Over the course of two years, we have proven that the strategy is successful in supporting business success and retaining jobs."
Greater Winston-Salem, Inc. works in partnership with the Entrepreneurial Advisory Committee to facilitate the grant program. Mark Owens, President and CEO, says "moving forward our vision for Winston-Salem is to be a top mid-sized city and to be a more equitable community. The MBE Grant allows us to support an equitable recovery from the pandemic over the long term, providing more stability for small businesses."
Current donors include Allegacy Federal Credit Union, Atrium Health Wake Forest Baptist, Mr. and Mrs. Bruce Babcock, The Budd Group, Alan and Lisa Caldwell, Cook Medical, Jean C. Davis, Brenda Diggs, Duke Energy, Flow Automotive, Flow Lexus, Front Street Capital, Paul Fulton, Drew and Kelley Hancock, Javara, Bill McClain, Modern Automotive, L. David Mounts, David Neill, Novant Health, the Prim Family Foundation, Reynolds American, Ben C. Sutton, Jr., the Truist Charitable Fund, Claire and Randall Tuttle, Wake Forest University, Wells Fargo (Business) and the Wells Fargo Foundation, John Whitaker, and the Whitaker Park Development Authority.
Application forms and instructions are available in English and Spanish.