The leaders of all six higher education institutions spoke together publicly for the first time at the State of Education on September 13th. In a panel discussion, they talked about the integral role of education in developing talent and building the workforce. Winston-Salem Forsyth County Schools Superintendent Tricia McManus provided opening remarks.
State of Education Panel: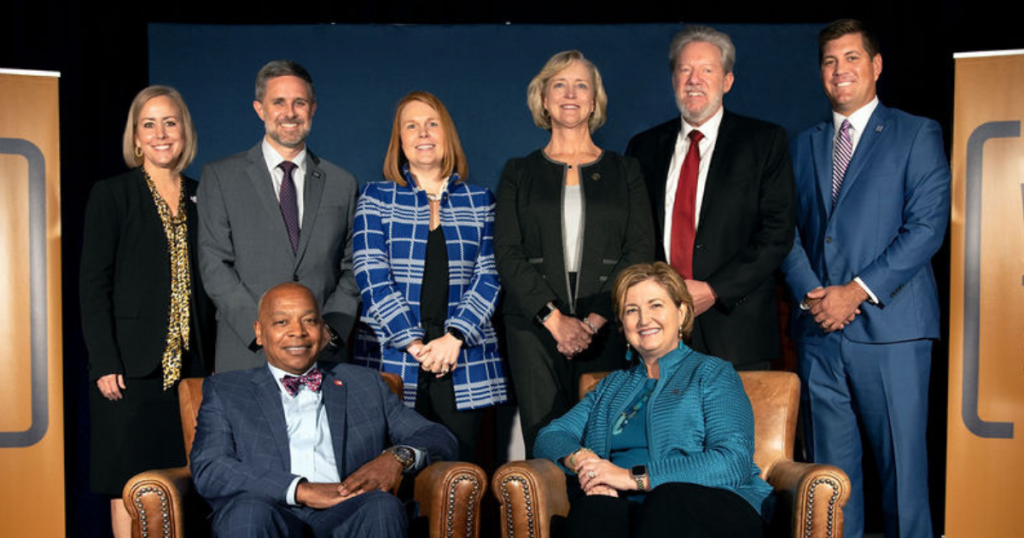 In Forsyth County, our student population includes 26,000 college students and 53,000 K-12 students. As a community, business and education can work together to provide opportunities that allow each and every one of them to achieve their greatest potential.
This objective is essential to our 2030 Vision: to be the top mid-sized city in the southeast, to be a more equitable community, and to be the best place to raise a family.
To be the top mid-sized city in the southeast, we must recruit companies and help local ones expand. The first and most important factor in those conversations is the workforce.
To be a more equitable community, we must offer educational opportunities to increase economic equity and mobility for all Forsyth county residents.
To be the best place to raise a family, we must be the best place to send your child to school, and we must offer family-friendly amenities in order to attract and retain the best talent.
There are many ways that each of us can become involved in achieving these goals:
We can help students achieve their potential by providing internships, apprenticeships, and learning experiences with local employers.
We can connect college students and recent graduates with career opportunities here in Winston-Salem.
We can encourage students' new ideas and out-of-the-box thinking through an entrepreneurial ecosystem that fosters their success.
For more information about our education ecosystem and ways that you can get involved, visit these related links:
Thank you to our State of Education Supporting Sponsor: Bank of America, and Gold Sponsors: Allegacy Federal Credit Union, the Forsyth County Public Library, Truliant Federal Credit Union, the Twin City Development Foundation, Wake Forest University, and Womble Bond Dickinson.