Nelipak Corporation (d/b/a Nelipak Healthcare Packaging), a leading global healthcare packaging manufacturer, has chosen to establish a new flexible packaging production site in Forsyth County, North Carolina. The site was selected to be Nelipak's first flexible packaging site in the Americas region after a comprehensive nationwide search.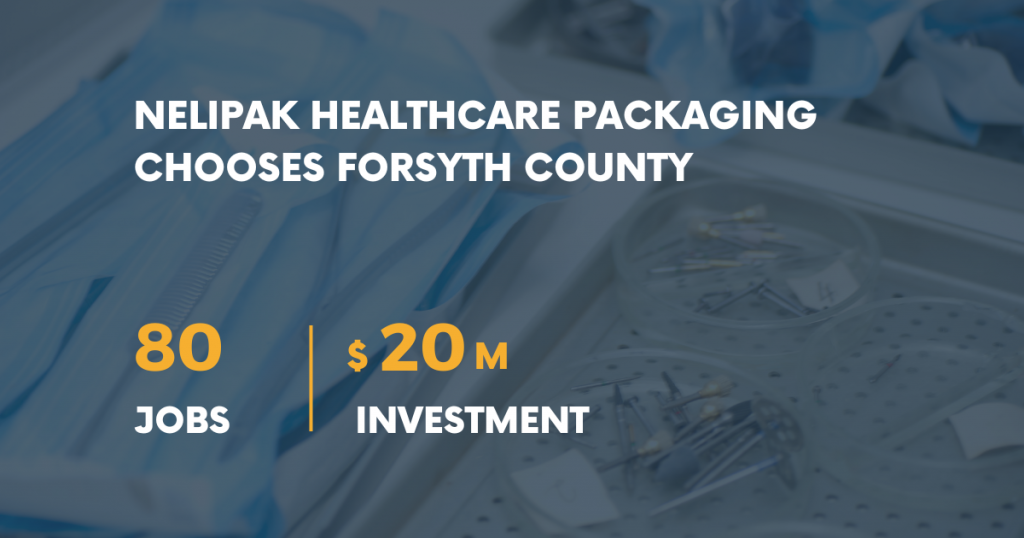 "We are excited to locate this new facility in North Carolina," said Pat Chambliss, CEO of Nelipak. "Important factors in our decision to locate our first North American flexible packaging operation in Forsyth County and Winston-Salem include an attractive geographic area with an available new building, a skilled local workforce, a regional emphasis on training and education, and an overall favorable business climate for healthcare-related manufacturing. We appreciate the enthusiasm and support for this project in the local community and look forward to a long-term partnership."
Nelipak will operate a 110,000 square-foot Class-A industrial spec building in Forsyth County. The new location, which includes class-7 clean room space, will become one of its flagship locations enabling Nelipak to replicate the industry-leading flexible packaging production capabilities it currently operates in Europe.
Over the next five years, Nelipak expects the project to include approximately $20 million of capital investment and create approximately 80 new jobs. Positions at the new site will include site management, machine operators, quality technicians, material handling and warehouse personnel. Although wages will vary depending on position, new jobs created over the next five years are expected to have an average wage of $52,000 per year.
Nelipak's operations align with Winston-Salem's largest industry sectors for economic growth and job creation. "Healthcare and advanced manufacturing are two of our target industry sectors in Forsyth County, and our largest employment sectors," says Mark Owens, President and CEO of Greater Winston-Salem, Inc. "Our proven success in these industries helped solidify Nelipak's choice to locate here – where it can access a world-class talent pool and integrate into the local medical and manufacturing ecosystems. These collaborative ecosystems work alongside our educational institutions to develop a pipeline of career-ready talent."
In connection with this new location, Nelipak will work with Forsyth Tech to implement a customized training program as part of the new location. The NC Community College System offers customized training to provide education, training and support services for new, expanding and existing businesses in North Carolina. The NC Community Colleges network will provide a $69,000 grant for this training as part of the expansion.
The City of Winston-Salem has granted $295,907 and Forsyth County has granted $196,208 in incentive assistance to support Nelipak's expansion. These investments represent 50% of the net new property taxes expected to be generated by the project over its first seven years.
"Our rich legacy in manufacturing continues to evolve and meet the highest, world-class standards," says Winston-Salem Mayor Allen Joines. "I am pleased to welcome Nelipak into our employer base. Their products, which are integral to medical systems worldwide, will now be made right here in Winston-Salem which increases our presence in this growing field."
"We have a new spec property that has quickly found a perfect match with Nelipak coming in as a tenant. This area is in-demand as an ideal place for industrial commerce, and with that it creates jobs that benefit our City and County," says James Taylor, City Council Member for the Southeast Ward.
"Forsyth County is eager to partner with Nelipak as they enter our community," says Kyle Haney, Director of Community and Economic Development for Forsyth County. "We recognize and appreciate the competitiveness of this opportunity, and are pleased with the company's insight on our workforce strength and business-friendly community as they locate here."
The project is also supported by a $72,000 grant from the OneNC Fund through the North Carolina Department of Commerce. 
Related Links