North Carolina is being recognized for economic development and growth, being named the 2022 State of the Year by Business Facilities, a publication specializing in the site selection marketplace. This is the second time North Carolina has received the top honor, having also been named State of the Year in 2020.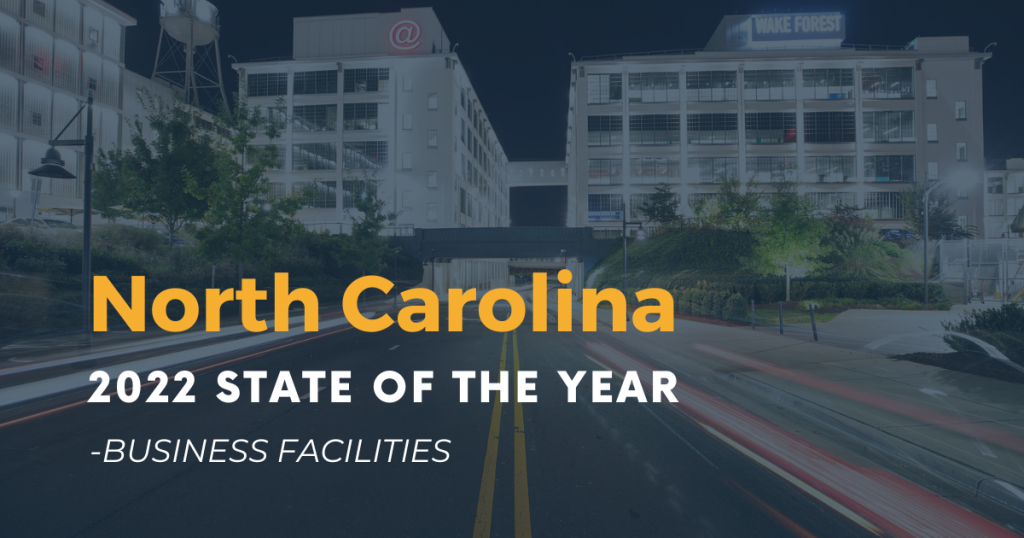 "A succinct regional economic development strategy in recent years has propelled North Carolina, and 2022 was another banner year for the state in capital investment and jobs creation," said Business Facilities Editorial Director, Anne Cosgrove. "Paired with world-class education and R&D resources, the support of incentives and programs from organizations at all levels for a variety of industries, including high-growth sectors such as electric vehicles, made the state our choice for top recognition this year."
In Business Facilities' 2022 Annual State Rankings Report, North Carolina topped the list for Best Business Climate. The state also ranked in the Top 5 for Tech Talent Pipeline and Foreign Direct Investment/Capital Investment.
Across North Carolina, new investment from economic development projects in 2022 totaled $19.3 billion, representing a significant increase from $10.1 billion of new investment in 2021. Job creation has accompanied these investments. In December, Governor Roy Cooper's office announced 28,300 new jobs in 2022 — setting a new record for the state.
Significant expansions and locations in Forsyth County have contributed to the state's totals. In 2022, economic development announcements have signified over 1,000 new jobs, $118 million in investment, and added $57 million in annual payroll.
Related Links