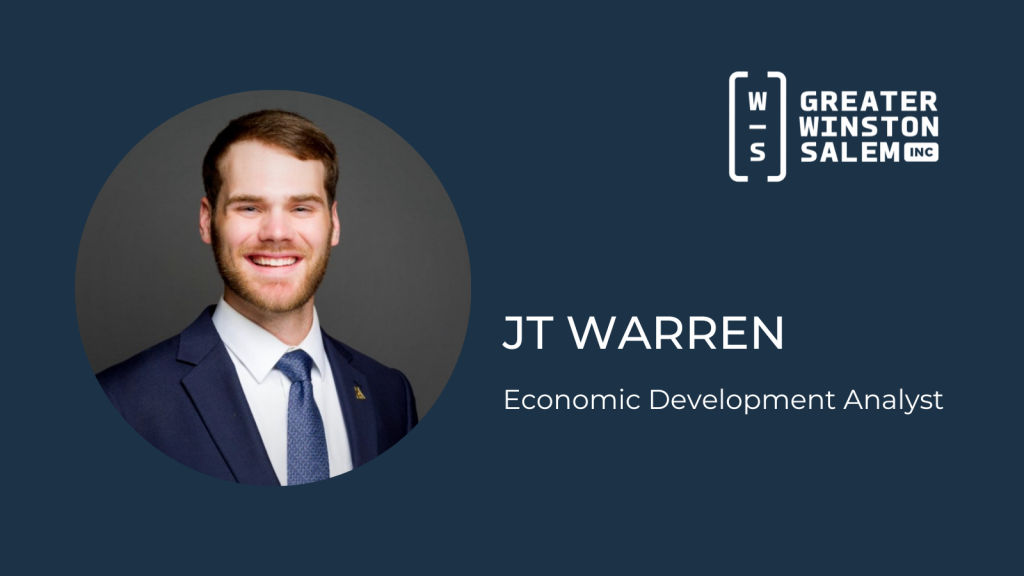 Greater Winston-Salem, Inc. is pleased to welcome JT Warren in the role of Economic Development Analyst, a new position on our team. In this role, JT will implement strategies for business and industry growth with a primary focus on lead generation and economic research functions. This integral role serves to develop insights and data on industries, the workforce, real estate, and other factors that inform local and external stakeholders about the benefits of locating and doing business in Winston-Salem and Forsyth County. 
"JT is a valuable member of our team with the skills to translate data into engaging and compelling information about our community," says Laura Lee, Senior Vice President of Economic Development. "The ability to tell our story and quantify our value proposition in relation to other communities is essential to our goals for economic growth and our 2030 Vision."
JT will monitor and measure project activity within a pipeline of 70+ active economic development projects representing a total potential gain of 23,000 new jobs and $15 billion in investment. He also oversees research tools that Greater Winston-Salem, Inc. offers for economic and community analysis: a Headlight Data Hub, and Community Insights dashboard. 
"Expanding our capabilities to monitor and translate data enhances our ability to grow our target industry sectors, serve existing large and small businesses, and recruit and retain startups," says Mark Owens, President and CEO. "We strive to be the central point in the community where stakeholders can access information and monitor our progress, so that we are all on the same page when we are telling Winston-Salem's story. I am excited to welcome JT to our team to lead these important efforts."
JT says that as a Winston-Salem native, he is proud to contribute to the growth and development of his hometown. "Having witnessed the recent growth in Winston-Salem, I appreciate the city's vibrant feel and innovative atmosphere. People are willing to collaborate to generate that positive energy and growth mindset, and I believe I can contribute to that in this new role."
JT holds Bachelor of Science in Business Administration degrees in Marketing and Supply Chain Management from Appalachian State University. He is currently the Vice President of ASU's Forsyth County Alumni Chapter and serves on the board of Winston-Salem Lacrosse. 
Related Links