Tex-Tech Industries, a manufacturer with an existing company headquarters and facilities in Kernersville, is announcing plans to build an additional manufacturing site in Winston-Salem. Tex-Tech will construct a 170,000 sf build-to-suit facility on Old Lexington Road in an expansion that will generate $41.7 million in investment and create 59 new jobs over 5 years.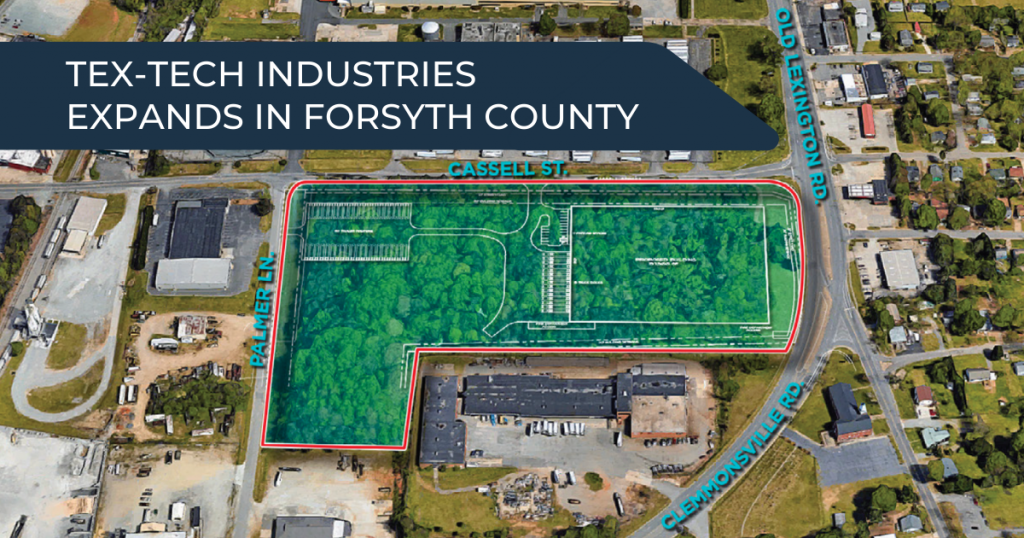 Tex-Tech is a global supplier of high-performance textiles and textile coatings primarily for the aerospace, automotive, and medical industries. The company has extensive research and materials science capabilities to both develop and manufacture specialty fabrics and coatings. It employs about 265 employees across locations in North Carolina, South Carolina, Utah, Maine, and Europe. The acquisition of an existing company on the west coast created an opportunity for growth, prompting Tex-Tech to consider an expansion either in Winston-Salem or Monmouth, Maine.
"Expanding in Forsyth County was the best decision for our company," says Kelly Moore, Chief Financial Officer of Tex-Tech Industries. "Being centrally located on the east coast and having access to a growing advanced manufacturing talent pool were some of the differentiating factors for our decision to grow here."
"Our ability to deliver on talent is crucial to our efforts in economic development," says Mark Owens, President and CEO of Greater Winston-Salem, Inc. "We continue to bring educators and employers to the table to collaboratively develop programs that build the right skill sets employers need, and it is working."
The majority of the 59 new jobs added with this expansion project are in advanced manufacturing operations. The jobs have an average wage of $64,000. Advanced manufacturing is one of the target industries identified for growth in Forsyth County. Growth in this sector aligns with our 2030 Vision: to be the top mid-sized city in the Southeast, to be a more equitable community, and to be the best place to raise a family.
"We are pleased to assist the continued growth and success of a company with an established presence in Forsyth County," says Don Martin, Chair of the Forsyth County Commissioners. "Tex-Tech's decision to expand here demonstrates our ability to maintain an exceptional business and workforce climate."
"By continuing to generate jobs through economic development wins, we provide opportunities for people to earn family-sustaining wages and grow their careers. Skilled and technical positions such as those needed by Tex-Tech require an aligned pipeline of specialized technical education, which we are able to offer," says Winston-Salem Mayor Allen Joines.
"The Southeast ward provides many of Winston-Salem's prime industrial opportunities through both existing infrastructure and available sites. With a new facility on the way for Tex-Tech, the ward continues to grow and deliver economic benefit for the City," says Winston-Salem City Council Member James Taylor.
The City of Winston-Salem, Forsyth County, and the State of North Carolina have approved incentives to support Tex-Tech Industries' expansion. Project partners include Greater Winston-Salem, Inc., Forsyth Tech, the City of Winston-Salem, Forsyth County, NC Commerce, and the Economic Development Partnership of North Carolina (EDPNC).
Related Links