Career Pathway:
Forsyth Tech – Associate in Applied Science, Architectural Technology
Appalachian State University – BS, Building Sciences
Architectural Designer – STITCH Design Shop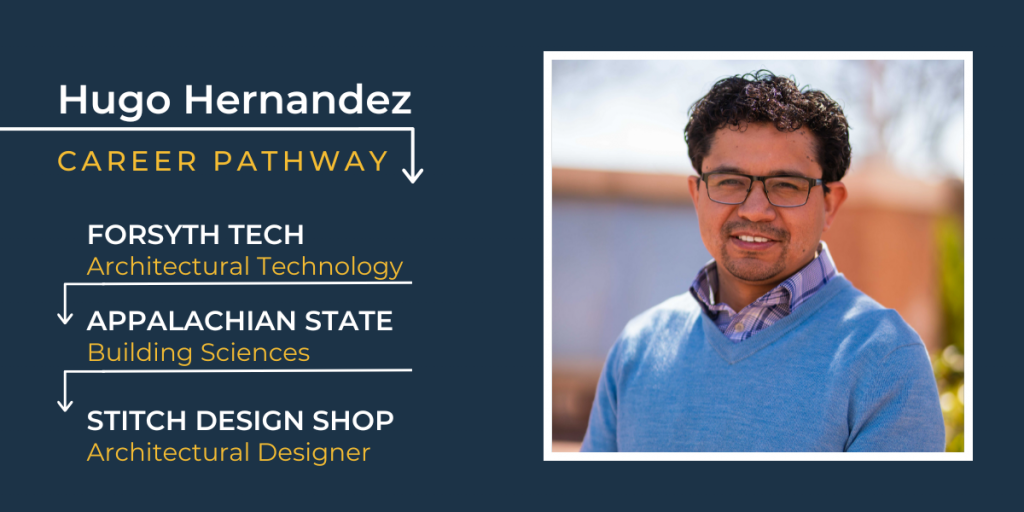 For Architectural Designer Hugo Hernandez, returning to school as an adult learner wasn't always easy, but he says it has been a life-changing experience. After getting married and having two young children, he was motivated to go to college and pursue a new career to provide for his family and save up for his own kids' college funds.
Hugo enrolled in Forsyth Tech in 2018, choosing the Architectural Technology program because, he says, "I wanted to practice a career where art, science, technology, and fun all apply. I wanted to design healthier living spaces that could improve people's lives."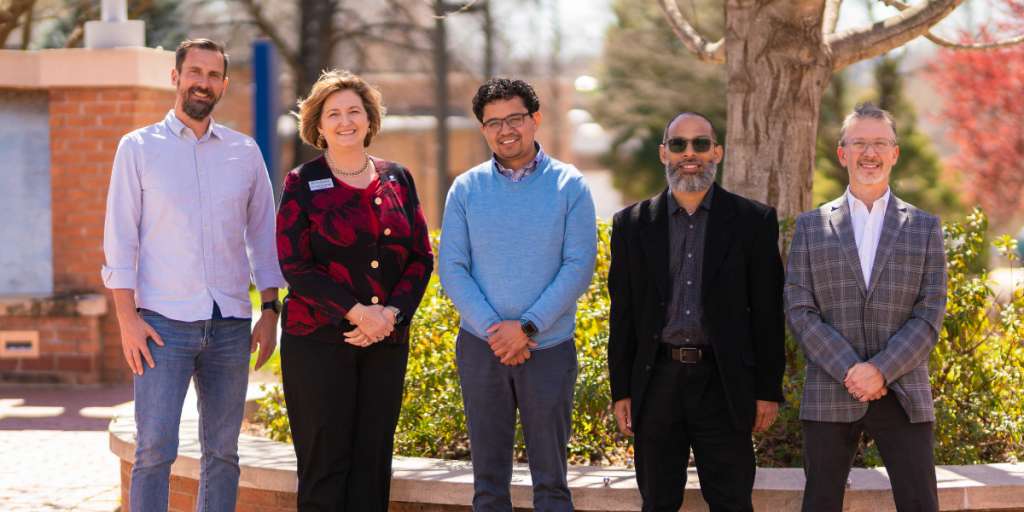 The Associate Degree in Applied Science in Architectural Technology is one of 69 associate's degrees offered at Forsyth Tech. Coursework includes architectural design, CAD computer applications, sustainable design, building codes, site planning, portfolio design, and more.
"I had the flexibility to choose my schedule and the option to transfer my credits to a four-year program," says Hugo. "I received all the support I needed to succeed in the program. My instructors supported me academically, personally, and professionally."
"Hugo was an outstanding student in many ways," says Todd Shoaf, Architectural Technology Program Coordinator at Forsyth Tech. "His accomplishments are testimony to his talent, hard work, and commitment to success. We are still showcasing samples of his work to students in classes today."
After graduating from Forsyth Tech, Hugo transferred to Appalachian State's Bachelor of Science in Building Sciences program with a concentration in Architectural Technology and Design. He commuted daily from Winston-Salem to Boone while juggling his responsibilities as a husband and father, and a full-time job. He made sacrifices for his education, but says it was all worth it.
"While attending Appalachian State, I had the opportunity to do an internship with STITCH Design Shop. I assisted with a variety of projects, but I was particularly happy to gain experience on a project that STITCH was currently working on for Google."
STITCH Design Shop is a Winston-Salem based award-winning architecture firm known for its modern, progressive, and transformative designs of both residential and commercial spaces. Partner Ben Schwab says internships are an integral part of the company's talent pipeline. "Internships provide valuable hands-on experience for students to build upon and fill in the gaps from their education to the professional environment. They benefit both the students and our company."
As Hugo was wrapping up his internship, he received the good news: STITCH offered him a full-time position. "It was like a dream come true," says Hugo.
While Hugo's internship with STITCH was through Appalachian State, the design firm also works closely with the Architectural Technology program at Forsyth Tech. There are currently three Forsyth Tech alumni on staff at STITCH.
"The Forsyth Tech architecture program does a great job of preparing students for a professional career in Architecture and Interior Design," says Ben Schwab. "The quality of project work, coupled with the integration of technology, provides a great balance to begin a professional career."
"Hugo is a perfect example of what we mean when we say we're Trailblazers at Forsyth Tech," says college president Dr. Janet Spriggs. "When students are driven to succeed, like Hugo is, it is our responsibility to remove barriers in their way and help them develop the specialized skills employers expect."
"Everyone needs to be at the table for the talent pipeline to work – students, schools, employers, and support organizations," says Dr. Spriggs. "Hugo's story shows that internships can be life-changing. Maintaining strong partnerships with local employers like STITCH Design Shop helps facilitate those transformative connections."