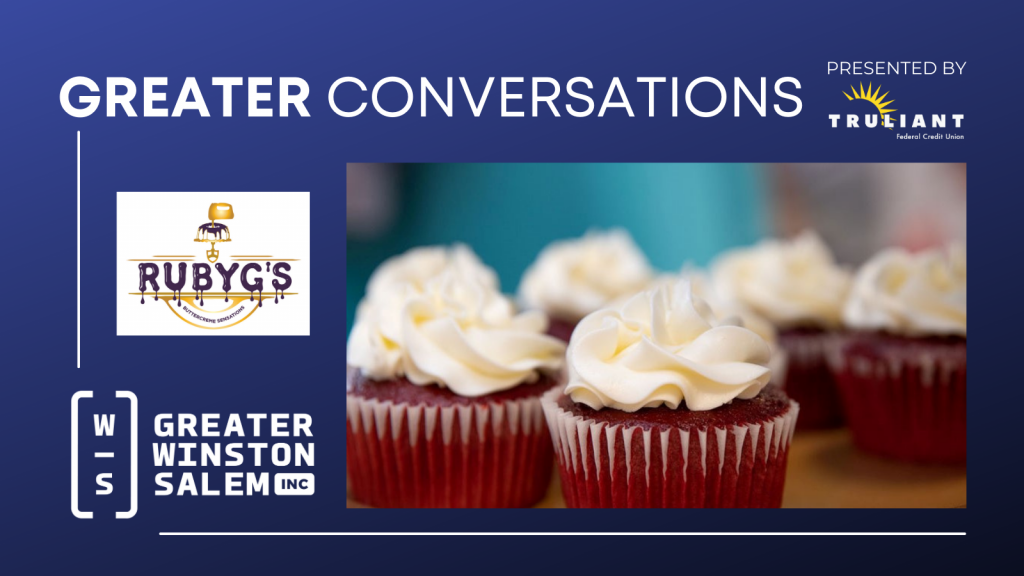 In This Episode
After a long and rewarding 20-year career with Forsyth County Social Services, Wyomie Watson decided to jump into the world of entrepreneurship. Inspired by her grandmother's love of baking, Wyomie and her husband Eric launched RubyG's Buttercreme Sensations in 2019. The business has grown from a kiosk in Marketplace Mall in Winston-Salem to its own storefront on Peters Creek Parkway with online ordering and shipments available all over the country. Unique treats like banana pudding cake, bourbon pecan cookies, red velvet cream cookies, deep-fried cinnamon rolls, and custom wedding cakes, are just a few of the favorites on the menu connoisseurs crave.
GREATER CONVERSATIONS
Presented by Truliant Federal Credit Union | Produced by Tim Beeman
---
Ditra Miller: Hi everyone. Welcome back to the show. It is my pleasure today to introduce you to Miss Wyomie Watson.
Wyomie Watson: Thank you for having me.
Ditra Miller: And you are the owner of Ruby G's Buttercreme Sensations. I love it. Thank you. And also for everyone listening. Our co-host today is our very own Jodie Edwards, our Business Support Manager at Greater Winston-Salem Inc.
Thank you for joining me today.
Jodie Edwards: Glad to be here.
Ditra Miller: It's a food day and we have cake in front of us, and this cake is from Ruby G's Buttercreme Sensations. And I've made the mistake before Wyomie of calling you Ruby G, but you're not Ruby G. Talk about Ruby G.
Wyomie Watson: Well, Ruby G was put together because we were giving honor to my grandmother whose name was Ruby, and to my mother whose name was Gaynell. So we decided to just honor both of them because my grandmother is the one who truly inspired me as a young lady when she baked. And you know, back in the day when they baked, they didn't use what we use now. Those things called measuring cups and measuring spoons. My grandmother always measured in her hand and it always amazed me how she would just measure in her hands and just went to work. And everything just seemed to come together. And the cakes were amazing. The banana puddings were amazing. The biscuits were amazing. So that kind of just inspired me as I continue to just bake.
Ditra Miller: I love that. Now, you didn't start out your career as a baker. In fact, you worked for our wonderful Forsyth County Government, right?
Wyomie Watson: I sure did. I worked for Forsyth County for 20 years. I retired from the Department of Social Services back in 2018.
Ditra Miller: 20 years. A lot of commitment. So what made you decide to go from that career into a career of baking?
Wyomie Watson: I don't know. Well, I was baking at home, which I normally do, and my husband and I were sitting down at after a weekend and we decided, well, you know what? vLet's see what happens. So I baked up a bunch of goods and he took them to work and he dispersed them to all of his coworkers and everybody liked it. Everybody was like, how can we get this or can we order that? And we kind of just started from there. We started in our home. In October of 2019. So we just celebrated three years of being in business.
Jodie Edwards: So you have recently moved into a storefront where you had a kiosk before, correct? Do you find that that has been more challenging or has it opened up more doors for you?
Wyomie Watson: When we left our home, we went into the market kiosk at Marketplace Mall. We were there for about a year and a half.
August of this year, we did our grand opening at 667 Peters Creek Parkway. It has presented both the challenge with regards to letting the community know that we are here because that has been a food desert for a while. So just getting out and letting the community know that they have a bakery in the area.
And I love the fact that we are storefront as when people ride by, they're able to see us now. Whereas when we were in the kiosk, we weren't able to draw the attention that we are able to draw now. So we love being out there where people can see us and we can interact.
Ditra Miller: Love that. And the celebration was so awesome when you opened up that storefront. Some of the things that I really liked were the fact that you had so many cakes on display. So as soon as you walked through the door, you could see all of the different varieties. As well as cupcakes, as well as cookies. You also serve coffee and you have a ton of space. So talk a little bit about how you're using the space right now.
Wyomie Watson: Recently we decided that we would lease the space out. So if anybody wants to have a intimate gathering with just friends or family, they can come in and rent the space out. If you have a child that would like to have a little small intimate birthday party, you can rent the space out for that. If you wanna do a wine and sip, a paint and sip, you can rent it out for that. So we decided to do that. We also are getting ready to do a reface because we want our customers to feel comfortable. We want to kind of bridge the gap between the bakery and the coffee shop. So we want them to be able to come in, get cake coffee, sit down, relax.
Ditra Miller: Love that. Now again, you have a variety of different cakes. I believe Jodie's favorite cake is the banana pudding?
Jodie Edwards: Well, it's a tie because at the grand opening, she also had that whole display full of cupcakes. I am a red velvet person. And there was a red velvet cupcake that I got my hands on. You have to go and get a red velvet cupcake because it was fantastic. Now the banana pudding cake, I have never even heard of such a thing until the grand opening and I believe someone had walked in and was like, banana pudding cake. I've been looking, I think it was the mayor. And so I was like, well, I've got to try it. Oh my gosh, it was so good. I am not a big sweets person. But now when I go, my immediate is like banana pudding cake, red velvet, and I'm like over here drooling, looking at the pound cake sitting in front of me.
Wyomie Watson: Matter of fact, a little while after that, Mayor Joines's wife called and ordered the banana pudding cake for his birthday, yes.
Ditra Miller: So your cakes can be ordered for birthdays or just every day, or do you do wedding cakes as well?
Wyomie Watson: Yes, we do themed cakes, birthday cakes, just your originals. Home scratch southern pound cakes. We do pies, we do treats, we do our cookies. Currently we have a kitchen sink cookie. We have a bourbon pecan cookie. We also have a red velvet cream cookie.
Ditra Miller: What is the lead time on any of the themed cakes?
Wyomie Watson: For a themed cake, we like to have at least a two week notice. For any general cake, at least a week. For wedding cakes, that's a whole different ballgame because we need to consult, we need to find out what your vision is, how we can tie it all together.
Ditra Miller: I mean, it's not cookie cutter. You actually sit down with the bride and groom and talk about what their vision is.
Wyomie Watson: Absolutely. And we offer tastings as well with our wedding cakes.
Ditra Miller: All right. Let's back up a little bit. Let's talk a little bit about Wyomie. Did you grow up in Winston-Salem?
Wyomie Watson: Born and reared here. Yes.
Ditra Miller: What made you decide to stay in Winston-Salem? Of course, you had your 20 year career with Forsyth County, but you could have started Ruby G's anywhere.
Wyomie Watson: Family. Family roots tied here. My mom was raised here, her mom in Tobaccoville, so we are just connected here.
Jodie Edwards: I am also from Winston from the very beginning, so I don't want to go anywhere else.
Wyomie Watson: I love it here.That's one thing I like about Winston, that the people, once they get to know who you are and you know who they are, the loyalty is amazing.
Ditra Miller: Well, speaking of the people, you're very community oriented. Share with everyone listening a little bit of how you give back to the community.
Wyomie Watson: Well, we have partnered with Pivot Ministries, which is a part of the Ardmore Church here in Winston-Salem. They have a 16 week program that they offer to low income women. Older women that don't have children. So once they complete the program, they graduate and they allow them to have classes that just help them to be able to thrive at home.
So I've partnered with them and I taught a baking class without the mixing bowls. So we had to go in and teach the women how to just mix up cakes and to decorate them with a Ziploc bag. They thought that I was blessing them, but they truly blessed me.
My husband has connected with Love Out Loud Ministry. They have a cycle program where they get donated bikes and they have volunteers that come in and repair those bikes and then they in turn give the bikes out.
We've partnered with Brenner Children's Hospital. We just donate some of our treats to them as well. They have a house, a kitchen, I believe, for parents who have had children that have to stay in the hospital. So what I wanted to do is just offer a little to the parents who may be stressing or going through whatever they're going through with their children being in the hospital.
O of my grandchildren was premature, and she had to stay in the hospital awhile. So just to give the parents something, just a little treat to just kind of make their day, bring a little sweet smile.
Ditra Miller: That is beautiful.
Jodie Edwards: I was thinking about what she was saying with her grandmother. Measuring with her hands and if I do not have precise measurements in front of me, I cannot cook anything. I'm like leveling off the teaspoons. I'm like, it said teaspoon and you're getting a teaspoon. Because I'm not a cook. I find it fascinating that somebody can just look at stuff and just throw it in a bowl and it turns out good. And I'm like, that's fantastic. I cannot do that.
Tim Beeman: I can do that if it's not baking, if it's just cooking something, I can do that. No, to me, cooking is an art, baking is a science. And it has to be exact. Because if it's not exact, something's not going to be right.
Ditra Miller: What inspires some of the flavors that you come up with for your cakes and pies?
Wyomie Watson: Grandchildren, of course, really my grandchildren. If they like it, it's good.
Ditra Miller: What's the latest one you've come up with?
Wyomie Watson: Ruby G is now offering deep fried cinnamon rolls. They're made to order and you can top it how you like it. We've got strawberry, mixed berry, caramel, pecans. When I tell you it is wonderful. It's wonderful.
Jodie Edwards: Cinnamon rolls is right up there with red velvet, and so now I don't even know what to do over here.
Ditra Miller: We might as well just work from Ruby G's from now on.
Jodie Edwards: We can bring our laptops and we'll just go in there.
Wyomie Watson: You do know we offer lunch sandwiches as well.
Tim Beeman: Like what?
Wyomie Watson: We offer ham, we offer carved chicken. And you can get that on a croissant with provolone cheese, lettuce and tomato. And we offer hoagies where you can get the carved chicken, ham, and sandwich pepperoni. And you can get that with provolone cheese, lettuce and tomato.
Ditra Miller: What about our vegans out there? What do you have for vegans?
Wyomie Watson: We do offer vegan desserts. The vegan vanilla cupcakes, and I do lemon vegan cupcakes as well.
Ditra Miller: So when you shared with your husband that you really wanted to go into this full-time, what was his reaction to that?
Wyomie Watson: He is my support. I had retired and I had started working part-time somewhere else, and that just wasn't where I wanted to be. So again, we decided that we would try this and he was okay with it, and he was okay with me leaving my job and he was okay with me doing this full-time and he has been my backbone.
Jodie Edwards: You could see it in his face at the grand opening. He was so happy to be there. He was just beaming from ear to ear. You could tell that he is a huge supporter of what you guys have going on.
Wyomie Watson: I can't do it without him.
Ditra Miller: What is in the future for Ruby G's? What do you see in the next five years?
Wyomie Watson: We have had a family that comes up from Mocksville every other week to get our treats. Their desire is to see a second location in their area, so we are praying about this. I told them we are praying and if we decide to come look, we may expand that direction.
Also, my grandson loves to cook. He's into baking. He's 14 years old and he's already started a baking class in high school. He's getting ready to get into culinary, and I told him he has five years to get it together because I'm ready to put him in. Ruby Gs was also founded because the Bible says the layup for your children's children. So I'm laying it up for my grandchildren. He's the oldest, so I'm going to be ready when he's ready to put him in position to do what he wants do.
Ditra Miller: For everyone listening, if they want to stop by Ruby Gs, tell them the location and if they're interested in going online to order something, where do they need to go?
Wyomie Watson: We are located at 667 Peter's Creek Parkway. We are right up from Volvo. You can find us on Facebook at Ruby G's Buttercreme Sensations, as well as Instagram and TikTok.
The views and opinions stated in this podcast are solely those of the contributors, and not necessarily those of our sponsors, distributors, or hosting companies. This podcast is copyrighted and cannot be reproduced without express written consent of Greater Winston-Salem, Inc. or your host.