Two rankings place Winston-Salem among the top cities in the nation to start a business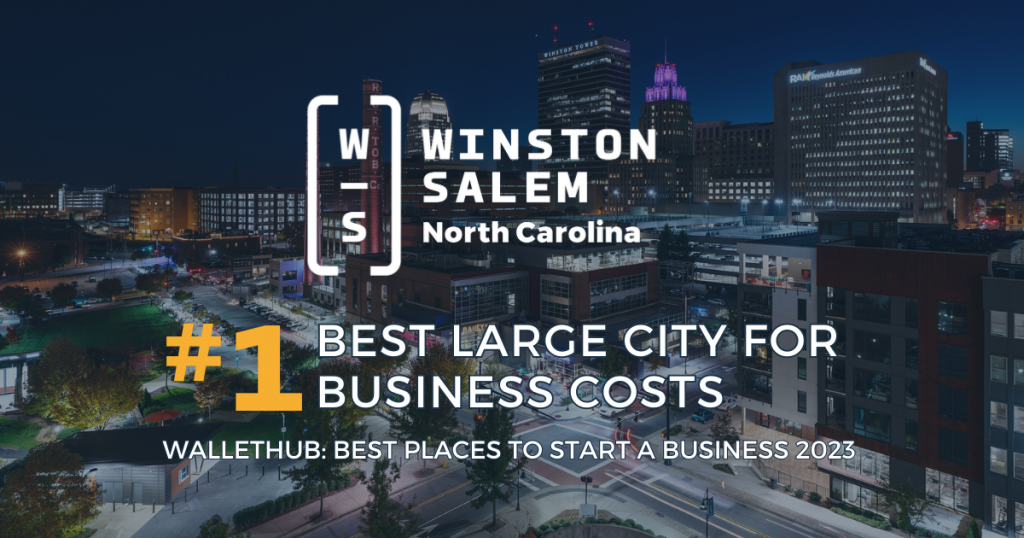 Winston-Salem has often been recognized for its advantages in starting and growing a business. This month, those advantages are informing two recent national rankings:
Winston-Salem offers a full-stack entrepreneurial ecosystem comprised of more than 30 organizations working collectively to contribute to startup success. Organizations like Winston Starts, Flywheel, the Center for Creative Economy, and Sparq provide office space, accelerator pathways, mentorship, and more to emerging companies. A multitude of entrepreneurial events, both informative and social, encourage peer-to-peer networking and support. Access to capital through the WSPR Fund, which has invested $1.8 million in local startups, and other regional capital sources, helps fund new ventures.
Affordability is also an advantage to running a small business or scaling a startup here. At 20 points below the national average, Winston-Salem's cost of living stands out. Winston-Salem is ranked among the top 3 metros nationally for overall value and housing affordability, according to a November 2022 study, and has a lower cost of living than Raleigh, Charlotte, and many other peer metros across the country. The cost advantage is even more stark when looking at large metros, with Winston-Salem's cost of living being less than half of cities such as New York, Los Angeles, or San Francisco.
Wallethub's 2023 findings are informed by 19 metrics across three main categories: business environment, access to resources, and business costs. Within those categories, factors including average business growth, the entrepreneurship index, venture investment per capita, higher education assets, office space affordability, and labor costs impact the rankings.
Market Watch's report, which originates from the placemaking platform Livability Media, cites Winston-Salem's Innovation Quarter and strong bioscience and regenerative medicine resources among the city's entrepreneurial strengths.
So what about after your business takes off? Established companies and startups that scale find continued success here. North Carolina is independently named the number on state for business in 2022 by CNBC and Business Facilities for factors like the economy, technology and innovation, access to capital, education, and more.
Owning a small business or launching a startup takes incredible drive and ambition, but you can't make it or break it all on your own. Your community and your environment play a part in your success – and Winston-Salem has it all for entrepreneurs.
Related Links