Greater Winston-Salem, Inc. held its Annual Meeting on September 12th, which included presentations of the annual awards and a fireside chat with Eugene Woods, CEO of Atrium Health, now a part of Advocate Health.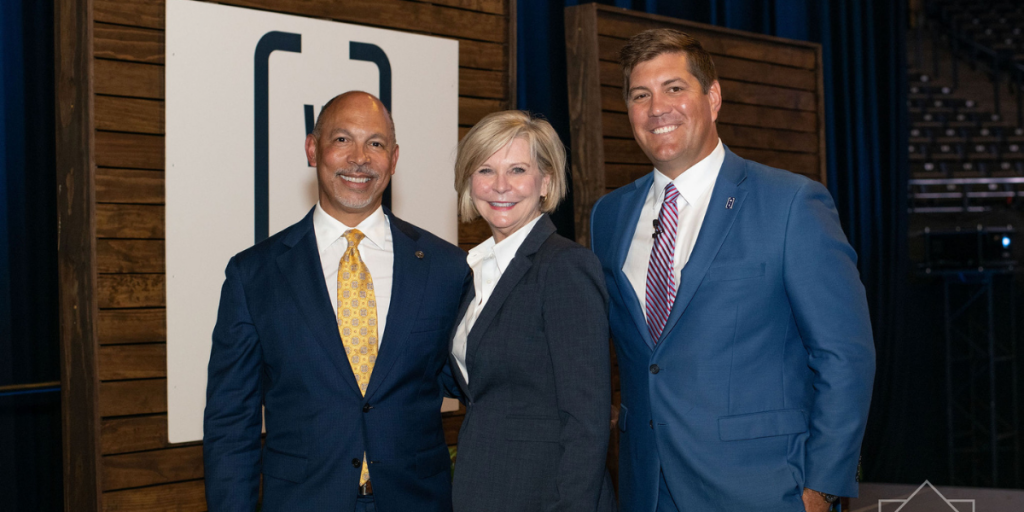 Cathy Pace, Chair of the Greater Winston-Salem, Inc. board and Mark Owens, President and CEO, provided an update on Winston-Salem's economic growth, future opportunities, and progress towards the 2030 Vision: to be the top mid-sized city in the Southeast, to be a more equitable community, and to be the best place to raise a family.
Benchmarks of progress towards those goals include:
ASPIRE has served 150 students to-date and over 30 local companies have participated in hosting paid interns. 37 students have received our new Work Ready Credential launched this Spring.
Our MBE Grant program – which is open for this year's round of applications now – has distributed more than $670,000 dollars to 47 Black and Latino Owned small businesses. It has helped to create or retain more than 40 jobs.
As the Chamber of Commerce for Forsyth County, we are engaging the business community with more than 45 events held so far this year with 2,000+ attendees.
Over 2.4 million impressions in peer cities and major metros so far in 2023 to raise awareness and attract talent.  
Since 2020: 25 projects announced, 1,615 jobs created, $617 million capital investment. In the ten years prior – 2010 to 2020: 14 projects, 2,604 jobs, and $906 million capital investment. We are outpacing our previous ten-year trends in just the past three years. 
Since 2018, our entrepreneurial ecosystem has fostered the growth of more than 60 startups – with over 180 million in capital raised. 

Mark Owens also provided updates on Greater Winston-Salem, Inc's initiatives in advocacy, small business support, talent and workforce, and economic development, driving momentum for Forsyth County. Hear our community share their perspectives in our new video!
The evening featured a fireside chat with Eugene Woods, CEO of Advocate Health, one of the largest nonprofit health systems in the United States – created from the combination of Advocate Aurora Health and Atrium Health. Advocate Health is a national leader in clinical innovation and health outcomes, with Wake Forest University School of Medicine serving as the health system's academic core, and Atrium Health Wake Forest Baptist one of it's largest hospitals, and Forsyth County's largest employer.
The Annual Meeting also included the presentations of the Truliant Small Business of the Year, the Duke Energy Citizenship & Service Award, and the Allegacy Innovator of the Year Award. In addition, Don Flow was presented with North Carolina's Order of the Long Leaf Pine – the highest honor bestowed by the Governor.
Truliant Small Business of the Year: Support Systems of Forsyth County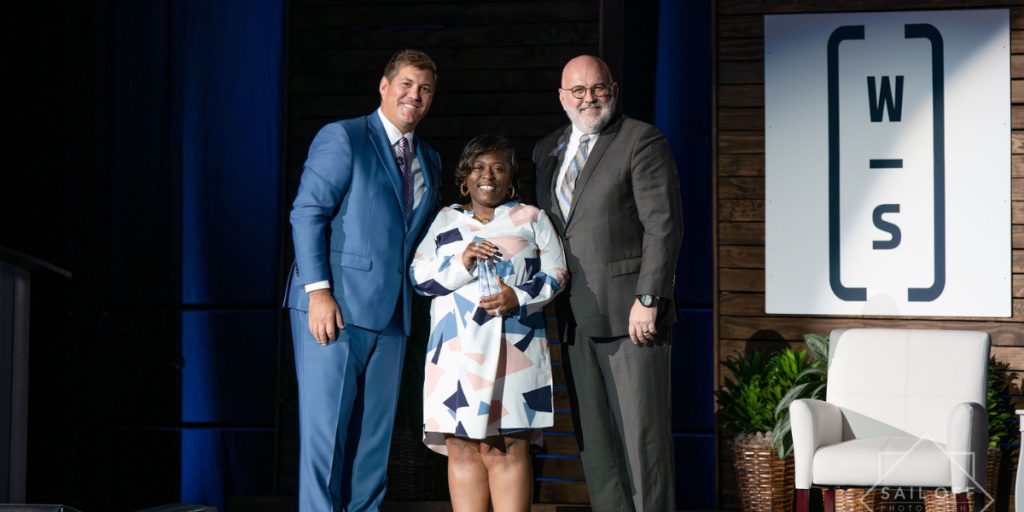 By providing transportation solutions, Support Systems of Forsyth County is not just helping clients get from Point A to Point B. They are addressing barriers to mobility and stability in the communities they serve. By getting clients with transportation challenges to medical appointments, jobs, or to class, they are opening doors that can create transformational change in people's lives. The company partners with many local organizations to bring them transit solutions, including Greater Winston-Salem, Inc.'s ASPIRE program so that high schoolers can access Work-Ready curriculum and paid internships. Support Systems of Forsyth County is owned and operated by Courtney and Gregory James.
Duke Energy Citizenship and Service Award: Dr. Elwood Robinson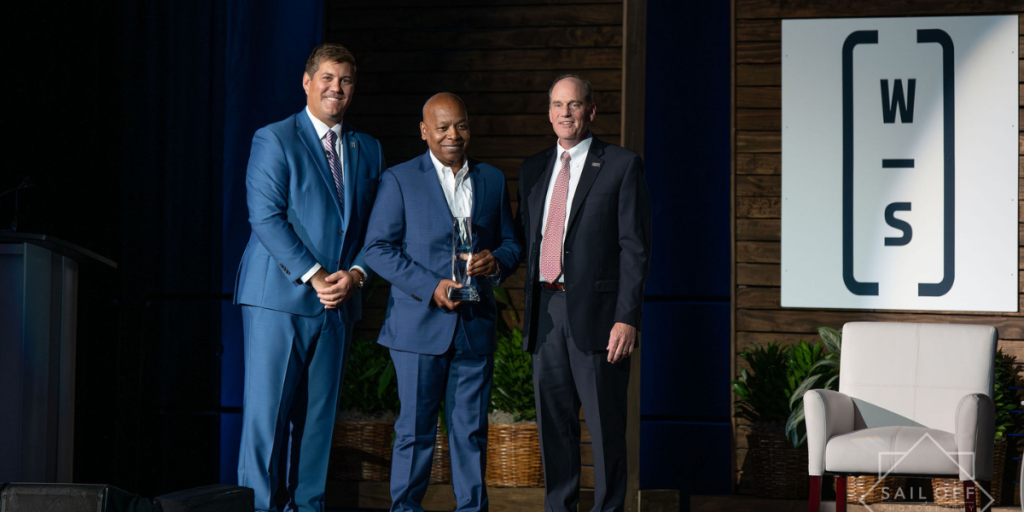 In his tenure as Chancellor of Winston-Salem State University, Dr. Elwood Robinson has overseen transformational change at WSSU and throughout the community that has driven economic and social mobility forward. During his tenure the university's endowment grew to more than $100 million dollars and the university completed $145 million dollars in capital projects, including major renovations, two new residence halls, a new center for entrepreneurship, and a new science building.
Allegacy Innovator of the Year Award: Javara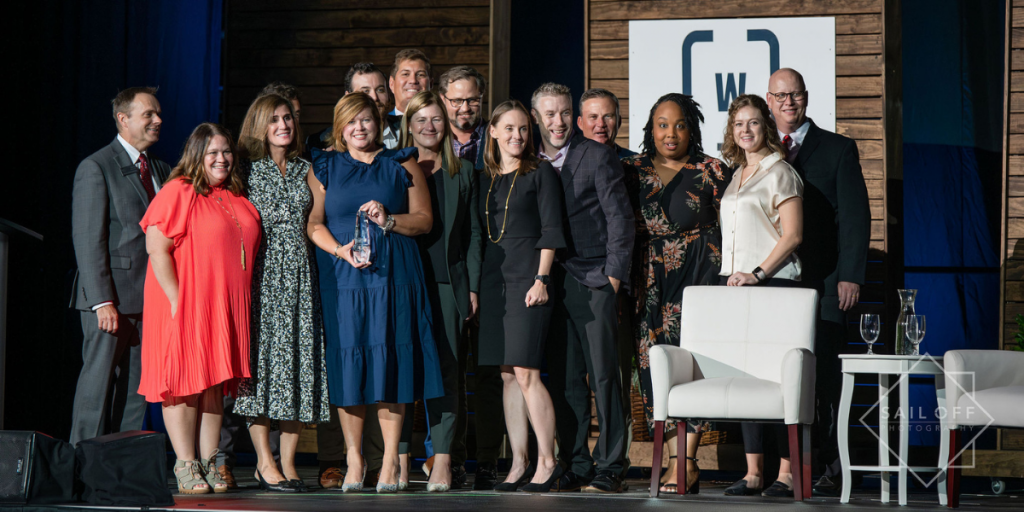 Javara has brought a new clinical research model to the healthcare field, pioneering "Clinical Research as a Care Option". Through innovation, Javara solves the inefficiencies that lead to delays or obstacles in clinical trials and focuses on ensuring equitable access to clinical trials for all patients. In its first five years as a startup, Javara has expanded into seven states, with more than 300 clinical trials and more than 250 employees and is still growing. Named by the Business Journals as one of America's Startups to Watch, Javara is a national leader in healthcare innovation.
Order of the Long Leaf Pine: Don Flow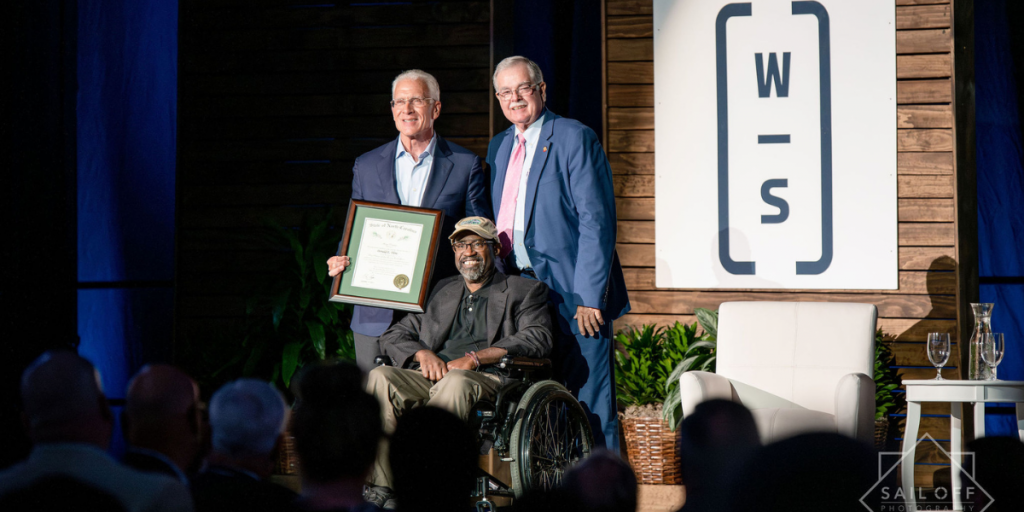 As Chairman and CEO of Flow Companies, with 51 dealership locations throughout North Carolina and Virgina, Don Flow has become a pre-eminent job creator. He has been actively involved in the repurposing of nearly 4 million square feet of Reynolds manufacturing properties into today's Innovation Quarter through roles on the Board of Wake Forest University, Wake Forest Baptist Medical Center, and the Whitaker Park Development Authority, among others. Currently, Flow serves as chair of the Winston-Salem Open ATP Tournament, chair of the board of directors of the Winston-Salem Alliance, Inc., chair of the Golden Leaf Foundation, chair of the Wake Forest Baptist Medical Center board of trustees and a member of the board of Atrium Health, and vice chair of the Piedmont Triad Partnership.
The Annual Meeting is made possible by: Atrium Health Wake Forest Baptist, Duke Energy, Live Events Media Group, Truliant Federal Credit Union, Allegacy Federal Credit Union, Carolina Core, Wake Forest University, Winston-Salem Dash
Photography: Sail Off Photo