Greater Winston-Salem, Inc. and Winston-Salem/Forsyth County Schools are excited to announce a new event that provides students the opportunity to explore career options:
World of Work presented by Blum Construction
October 17-18 | Lawrence Joel Veterans Memorial Coliseum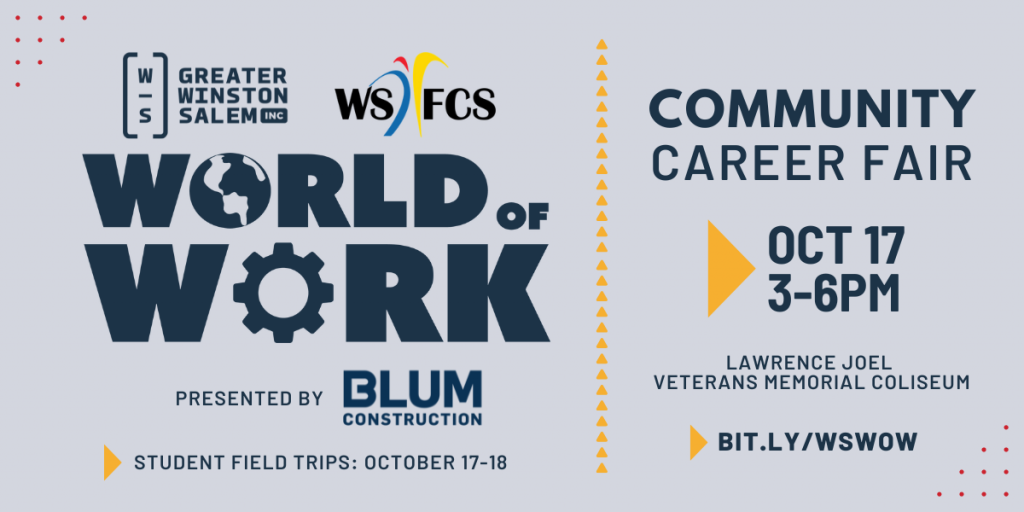 This two-day event will welcome more than 7,000 Winston-Salem/Forsyth County Schools 8th and 10th graders to explore career possibilities across a variety of industries, and includes a hiring fair for graduating seniors and the community. Students will have the opportunity to interact with businesses and educational institutions to learn more about the careers that interest them and how to get there.
"This is a part of our talent pipeline plan and it is an exciting way to showcase to the students all the possibilities ahead of them," says Mark Owens, President and CEO of Greater Winston-Salem, Inc. "It's important to introduce students to employers so they understand the vast career options here, as well as the educational opportunities available to them. Our employer base is highly committed to collaborating on workforce development, and it's essential to start that process in K-12. We are excited to work with the school system and employers to offer this real-world learning opportunity."
"I am grateful that our business and community partners are coming together to give our students learning experiences outside of the classroom," says Tricia McManus, Superintendent of Winston-Salem/Forsyth County Schools. "We appreciate opportunities to work with the community. We are all stakeholders in engaging students to be successful and to be curious about the world of work and their future goals."
Leading local employers and education institutions will participate in the event. They will showcase career fields with a broad range of skills requirements in various industry sectors including healthcare, advanced manufacturing, business services, aviation, and the skilled trades.
The event is supported by Forsyth County American Rescue Plan Act (ARPA) funding. Don Martin, Chair of the Forsyth County Commissioners, says "this event will help increase opportunities for students as they consider future career goals, as well as help our current workforce connect to local employers. We are proud to support partnerships that make these opportunities possible."
World of Work is presented by Blum Construction Co. President and CEO Mike Lancaster says, "Blum understands the significance of early career involvement. It paves the way to help students determine what they enjoy doing and how they can strive toward that career path. We're happy to be a part of WOW's effort to engage students beyond the classroom."
World of Work will host a career fair on October 17th from 3:00-6:00pm for high school seniors and the general community. Participating employers with open positions will be on hand to share employment information.
Related Links