WSSU ranks no. 7 in the nation on the 2018 Social Mobility Index, which ranks universities based on how effectively they enroll and graduate students.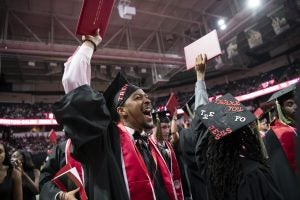 For the fifth consecutive year, Winston-Salem State University (WSSU) has been named one of the top universities in the nation for providing the best opportunities for underserved students.
WSSU is no. 7 on CollegeNET's 2018 Social Mobility Index (SMI) rankings, which were released recently. WSSU is the only college or university on the East Coast to rank in the top 20 all five years of SMI rankings.
"I am thrilled that Winston-Salem State University is once again recognized as a leader in social mobility," says WSSU Chancellor Elwood L. Robinson. "Through a culture of engagement, innovative programs, and community partnerships, we are helping to make the American dream a reality for under-resourced students. Our efforts are transforming, not only the lives of our students and their families, but also their communities, our state, and our nation."
In 2014, technology provider CollegeNET created the SMI, a data-driven system that ranks U.S. colleges and universities according to how effectively they enroll students from low-income backgrounds and graduate them into promising careers. The SMI evaluates colleges and universities based on admissions practices that work to reverse the growing economic disparity in the United States.
"Unlike other college rankings that are aimed primarily at helping students select a college," says Jim Wolfston, CEO of CollegeNET, "the SMI helps families and policymakers determine which colleges are addressing the national problem of economic mobility. Administrators have a better chance to help strengthen US economic mobility and the promise of the American Dream if they can identify and learn from colleges that are skilled at doing this."
SMI evaluated more than 1,300 schools on five key variables to create the rankings: low tuition cost, the number of low-income students admitted, graduation rate, endowment, and salary for recent graduates. According to the study, a "high SMI ranking means that a college is contributing in a responsible way to solving the dangerous problem of economic immobility in our country."
WSSU, the only North Carolina institution in the top 30, moved up two spots from the 2017 rankings, its highest ranking since 2015. Public universities in California and New York accounted for 16 of 20 spots in the SMI top 20.
WSSU has been recognized for the past two years by CollegeNET with the "Social Mobility Innovator" award.