There are important steps workplaces can take to help protect employees and customers if an employee is diagnosed with COVID-19. These steps include requiring the wearing of face coverings when they are within 6 feet of others; encouraging employees not to report to work if they have symptoms; requiring all individuals who have been diagnosed with COVID-19 to immediately isolate and not return to work until they have met the return to work criteria; and implementing cleaning and disinfecting procedures from the CDC guidelines.
If an employee tests positive for COVID-19, they may return to work using a time-based strategy. The time-based strategy excludes the employee from work until all three criteria are met:
No fever for at least 72 hours since recovery (without the use of fever-reducing medicine)
Other symptoms have improved (e.g., coughing, shortness of breath) and
At least 10 days have passed since the first symptoms appeared.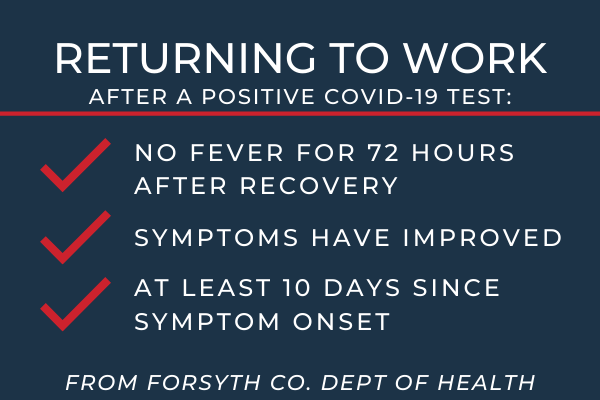 Not all employees that test positive for COVID-19 will exhibit symptoms. In this case the employee should remain out of work until 10 days have passed since the date of their first positive COVID-19 diagnostic test, assuming they have not subsequently developed symptoms since their positive test. If they developed symptoms during the 10-day period, then the criteria above for individuals with symptoms apply. Additionally, if a business's employee tests positive, The Forsyth County Health Department will follow-up with the individuals who tested positive, determine the close contacts to the employee, and notify the employee and their close contacts of next steps.
If you have questions about your business and COVID-19 and guidance, The Forsyth County Department of Public Health, in partnership with Greater Winston Salem, Inc, the Lewisville-Clemmons Chamber of Commerce, and the Kernersville Chamber of Commerce, will be hosting a virtual COVID-19 business question and answer session on July 16th at 1 p.m: