The Minority Business Enterprise Grant Program has distributed a total of $229,000 in COVID-19 relief funding to 21 Black- and Latinx-Owned local small businesses.
The Minority Business Enterprise (MBE) grant fund was launched in October and was designed to assist with business success, job retention, and job creation for Black and Latinx-owned businesses during the COVID-19 pandemic. 
$1.25 million has been pledged to the fund with the goal of ongoing fundraising and grant allocation for a period of 5 years. The program is designed to offer an equitable resource for Black and Latinx-owned businesses that may be more susceptible to the economic impact of COVID-19 and face more barriers to obtaining other sources of grants, loans, and relief funding.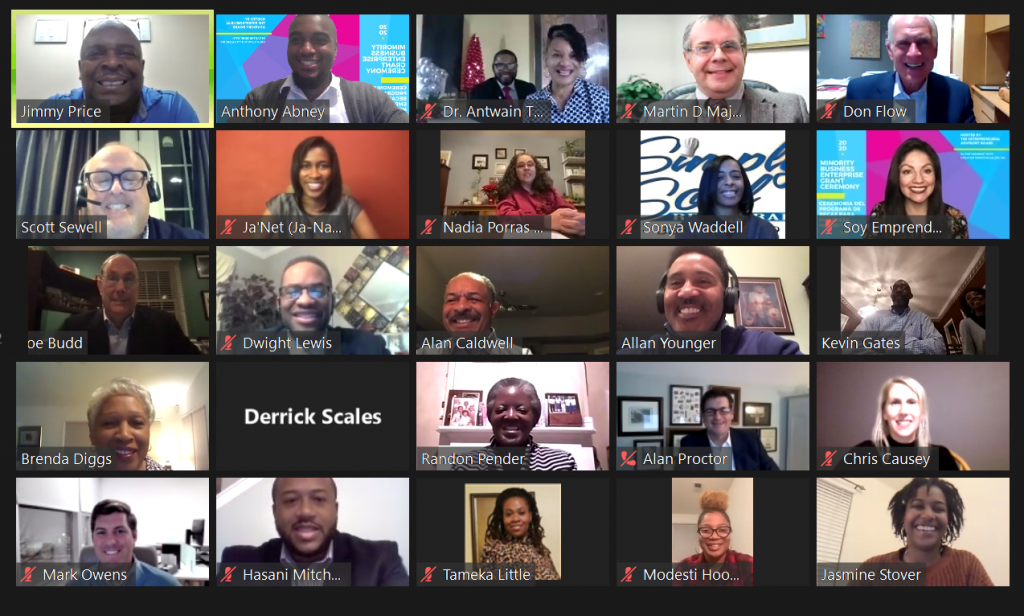 The businesses that have received grants are:
A Step Above Cleaning Service, LLC
All Services LLC
DM Designs and Fabrics
EMACK Consulting LLC
Embrace Inc.
First Class Bus Tours & Travel Services Inc
Gifted Hands Salon Spa
Innovation Health Care Solutions Enterprise Inc.
Jazmine Tienda Mexicana Inc.
Long's Cleaning Service
LRS Garage
Motto Athletics, LLC
Occupational Testing Solutions
Sherman Logistic LLC
Sherman's Drop In, Inc
Simply Soul LLC
Tate Consulting TC, LLC
The Feelings Company
The Sweet Truth Bakery and Catering
Total Enterprice Majorel, LLC
Winston-Salem Tees
Business founder Karen Cuthrell develops social-emotional learning tools for children through her company, The Feelings Company. The majority of sales of her product, The Feeling Friends are in the education space. Receiving an MBE grant is a bit of great news among the challenges of this year. "As school leaders continue to adapt, adjust, and survive COVID-19, this grant allows us to retain local individuals and companies as employees and contractors. The grant will also allow us to ramp up our marketing and sales for next school year," says Cuthrell.
Martin Majorel owns Total Enterprice Majorel (TEM), LLC, which he opened in 2019. He provides bookeeping, tax, and office management services for small businesses. The grant he received will not only impact his business, but those that he serves, too. "We've seen good clients that have had to stretch payments because of the impact of the pandemic on their own companies. This grant will allow me to extend grace periods and retain clients, giving them more flexibility to operate," says Majorel.
Another recipient, Sonya Waddell, is the owner of Simply Soul restaurant. She celebrated eight years in business on March 16th, the same day that dine-in services were closed in the fight to slow the spread of COVID-19. She plans to use her grant to retain staff and increase hours for her employees.
The MBE grant program is managed by the Entrepreneurial Advisory Committee, consisting of Black and Latinx business leaders in Forsyth County. Greater Winston-Salem, Inc provides the grant program with financial oversight and organizational structure. 
Anthony Abney, a Business Launch Specialist with the Small Business Technology Development Center (SBTDC) at WSSU serves as the Entrepreneruial Advisory Committee chair. Anthony says "we are excited for the impact this grant program will have for this community. The grants will help these local businesses retain jobs and invest back into the community as they recover from the COVID-19 pandemic. I would like to thank our donors and amazing team of interns, advisory board members, and partners for making this happen."
Current donors include Allegacy Federal Credit Union, The Budd Group, Alan and Lisa Caldwell, Cook Medical, Duke Energy, Flow Automotive, Flow Lexus, Front Street Capital, Drew and Kelley Hancock, Javara, Modern Automotive, L. David Mounts, David Neill, Novant Health, the Prim Family Foundation, Reynolds American, Ben C. Sutton, Jr., the Truist Charitable Fund, Claire and Randall Tuttle, Wake Forest Baptist Health, Wake Forest University, Wells Fargo (Business) and the Wells Fargo Foundation, John Whitaker, and the Whitaker Park Development Authority.