Internships are an important aspect of learning outside the classroom. They offer valuable real-world experience for students, allowing them to explore different career paths and learn job responsibilities. They can also be extremely beneficial for your business – enhancing community connections and bringing fresh perspectives to your company.
Last school year, Greater Winston-Salem, Inc announced an internship program for WS/FCS students that would offer paid internship positions through funding provided by Truist. Although it was anticipated to launch at the beginning of this school year, the pandemic has necessitated a delay.
Here at Greater Winston-Salem, Inc., we were able to pilot the program by welcoming an intern for a work-from-home role. Her position was supported through funding from Allegacy Federal Credit Union, another long-time partner in the community's workforce and talent development efforts.
Jayda Bailey, a senior at East Forsyth High School, joined our team in August to assist with projects in our Talent and Workforce department. Even though she completed her original internship requirements for East Forsyth's Finance Academy, she has since returned to our team to continue her internship experience.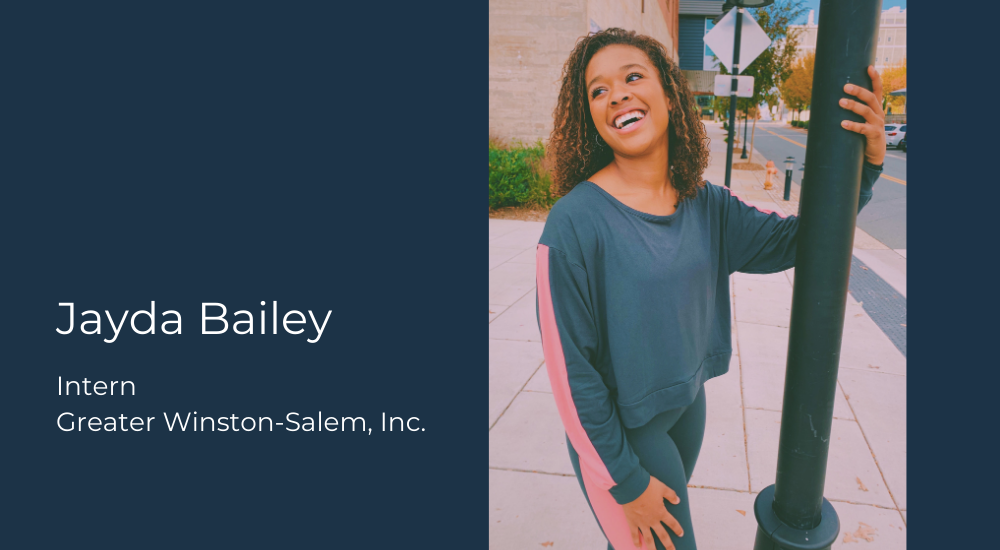 Jayda has provided valuable research on mentoring programs, graduation rates, and virtual learning information in North Carolina school systems. The information she gathered has allowed us to make better-informed decisions about programs like Senior Academy, our mentoring program for WS/FCS seniors that has historically had a 98% or higher graduation success rate.
Jayda also assisted with Senior Academy, facilitating an incentive program offered by Belk to outfit the Senior Academy students in professional attire. She is actively engaged with our team, participating in staff meetings, business networking groups, and other activities occurring virtually during the pandemic.
Jayda took part in the interview process for the Director of Internship Programs as well, providing key feedback on the various candidates from an intern's perspective. Including her in portions of the hiring process not only offered her experience but helped us to understand what students need and want from an internship experience and from an internship supervisor.
Jayda says "this internship has changed my outlook on the world of business and has inspired me in many ways. It has taught me that the business community is crucial for changing society in a positive way because business impacts everything."
"I also learned a lot about the necessity of education and the impact mentoring programs have on students that don't see the potential in going to school. Doing important research about my community made work exciting and fun. I have enjoyed working with such a passionate team who truly cares about the city of Winston-Salem."
"A high school internship is a great strategy for students to use when deciding upon a career path, college major, and to gain experience in preparation to enter the world of work," says Terri Cummings, Vice President of Talent and Workforce for Greater Winston-Salem, Inc. "Jayda has become a valued member of the team at Greater Winston-Salem, Inc. Her internship experience has resulted in professional growth and gives her a competitive advantage as she transitions into college and the workplace." 
Vicky Wheeler, Director of Career and Technical Education with Winston-Salem/Forsyth County Schools says "Jayda's internship is a valuable part of the WS/FCS Career and Technical Education career academy experience.  The internship is a capstone experience that provides concrete linkages to the academic and CTE courses taken and the world of work. We are appreciative to Greater Winston-Salem, Inc. for hosting Jayda and to Allegacy Federal Credit Union for their financial support of the internship, as well as the many other local companies that host WS/FCS interns and apprentices."
One of the most important ways our community can come together to support education is by offering students the opportunity to experience work and explore careers. Every business should consider hosting an intern, whether in a work-from-home role now or on-site in the future.
Mark Owens, President and CEO of Greater Winston-Salem, Inc says "I recognize and appreciate the valuable efforts that young people can provide to an organization. As a former intern, I can say first hand that internships and other on-the-job learning experiences can pave the way for a student to find out what they love to do and set the course for their success."