Business, community and economic development leaders from across the region united today to launch the #TriadTogether Challenge, urging friends and neighbors to spend more where it impacts more—in small businesses and restaurants in our community.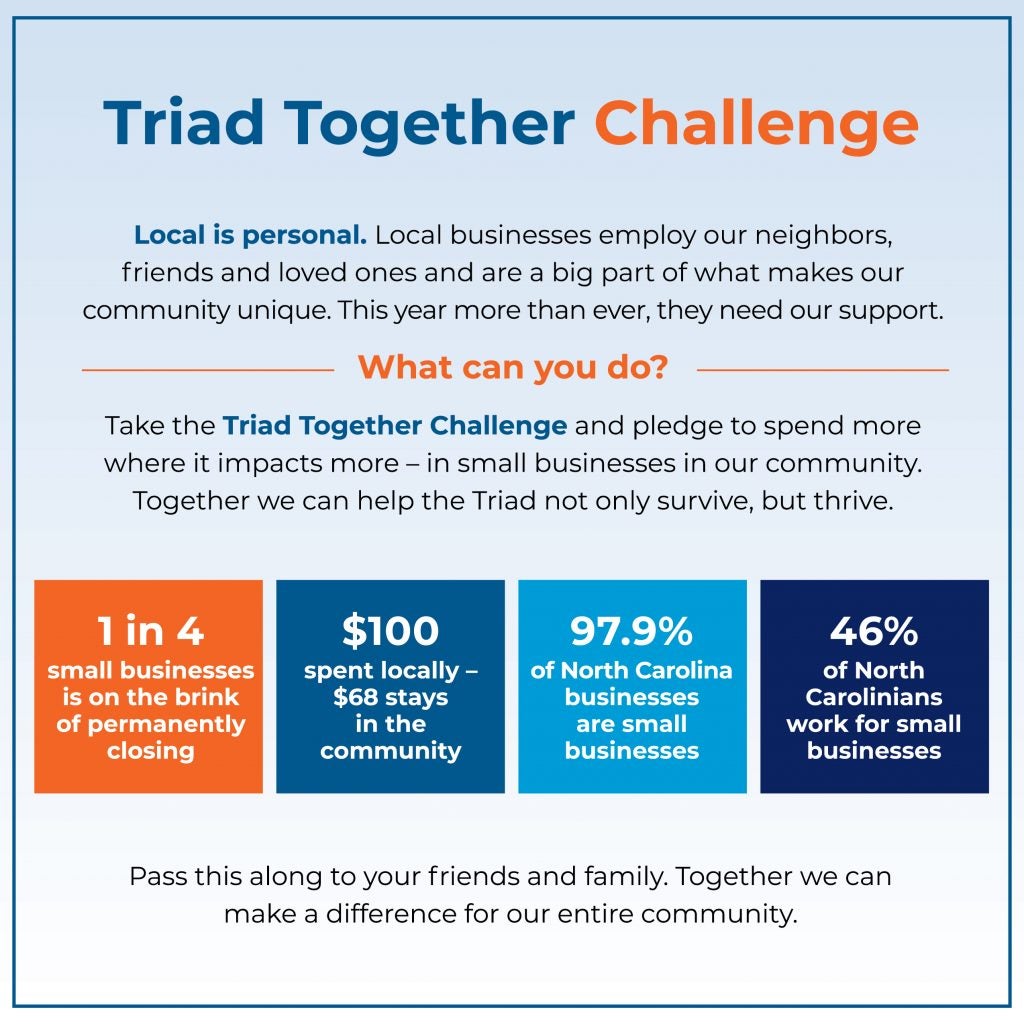 "The No. 1 most important economic development strategy right now is to support our local businesses," said Stan Kelly, President & CEO of the Piedmont Triad Partnership. "Local businesses employ our neighbors, friends and loved ones and are a big part of what makes our community unique. Many small businesses are at risk due to the challenges of the pandemic and our support can be a difference maker. By participating in the Triad Together Challenge and encouraging your friends and family to spend local, you can do your part to help businesses in our community not only survive, but thrive beyond the pandemic."
The #TriadTogether Challenge is a cohesive, regional initiative to raise awareness and create a sense of urgency around the critical need to support locally owned businesses and restaurants, particularly in the absence of a COVID-19 vaccine. According to a U.S. Chamber of Commerce poll, a reported one out of every four small businesses is on the brink of permanently closing.
To help, the #TriadTogether Challenge calls on members of the community to shop and eat locally, to share photos on social media (Facebook, Twitter or Instagram) using the #TriadTogether and to challenge family and friends to also pledge to spend more locally this holiday season, and beyond.
"We commend the buy local campaigns initiated by the local Chambers of Commerce that have gained traction across our region," said Stan Kelly, President & CEO of the Piedmont Triad Partnership. "By coming together as a region to launch the Triad Together Challenge, we can amplify these local efforts and have an even greater impact to help local businesses get to the other side of this crisis. Together, we can make a difference and demonstrate that we support these businesses and believe in their future."
Not only do local businesses shape the fabric of our communities, but money spent locally stays in the community. For every $100 spent at a local business, $68 stays in the community.
So, whether you mask up to explore a local shopping event, pick up a curbside order, buy online, or purchase a gift card, local businesses want and need your business. Challenge others to buy local too. Together, we can make a difference for our friends, family and the future of our community.
Partners in the #TriadTogether Challenge include the Alamance Chamber of Commerce, Business High Point Chamber of Commerce, Greater Winston-Salem, Inc., Greensboro Chamber of Commerce, Piedmont Triad Partnership, Wyndham Championship and Winston-Salem Open. Participation by other local chambers and organizations across the region is expected to grow.