Winston Talent
Walter Farabee, Director of Talent Retention and Recruitment
Earlier this month, the Chamber of Commerce hosted the Winston Under 40 Leadership Awards to celebrate twenty exemplary young professionals. This was the fifth year the event has been held. Over time the number of annual applications has grown steadily.
This award is not merely a participation trophy. As usual, this year's winners are highly talented and impactful. Some of the winners' accomplishments include presenting research before Congress, providing pro bono legal services for the needy, founding a nonprofit organization, and molding young minds through education and wellness, among many other remarkable things.
The purpose of the Leadership Awards is to recognize young professionals' contributions to the community and to express gratitude for their efforts. Furthermore, these stories need to be told to let everyone know that Winston-Salem has amazing talent. Not only is this a branding tool, but it brings a sense of pride for the community. This may make the difference in the professional trajectory of these individuals and encourage others to move here for various opportunities to make an impact.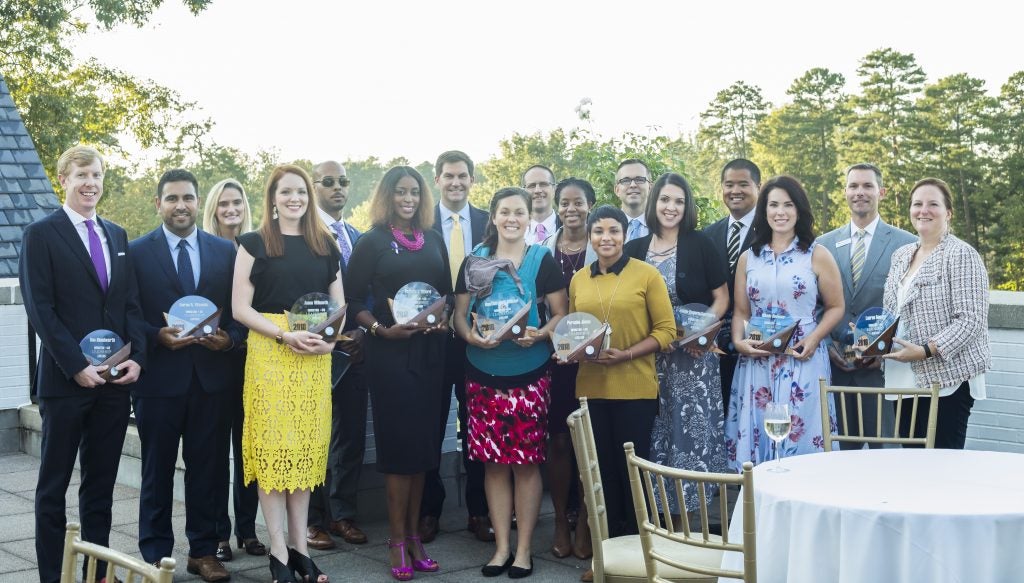 So what does this mean for your organization?
Celebrating your employees is a win-win for business. It brings attention to the achievements of employees and justifies the need for hard work. Awards are not limited to "Employee of the Month" or "Top Performer" trophies. Connecting awards to company core values reinforces and makes the values appear more tangible than just lofty themes. Not all employees deliver top sales month after month, but they may contribute greatly to the employee experience and corporate culture. These kinds of employees help make a company welcoming and an attractive place to work.
Awarding and recognizing employees' accomplishments builds pride and engagement. It doesn't make people do good work just for the sake of being celebrated. Recognizing even the small, everyday accomplishments during a staff meeting or in an email lets everyone know that their work doesn't go unnoticed. It also reinforces the fact that the small actions add together to close sales, finish projects and realize profits. Everyone benefits when others do good which builds pride and loyalty. Supportive environments are known to lead to improved problem solving and collaboration.
Let your employees know that they are valued, but don't let a good moment for publicity pass you by. Call in the media or post about the accomplishments of your employees on your website or social media. This helps to build a brand and get your company noticed. It also creates a general sense of gratitude which is important in many facets of business and life. Potential employees will see that there are amazing people already working at your company and they will want to join them.
Congratulations to the 2018 Winston Under 40 Leadership Award Winners:
Aaron R. Elizondo | Old Hickory Council-Boy Scouts of America
Alana M. James | Wake Forest University & Wake Forest Baptist Medical Center
Anna Wilmoth | Kaplan Early Learning Company
Anthony M. Tang | Wake Forest University
Ben Bloodworth | Linville Team Partners
C.J. Johnson | Winston-Salem Dash
Chris Miles, MD | Department of Family Medicine, Wake Forest School of Medicine
Christian Schroeder | Visit Winston-Salem
Dominick D. Rolle, Ph.D. | Winston-Salem State University
Evan Raleigh | City of Winston-Salem
Heather Bolt Mikeal | Leonard Ryden Burr Real Estate
Jamie Rogers | Southern Bookmarks
Jason L. Anderson | First Citizens Bank
Jessica Spencer | Forsyth County District Attorney's Office
Latisha J. Alford | Wells Fargo Bank
Lauren Rogers | Salem Academy
Lawrence Matthews | Womble Bond Dickinson
Nicole Ducouer | IFB Solutions
Will Partin | Wexford Science & Technology
Porsche Jones | BOND Basketball / Novant Health Forsyth Medical Center