After years of preparation and planning, it's finally here: The Business 40 closure. The 1.2 mile stretch of Business 40 that runs through the heart of downtown Winston-Salem is closed until 2020. Which means, the 80,000+ drivers that use this thoroughfare for their daily commute are now being redirected.
Though the affected stretch of highway only spans between the Peters Creek Parkway and US-52, the closure is impacting much of Winston-Salem, especially those who live and work inside the Traffic Relief Zone (TRZ).
While this much-needed project will modernize one of North Carolina's oldest interstates, improve safety and help alleviate congestion, it will also create challenges for employees and employers across the Triad. Putting a plan together may be critical to keeping your daily operations moving.
The Piedmont Authority for Regional Transportation's (PART) PARTnership program is one resource that can help create a plan to alleviate the difficulties associated with this project.
For starters, PART has introduced several expanded PART Express bus routes to offset the increased traffic and congestion. Routes servicing Surry County, Stokes County, Kernersville, Greensboro and West Forsyth County have all been enhanced.
That means employees or residents commuting into Winston-Salem from the north, east or west will have more chances to leave their cars behind and enjoy a less stressful daily commute on a PART Express bus.
"I'm so excited you have established this route! We have a great deal of fun on our bus, I always look forward to seeing the morning regulars and our driver. Something about the experience makes my day better. Perhaps it's the fun conversations we have, or the contagious good spirits we all share, or the relaxation we experience knowing we are in safe capable hands of Ms. Brenda our driver, but I earnestly feel folks driving in to work alone are simply missing out."
-Kenneth, Route 28 Passenger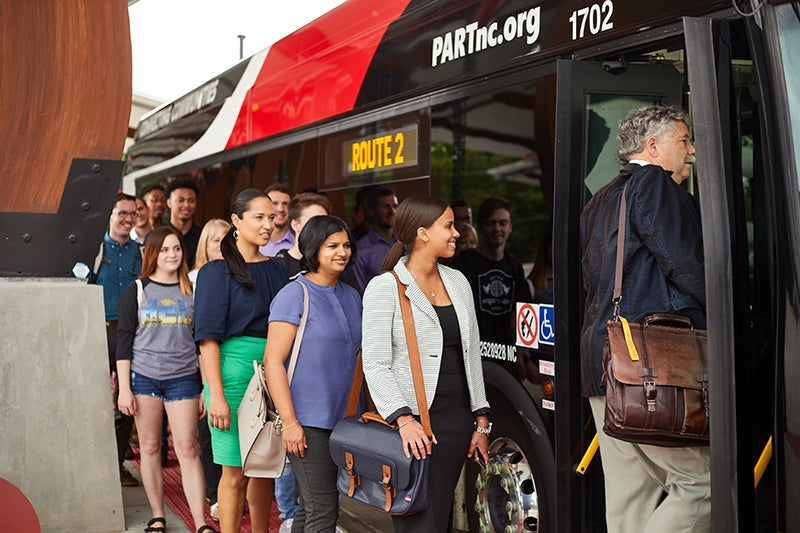 Now that all PART Express buses come equipped with free Wi-Fi, employees can also catch up on emails or prep for a presentation while on the way to work.
Employers in the TRZ can enroll for free in PART's Employer Pass program, which allows their employees to enjoy a 50% discount on 31-day or 10-ride PART Express passes for the first year of construction.
In addition, during the Business 40 closure, vanpoolers travelling into or out of the TRZ are eligible for a 50% discount on their shared monthly fare, which includes use of the vehicle, gas, insurance, maintenance and an emergency ride. Using PART's fleet of 7 or 15 passenger vans, coworkers can share responsibilities of driving and enjoy each other's company while commuting to and from work. The vanpool program provides the group with the flexibility to set their own pick-up and drop-off locations as well as their schedule.
The PARTnership program also provides direct marketing and communications support, giving you the ability to add these extra benefits into your recruiting and retention efforts.
The closure of Business 40 will be a boon to our community in the long run. But if your employees need a helping hand during the closure, contact PART to see how you can help them conquer their commutes.
To learn more, visit partnc.org/biz40 or call 336-883-7278.