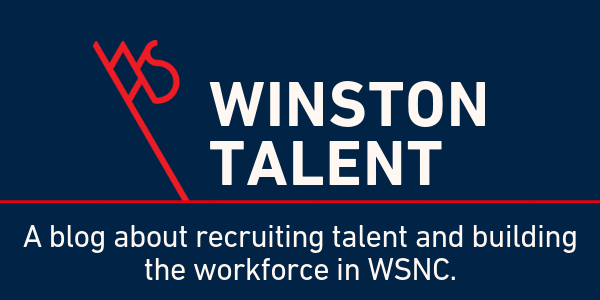 Winston Talent
The economy is steadily growing, both locally and nationally. Unemployment is low. These are great traits for a city to boast about; unfortunately, they only tell half the story. Employment rates only consider those in the population that are employed or actively searching for a job while neglecting to represent those that have given up looking for a job or that are underemployed. Employment statistics also don't highlight the number of companies that have difficulty identifying skilled workers for open positions.
When we think about the state of our local economy how do we ensure that people are getting "good" jobs? This issue is of particular concern for our young workers coming out of high school and facing a world of uncertainty. Society has groomed us to believe that a four-year college degree is the ultimate aim for education and professional preparedness but is that accurate? College is not for everyone nor should it be. Furthermore, considering the growth of student loan debt, it would behoove many to pursue other avenues that lead to a better return on investment. So if college is not the answer for all, what other option could be provided to them?
Today, many of the jobs that are the most difficult to fill are those that don't require a bachelor's degree at all. Skilled labor fields such as manufacturing, electrical, mechanics, welding, aviation, and many others are in high demand but there is a major deficit of people eligible to fill those positions. Although a formal degree may not be necessary to gain entrance into these careers, property training and particular skill sets are needed. Unfortunately, many high schoolers have not been informed about these opportunities nor have they been told that they often pay far greater than the average college graduate's starting salary.
Many students in Winston-Salem/Forsyth County Schools take career and technical education (CTE) courses that aim to "prepare students to be world-class workers and citizens in our global economy". These programs run from the sixth grade through the senior year of high school. Completion of the courses prepares students for college or community college education, as well as to enter the workforce. There are a variety of programs which include architecture and construction, information technology, manufacturing, and transportation, distribution, and logistics. The skills learned are highly valuable in the long-term but many students have not realized how marketable they presently are in the job market.
In response to the need to prepare a pipeline of workers, Forsyth County has applied to become a North Carolina Certified Work Ready Community. This initiative helps to prepare our students and workers to meet the needs of today's jobs and to retain talent for the future. It also aligns workforce development with education.  Graduating seniors of CTE programs take the ACT WorkKeys assessment to earn their National Career Readiness Certificate which identifies their level of skills proficiency which ranges from a bronze to platinum level. Companies that recognize WorkKeys utilize the certificates to identify skills that prospective workers possess and match them to the responsibilities and requirements of open positions, as well as training and apprenticeship programs.
The Winston Salem Chamber of Commerce has partnered with Forsyth County and several other organizations on this initiative which is called Work Ready Forsyth. To become a certified county, we need the input and support from many stakeholders across the community. To start the process, we need 225 local employers to sign up to support the program and to agree to recognize the National Career Readiness Certificate. This is a small request that we ask of Chamber members but it will ultimately make a big difference in our unified efforts to grow our local economy and talent base.
This new year resolve to support Work Ready Forsyth and sign your company up on our website. All industries are asked to participate considering there are so many career opportunities waiting to be realized for our young workers.