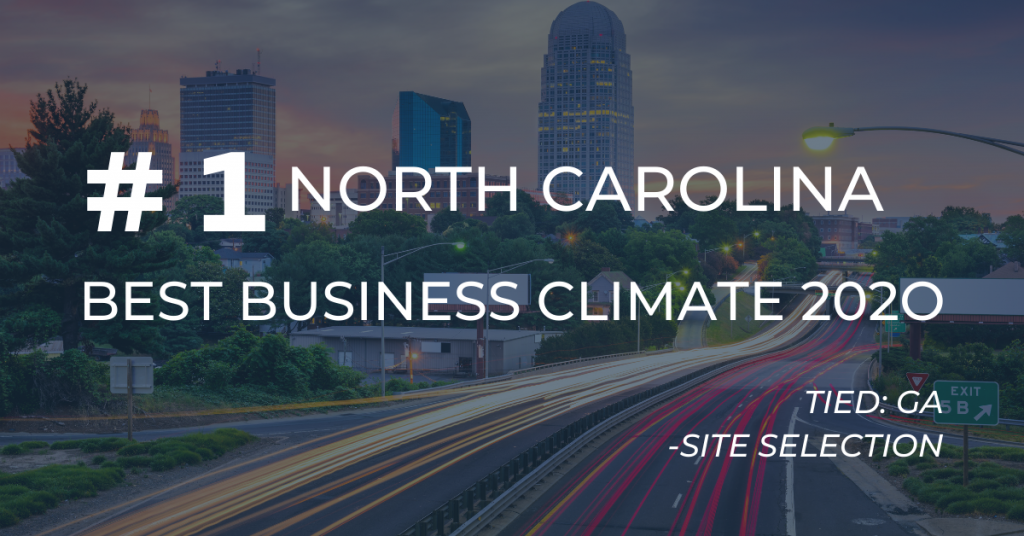 Site Selection magazine has named North Carolina and Georgia as the states with the Top Business Climates in the U.S. This is Georgia's eighth consecutive first place finish, and North Carolina's return to first place after nearly tying with Georgia in 2019.
The Tar Heel State enjoyed a six-year run in the top spot from 2005 through 2010. The November 2020 issue of the magazine lists the top 25 state business climates based in part on a survey of corporate real estate executives and in part on an index of criteria derived from data in the Conway Projects Database. Ohio ranks third followed by Texas and South Carolina in fourth place. Virginia, Alabama, Arizona, Kentucky and Tennessee round out the 10 top states.
The executive survey portion of this year's rankings has Texas in first place followed by South Carolina and North Carolina tied for second place. Georgia and Tennessee round out the top five (see the full Top 10 below).
"Our readers are keenly interested in our annual state business climate ranking, because they seek locations with the greatest prospects for success," said Site Selection Editor in Chief Mark Arend. "Georgia's eighth consecutive Top State Business Climate win reminds them that a Georgia location will contribute to their productivity and profitability long term. North Carolina is a consistently strong performer in this ranking and has demonstrated once again that is it has the business-climate attributes it takes to reach first place."
In a survey published with the rankings, workforce skills were the most important criteria to site selectors for the fifth year in a row, with workforce development programs at No. 2. Transportation infrastructure, ease of permitting and regulatory procedures and state and local taxes complete the top five.
Ranking Methodology
Fifty percent of the overall Business Climate Ranking is based on a survey of corporate site selectors who are asked to rank the states based on their recent experience of locating facilities in them.
The other 50% is based on an index of seven criteria: performance in Site Selection's annual Prosperity Cup ranking; total Conway Projects Database-compliant facilities in 2019; total new facilities in 2019 per capita; total 2020 new projects year-to-date; total 2020 projects year-to-date per capita; and corporate and property tax data from Tax Foundation's State Business Tax Index.
The November 2020 issue also ranks the top Free Trade Zones in the United States and globally. Other features include Opportunity Zones, Foreign Direct Investment in the U.S., incentives analysis and the top Ohio River Corridor locations for project wins in the past year.
TOP 10 STATE BUSINESS CLIMATES 2020
(2019 rank in parentheses)
T1. Georgia (1)
T1. North Carolina (2)
3. Ohio (3)
T4. Texas (4)
T4. South Carolina (T5)
6. Virginia (T5)
T7. Alabama (9)
T7. Arizona (11)
9. Kentucky (T14)
10. Tennessee (7)
EXECUTIVE SURVEY BUSINESS CLIMATE RANKINGS 2020
(2019 rank in parentheses)
1. Texas (1)
T2. South Carolina (2)
T2. North Carolina (3)
4. Georgia (4)
5. Tennessee (5)
6. Ohio (6)
7. California (outside Top 10)
T8. Utah (7)
T8. Virginia (10)
10. Arizona (8)
SITE SELECTORS' TOP LOCATION CRITERIA FOR 2020
(2019 rank in parentheses)
1. Workforce skills (1)
2. Workforce development (5)
3. Transportation infrastructure (2)
4. Ease of permitting and regulatory procedures (4)
5. State and local tax scheme (3)
6. Right-to-work state (8)
7. Utilities (cost, reliability) (7)
8. Quality of life (10)
9. Incentives (N/A)
10. Legal climate (tort reform) (N/A)
Source: Site Selection survey of corporate site selectors, October 2020