Smith Reynolds Airport has an $815 million impact on the local economy and supports 3,665 jobs according to a new report from the N.C. Department of Transportation's Aviation Division. 
The North Carolina: The State of Aviation report shows the economic impact of the state's 72 publicly-owned airports and their related aviation and aerospace assets. The report was created as a guide for aviation investment and to help with recruiting aviation and aerospace businesses.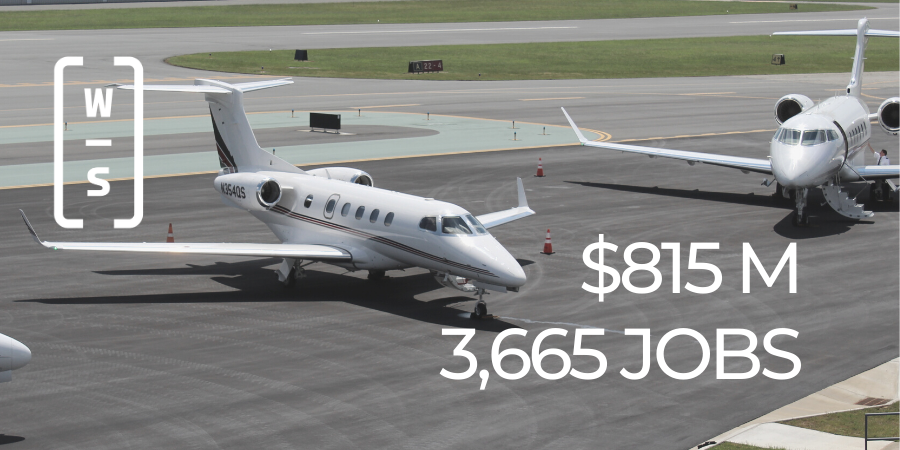 The report said Smith Reynolds, a county-owned and operated airport located on North Liberty Street, once agian created the most jobs and economic impact among the state's 62 general aviation public airports, which don't offer commercial service. The report also found Smith Reynolds contributes $231 million in personal income and $29 million in state and local tax revenue. The airport is used for corporate aircraft, air charter services, general aviation and air cargo. Its tenants include Signature Flight Support, Signature TECHNICAir, Piedmont Flight Training, Piedmont Propulsion Systems and North State Aviation, which does aircraft maintenance, repair and overhaul (MRO).
Airport Director Mark Davidson said although the biennial report used data from 2019, the majority of tenants at Smith Reynolds Airport were able to navigate the pandemic and secure new business in 2020. For instance, the county worked with its tenants to store American and United Airlines B737s on a closed runway, which helped save local aircraft maintenance jobs during the pandemic.
The report found that the state's public airports contribute more than $61 billion to the state's economy and $2.5 billion in state and local tax revenues. They also support 373,000 jobs that provide $15 billion in personal income.
"Despite the challenges of 2020, our network of 72 publicly owned airports, and the aviation and aerospace assets that rely on them, still help move our economy forward by creating jobs, supporting business growth and connecting people and companies to markets around the globe," said Bobby Walston, director of NCDOT's Division of Aviation.  
Related Links:
Aviation and Aerospace Industry Sector in Winston-Salem and Forsyth County