Residential home builder Arden Homes will move to downtown Winston-Salem's SENTINELCOMMMONS in mid-summer of 2021, adding to the roster of companies that call the renovated complex home. The firm has leased approximately 6,000 SF on the First Floor of the complex.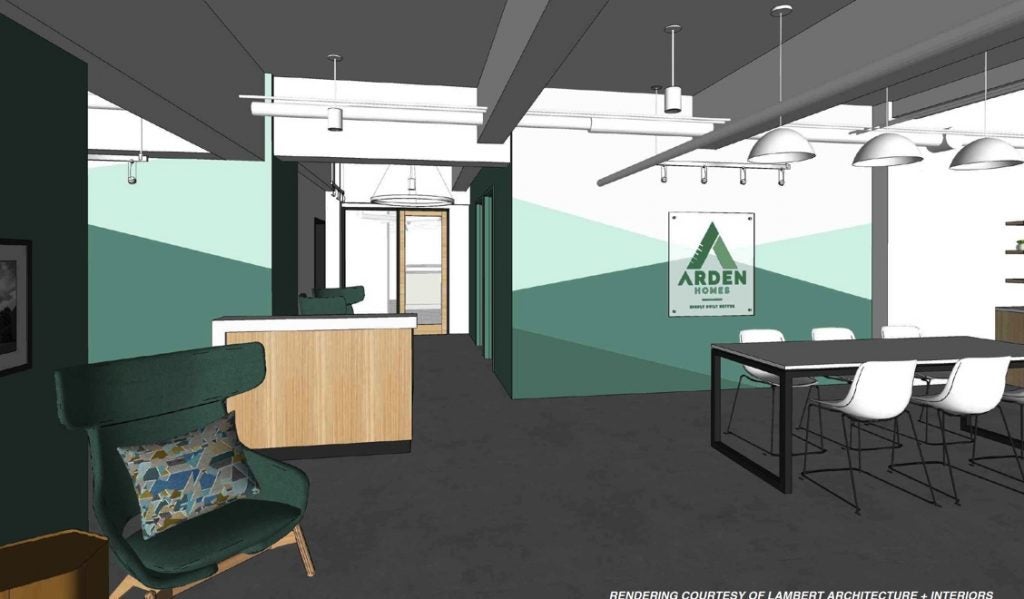 SENTINELCOMMONS is the redevelopment of the former Winston-Salem Journal property bounded by Marshall, Fifth and Spruce Streets. The Journal remains a tenant in the complex and has been joined by others including Blanco Tackabery law firm, Gemcap Development, Parks
Companies, Winston-Salem Festival Ballet, Taylor & Taylor Attorneys-at-Law and The Hispanic League. LAMBERT Architecture + Interiors is also a tenant in addition to being the designer for the overall redevelopment project and Arden's new offices.
Arden Homes was founded in 2000 and is a residential community developer and home builder with projects underway in Winston-Salem, Kernersville, Lewisville, Clemmons and King. Arden ranks as
the 10th largest home builder in the Triad with new home offerings between $200,000 – 700,000.
Aaron Lange, President of Arden Homes, said, "This keeps us central and convenient to our customer base throughout Forsyth County." An expanded home design studio will be the focal point of the new offices. Lange continued, "It also gives us a storefront retail showroom, convenient to adjacent on-street parking. It will be easy for customers to come and make selections to customize their new home exactly to their specifications."
The design studio will overlook a newly renovated exterior courtyard space on Marshall Street. "Many of the existing façade's concrete panels will be removed and replaced with new glass curtainwall, enhancing visibility and allowing ample daylight into the space while giving the overall complex a new look" stated Stuart McCormick, LAMBERT's President and project designer overseeing the redevelopment of the entire complex.
Kane Wilkerson, the building manager and project developer for 418 Marshall Street Properties, said, "We are thrilled to have Arden Homes join SENTINELCOMMONS. Their combination of professional office/design showroom is exactly the kind of tenant we're working to attract. This will
help us create a mix of uses as we expand the offerings for the types of spaces available in the complex."
Ashley Hooker of LAMBERT Architecture and Interiors is the lead designer for Arden's new space. Frank L. Blum Construction continues as construction manager for the redevelopment of the complex.