The continued growth of the Innovation Quarter includes plans for 10 buildings on 2.7 million square feet
The Innovation Quarter has released its master plan for Phase II of its development. The 28-acre site for Phase II sits on either side of Research Parkway, the majority south of Third Street and north of Salem Parkway. Upon completion, it is anticipated that the development will allow for an additional 1 million additional square feet of clinical/lab/office space. The Innovation Quarter currently comprises 2.1 million square feet of similar space.
Innovation Quarter anticipates Wexford Science + Technology, a major partner in Phase I and a global leader in developing communities that drive innovation, to play a major role in the final design and development of Phase II. The Innovation Quarter partnered with global design firm Perkins and Will to develop and design the master plan.
The new phase is centered around Fogle Commons—a linear park capable of hosting larger-scale activities like musical and arts performances, academic and corporate events, and casual play or recreation. In all, Phase II is anticipated to create 15 acres of new, programmable green space and extend the Long Branch Trail by almost half a mile, connecting it with the Third Street bridge which leads to neighborhoods in east Winston-Salem.
The master plan also allows for up to an additional 450 residential units for the growing Innovation Quarter. An additional 30,000 square feet of ground-level activation space—which would include retail/restaurant—will allow the next phase of development to have the same mixed-use atmosphere that helped the Innovation Quarter gain the distinction of "Best Practice for Creating Integrated Places" by the Global Institute on Innovation Districts in 2020.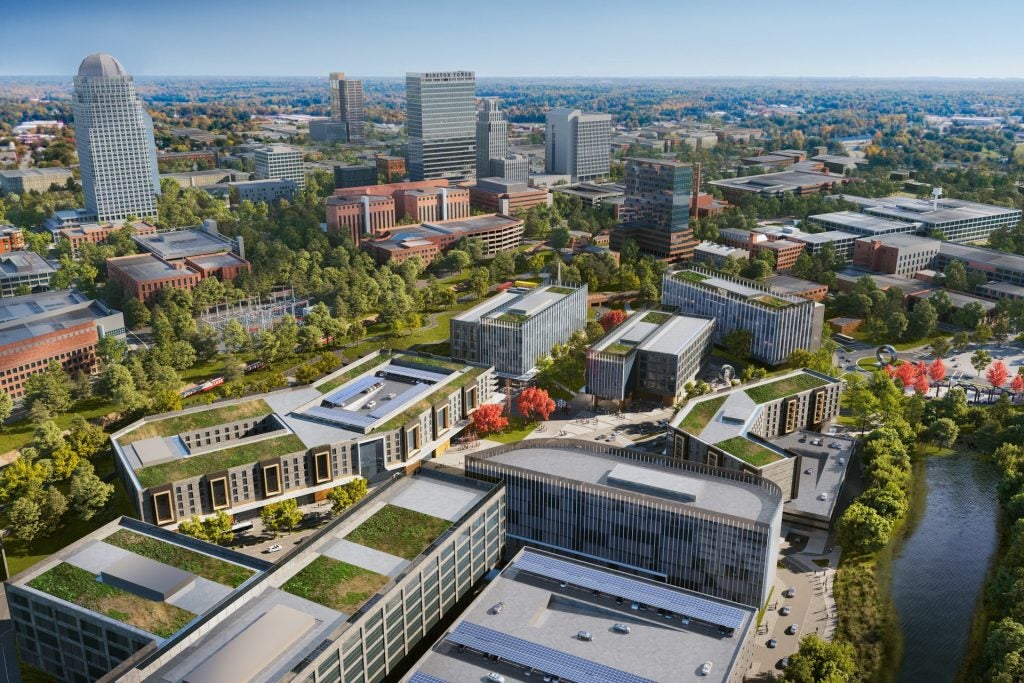 Innovation Quarter is home to the largest historic redevelopment project in the history of the state of North Carolina, according to Preservation NC, a statewide non-profit dedicated to historic preservation. Its 2.1 million existing square feet of office, lab, educational, and community spaces are home to 3,700 people working and more than 1,600 degree-seeking students. Total public-private investment in the district to date is more than $841 million.
"Phase II of Innovation Quarter's development represents great potential for growing our economy and workforce, both within the district itself and across greater Winston-Salem and Forsyth County," says Mark Owens, President and CEO of Greater Winston-Salem, Inc. "We continue to see increasing demand in our location, and this exciting announcement will expand our portfolio of available space for companies to locate and grow. When companies and talent consider Winston-Salem they are drawn to the vibrant atmosphere of the downtown core and the Innovation Quarter – the mix of creativity and innovation has become a symbol of Winston-Salem's identity. This is a city where you can find your spot, and we are certain that many will find theirs in iQ's Phase II."