International collaboration helps to facilitate US market entry in Winston-Salem/Forsyth County for Nordic digital health and MedTech companies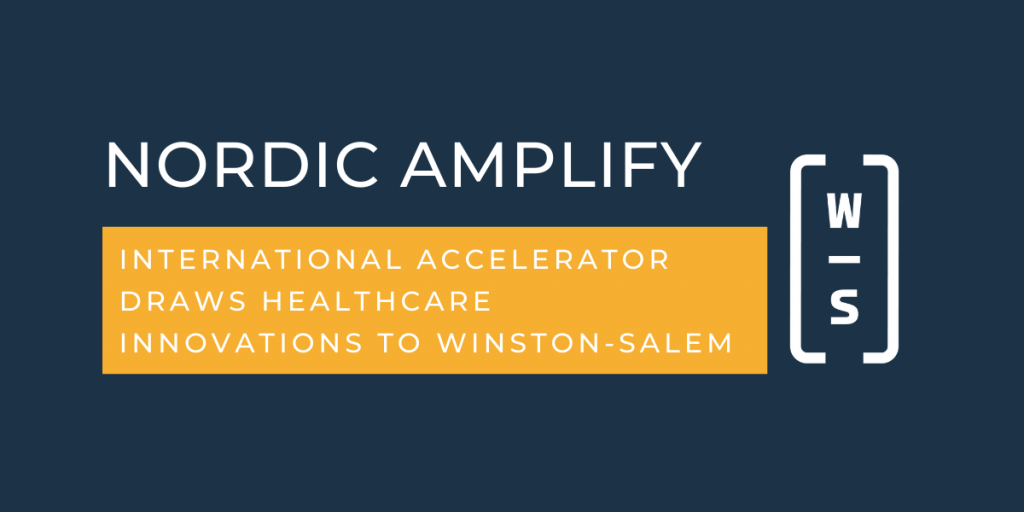 Nordic AMPlify, an international accelerator that helps prepare Nordic growth-phase healthcare companies to do business in the US market, is expanding ahead of the launch of its second cohort.
Economic development organizations (EDOs) in Denmark and Norway have become official Nordic AMPlify partners, joining Finland, Iceland, and Sweden in the program. The program will offer additional spots in the second cohort to accommodate the expansion.
"We are thrilled to be taking part in this year's Nordic AMPlify and bringing this opportunity to Norwegian digital heath startups," says Antonio Raposo, Sr., Market Advisor at Innovation Norway's New York office. "Many of our startups are interested in trying to launch in the US but have been intimidated by the complexities of the US healthcare system. We think Nordic AMPlify and our partners in North Carolina will provide these companies with the information and guidance they need to break through in the US market."
Joan Hentze, CEO of Innovation Centre Denmark in Boston says "Denmark has a strong culture for Life Science export and a flourishing Innovation Ecosystem within the Medical Device and Digital Health spheres. With our central interest in partnering with the most innovative ecosystems around the world, Nordic AMPlify represents a great opportunity to accelerate Danish innovation in North Carolina and we are proud to propose this opportunity to Danish entrepreneurs. I see a tremendous potential in the Nordic region playing a leading role in shaping the future of healthcare."
Nordic Amplify's Spring cohort held a virtual kickoff event on May 25 to share information about the program with interested Nordic companies. More than 140 participants took part in the event, which featured an introduction to Winston-Salem and the North Carolina healthcare economy by Machelle Baker Sanders, NC Secretary of Commerce and Dr. Mandy Cohen, NC Secretary of the Department of Health and Human Services.
Nordic AMPlify offers participants six months of virtual training and mentoring to familiarize companies with how to launch and expand operations in the US. It uses Winston-Salem and the Triad region of North Carolina as the ideal point of entry into the US market due to its strong healthcare and life sciences industry, entrepreneurial resources, and low costs. With healthcare as the city's leading industry, there is high market access and potential for the Nordic companies and their products and services. A network of more than 35 local professional experts enhance the program, offering advice and connections to the industry and region.
Participants have access to a comprehensive and customized online curriculum that supplements their virtual learning and mentoring sessions. An in-person discovery tour in Winston-Salem is planned for participants in both the current and upcoming cohort when travel can safely be arranged.
"Partnering with Nordic AMPlify offers an opportunity to advance our 2030 goal of attracting both life science and healthcare companies and supporting technology and high growth entrepreneurship. Growth in these industry sectors, where we already have an established presence and top talent, is a critical component of Winston-Salem and Forsyth County's economic growth," says Laura Lee, Senior Vice President of Economic Development for Greater Winston-Salem, Inc.
The Nordic AMPlify program, supported by Nordic Innovation, officially launched in October 2020 with its first cohort of 12 companies. The companies have reported a 100% satisfaction rating, noting the quality of their experience and how well it has prepared them to launch US operations.
"Nordic AMPlify focuses on clear, business-driven requirements that companies entering the US market need to understand," says Seppo Salorinne, Co-founder and Chief Product Officer Kamu Health, a member of the initial cohort. "The investor-driven selection process brings value to the companies. This is not just an exercise by the national export organizations, but a program that has U.S. know-how infused in it from the start."
"Our experience with Nordic AMPlify has been excellent. The partnership has provided Curron Ltd. access to experts, potential partners, and investors, which we expect to have a major impact on our future growth. Not only is the program tailored to accelerate entrance and growth in the US market but it also grants exposure to new capital and the opportunity to collaborate with other Nordic AMPlify companies in that process," says Valur Arnarson, Director of Marketing and Product at Curron Ldt., also a cohort participant.
North Carolina healthcare systems including Atrium Health, Cone Health, Novant Health, Wake Forest Baptist Health, and WakeMed have participated in Nordic AMPlify programming.
The program is planned and implemented through an international collaboration with EDOs in each Nordic country working together with economic, entrepreneurial, and venture capital firms in Winston-Salem and the Triad. Nordic partners: Innovation Centre Denmark, Business Finland, Business Iceland, Innovation Norway, Business Sweden, and Nordic Innovation. US partners: FCA Ventures, Flywheel, Greater Winston-Salem, Inc., and Winston Starts.
Related Links:
Technology & High Growth Entrepreneurship