Greater Winston-Salem, Inc is pleased to announce Ditra Miller as the Director of Member Relations and Engagement. In this role, Ditra serves as a key advocate for local businesses, connecting members to various opportunities to get involved in the business community and to contribute to building talent, workforce, and economic programs that advance Winston-Salem and Forsyth County.
Ditra will serve as a liaison with the Entrepreneurial Advisory Committee, the volunteer panel that oversees the MBE Grant program supporting the pandemic recovery of Black-and-Latinx-Owned small businesses.
She will lead efforts to help local businesses sustain growth through referral groups and programs for minority and women-owned businesses, startups in the entrepreneurial ecosystem, and more.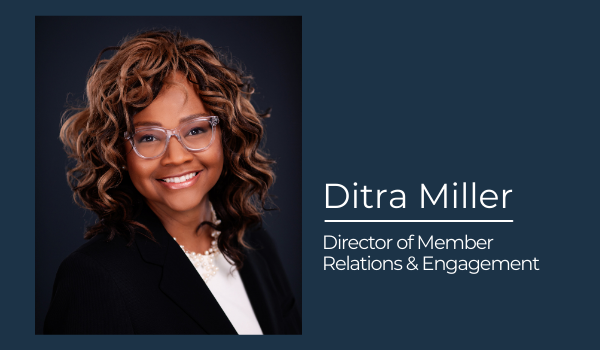 "I believe that successful companies are those that are getting involved and truly being a part of making a positive impact for everyone. The collaborative mindset of businesses in Forsyth County sets us apart, and I am thrilled to continue working to strengthen those connections," says Ditra.
Connecting the business community is central to the mission of Greater Winston-Salem, Inc., says Mark Owens, president and CEO. "Engaging businesses in our work to grow a skilled workforce, increase employment opportunities, and build a more equitable community is fundamental to our success. I'm excited to have Ditra Miller join our team and lead our efforts to bring our partners, stakeholders, and members together to reach these goals."
Prior to joining Greater Winston-Salem, Inc., Ditra served as the CEO of the Lewisville-Clemmons Chamber of Commerce. She is the founder and chief creative officer of DitraCreative Media Group and co-founder and chief innovation officer of Carolina Black Media, a media start-up with a mission to increase authentic storytelling of marginalized and underserved communities and its reach. She serves on the boards of the Better Business Bureau of Central and Northwest North Carolina and the Guilford County Board of Adjustment and volunteers at Life Community Church in Jamestown.