Approximately twenty entrepreneurs have been named as semifinalists for The Come Up, an industry-agnostic startup accelerator for Black and Brown founders. The accelerator is an expansion of Flywheel Foundation's early-stage investment program, New Ventures, in partnership with HUSTLE Winston-Salem. The program offers a world-class curriculum, investors, subject matter experts, and mentors who know what it's like to build a company as a minority.
Magalie Yacinthe, HUSTLE's Executive Director shares "our cultural competence and commitment to disrupting biases for Black and Brown entrepreneurs make The Come Up accelerator unique and positions it to be well suited to help scale people, community trust, and the bottom line of minority-owned businesses."
Adrian Smith, the Executive Director of the Flywheel Foundation says "We believe that entrepreneurship can empower our community to solve problems, though minority founders are too often overlooked by investors. Over-mentored and under-invested, Black and Brown founders have to have enormous grit and passion to bring their companies to market. We're changing the game by providing a funding mechanism for those founders."
Over the next few weeks, investors will narrow down the top 10 companies that will pitch to become the Final 5 to make up the first cohort of The Come Up. The program will begin in January 2022 with a public Demo Day in April 2022. The five finalists will each receive an average of $50,000 in equity investment. The Come Up will provide this capital to promising startups, along with an intensive curriculum, one on one coaching, and a deep network of support. 
Learn more about the companies selected as semifinalists, and let them know who your top picks are for the "People's Choice" selections: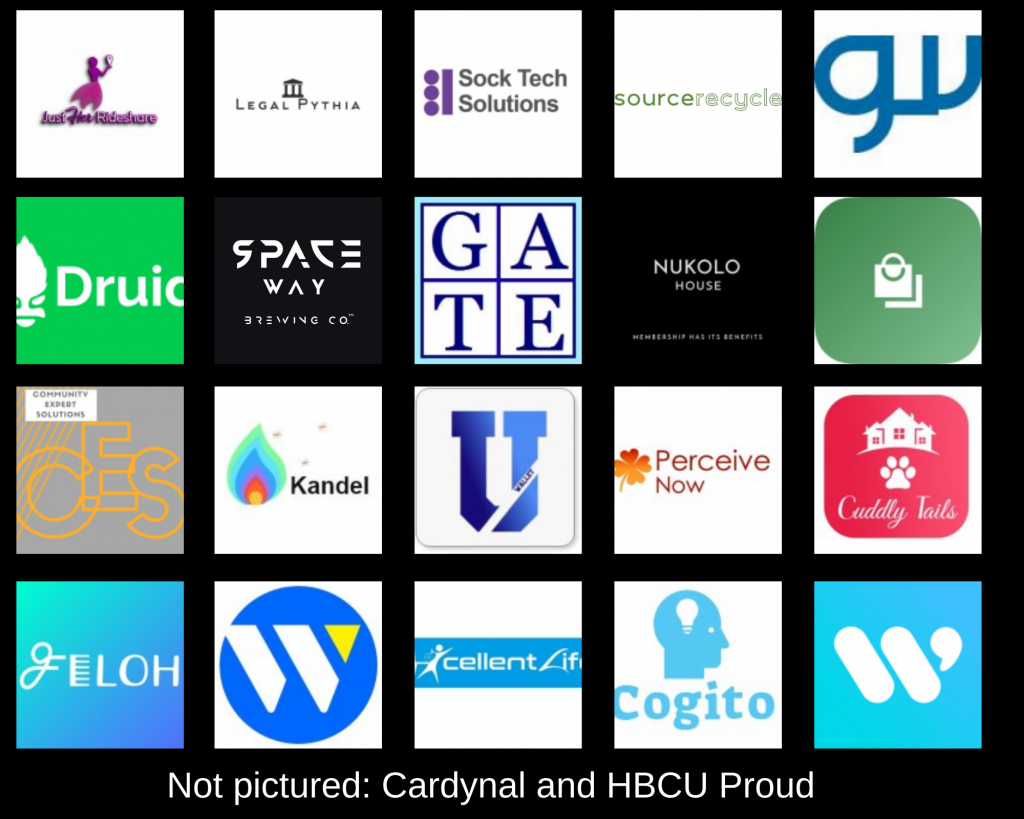 Cardynal focuses on simplifying the consumer's payment experience. How to maximize savings when paying and managing their wallet.
Cogito creates unique technologies that revolutionize how mental health is assessed and treated via mind-controlled games and devices to help people with Depression/ Anxiety, PTSD, ADD/ ADHD, Mindfulness, and Neurological Disorders.
Community Expert Solutions is a social enterprise that uses crowdsourcing to develop revenue-generating projects that solve health problems.
Cuddlytails is a technology platform for Dog Owners to connect with Neighbors who love and care for dogs.
Druid Ag builds AI-based indoor farming systems in food-insecure cities. They build farm management technology for small farmers and growers.
Feloh is a social marketplace app that unites the fragmented independent beauty industry through inclusion and the digital community.
FROGSHOP is a cloud-based e-commerce solution designed to help fitness centers launch & manage online marketplaces enhancing the overall customer experience.
GATE is a revolutionary user authentication system that retains account security.
Groopwork builds white-labeled online communities for businesses to bring their clients together in a central location.
HBCU Proud is a donor app specifically designed for HBCUs. It allows donors to contribute to their chosen HBCU or multiple HBCUs using a CRM tool for HBCU Institutional Advancement offices.
Just Her Rideshare is a safe alternative rideshare where women get to choose who they want to transport them and ride with for a safe environment.
Kandel helps companies foster culture by strengthening team relationships through fun ready-to-join team activities and analytics,
Legal-Pythia is an explainable AI software that organizes legal information.
GDot Hospitality Group (NUKOLO HOUSE) is a global coffee shop + members' club + co-working community.
Perceive Now is evidence-based, industry-centric AI focused on applied research and case study results, enables tech teams to access refined and validated R&D intelligence.
Sock Tech Solutions (Tough Cutie) is the only women-owned sock brand with a majority women-owned value chain. They integrate technical features with performance fibers to create products that support women from the ground up.
SourceRecycle, Inc. is a SaaS recycling software to reward users for sorting recyclables.
Spaceway Brewing Company, one of only five African American woman-owned and operated breweries in the U.S. (out of over 8000) and currently the only one in NC, distributes in their taproom, to grocery stores, bars, bottle shops, restaurants, and festivals.
UWallet is a student financial education platform that helps students and universities focus on better spending habits through scenario-based learning.
WATT is the world's first platform for virtual marches and the only platform that quantifies an individual's "intensity of support" for a cause. Customers refer to them as "Fitbit for a cause."
WorkCEO is aSaaS tech company innovating B2B software in the Field Service. This Industry (Field Service Management, FSM) is an amalgamation of CRM technologies, and GPS Mapping/Live tracking technologies.
Xcellent Life is an A.I. powered software platform & mobile app for Real-time Human Diagnostic. They are building a central nervous system for connecting biometric sensors, mobile applications, & software systems for healthcare & wellness applications.