Recipients of the 2022 Annual Awards Announced
Greater Winston-Salem, Inc. held its Annual Meeting on Thursday, May 19th, which included presentations of annual awards and a fireside chat with Steve Bratspies, CEO of Hanesbrands.
David Neill, Chair of the Greater Winston-Salem, Inc. board and Mark Owens, President and CEO, provided an update on Winston-Salem's economic growth, future opportunities, and progress towards the 2030 Vision: to be the top mid-sized city in the Southeast, to be a more equitable community, and to be the best place to raise a family.
Benchmarks of progress towards those goals include:
In 2021, 505 new jobs have been created and $296 million dollars in new capital investment have been generated by companies expanding and locating here.
Greater Winston-Salem, Inc. has worked with city, county, and development partners to identify over 700 acres of potential new industrial sites for future growth.
Our angel investment fund – the Winston-Salem Partners Roundtable (WSPR Fund) – is on track to invest over one million dollars in local startups within its first year.
Lifestyle and talent attraction campaigns reach more than 300,000 people in key peer and major metro markets every month.
Other initiatives including the Tech Talent Recruitment Fund, Aspire Internship Program, and Minority Business Enterprise Grants are bringing community partners to the table to support small business and workforce development now and into the future.
The evening featured a fireside chat with Steve Bratspies, CEO of HanesBrands, Inc. (HBI) Hanes has grown alongside Winston-Salem since it was founded here in 1901. Today, the multinational corporation employs 59,000 people and features a family of brands that includes Champion, Bonds, Maidenform, and more.
Steve Bratspies was elected CEO and appointed to the HanesBrands' Board of Directors in August 2020. In 2021, HBI was one of two apparel manufacturers named one of the World's Most Ethical Companies by Ethisphere and garnered a spot on Barron's 100 Most Sustainable Companies for the third consecutive year. Recently, the company has announced new global sustainability goals focused on areas addressed by the United Nations' Sustainable Development Goals under three pillars: People, Planet and Product. The company's efforts are guided by its purpose: to create a more comfortable world for every body.
The Annual Meeting also included the presentations of the Truliant Small Business Award, the Duke Energy Citizenship & Service Award, and the Allegacy Innovation of the Year Award.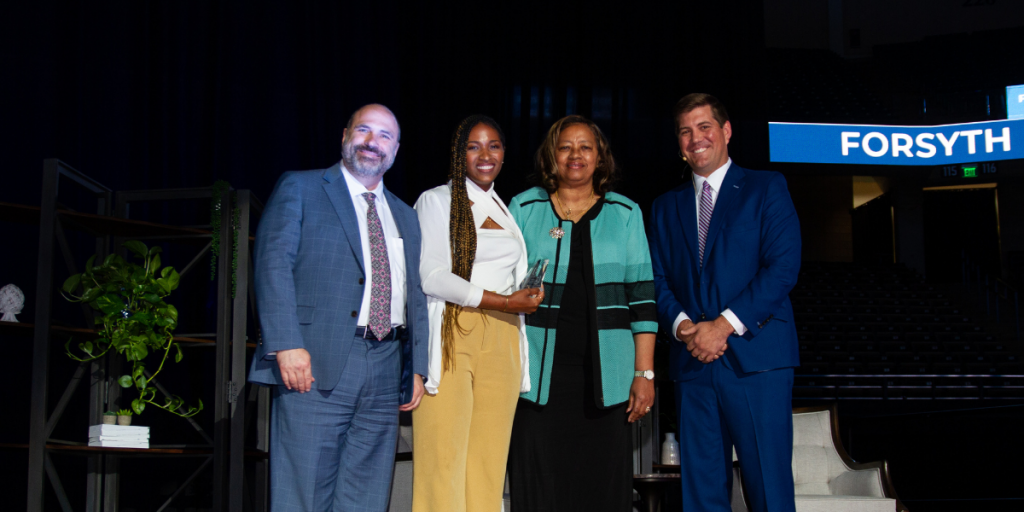 Truliant Small Business Award: Forsyth Seafood Market & Café
In its nearly 40-year history, Forsyth Seafood has become a beacon of Winston-Salem and one of our most treasured gathering places. Virginia Hardesty and her late husband Charlie, began their seafood business in 1984, expanding over the years into the 100-seat restaurant that it is today. Virginia and Charlie's daughter, chef Ashley Hardesty Armstrong, is now a co-owner along with her mother.
Duke Energy Citizenship and Service Award: Ralph Womble
In addition to serving as the Chair of the Board of Trustees for the University of North Carolina School of the Arts, Ralph Womble has also been deeply involved in many of the organizations that champion our community's civic and cultural impact. He has served on the boards of the Winston-Salem Alliance, the Downtown Winston-Salem Partnership, RiverRun International Film Festival, the Winston-Salem Foundation, and more.
Ralph Womble was also an early advocate for the Millennium Fund. 2022 marks the 20th anniversary of this visionary effort to kick-start the economic development of downtown Winston-Salem with a $45 million dollar pledge to invest in our community's future. While the Millennium Fund involved the efforts of many, Ralph Womble has remained committed to this project, and countless others, that have shaped Winston-Salem.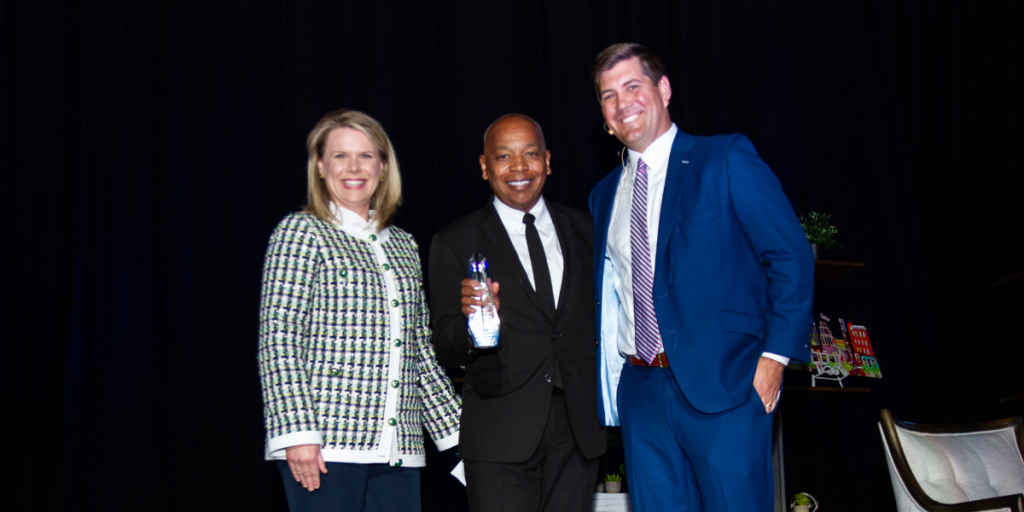 Allegacy Innovation of the Year Award: Winston-Salem State University & Adobe
Through its partnership with Adobe, Winston-Salem State University has been on the leading edge of bringing cutting-edge technological tools into the hands of students and staff. In 2018, Winston-Salem State became the nation's first HBCU to become an Adobe Creative Campus – providing the full Creative Cloud to every student and staff member. Recently, Adobe also announced a one-million-dollar grant to Winston-Salem State University as part of its new Anchor School Program. This transformative investment will help to expose students to careers in tech and prepare them with the creativity and digital skills essential to the careers of tomorrow.
The Annual Meeting is made possible by Presenting Sponsor: Bethany Medical, and Supporting Sponsors: Allegacy Federal Credit Union, Duke Energy, Truliant Federal Credit Union, and Winston-Salem State University. Photos: Robert Michael Productions.