The Order of the Long Leaf Pine—North Carolina's highest honor—has been awarded to Thomas David Neill (David) of Winston-Salem. David currently serves as the board chair for Greater Winston-Salem, Inc.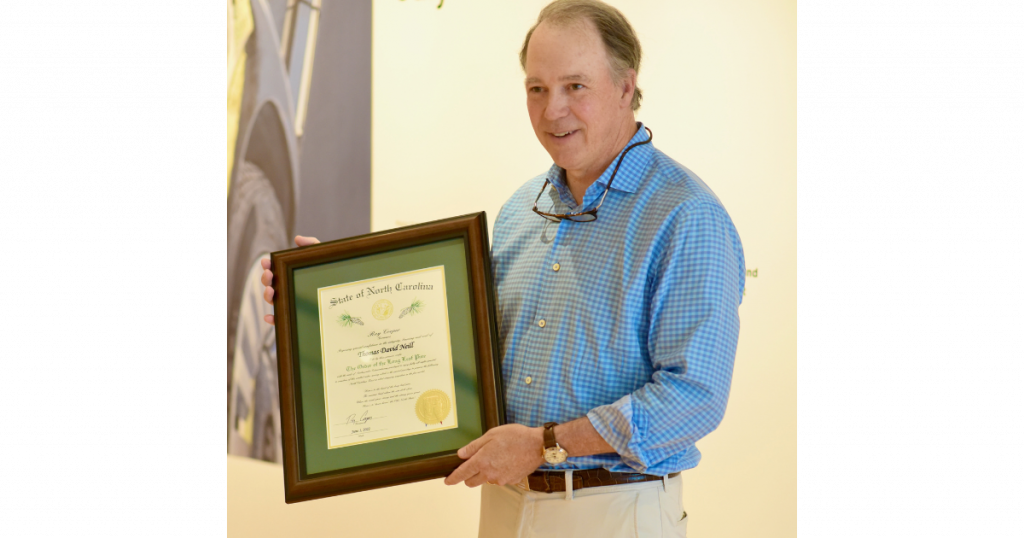 Neill is widely known for his longstanding business and civic leadership roles in the Winston-Salem area. Since 1983, he has served as president of Bob Neill Inc., a company that owns two automobile dealerships. He also has investments in four additional local dealerships. All of the dealerships have been recognized by the automotive industry for their successful operations. Neill has been a member of the Mercedes-Benz National Dealer Council for more than six years.
His community leadership includes serving on the Forsyth Country Day School board, where he currently is honorary chair of the capital campaign. Neill is current board president of Reynolda House Museum of American Art and Greater Winston-Salem, Inc. and is past board chair of Winston-Salem/Forsyth County Utilities Commission and The Winston-Salem Foundation.
In addition, he has served on the boards of Summit School, United Way of Forsyth County, Winston-Salem Business, Inc. and the Twin City Soccer Association. Neill also has been a member of the Novant Health board of trustees since 2016, a member of the Winston-Salem Alliance since 2012, a member of the Advisory Board for HopeWay since 2018, and a member of the Piedmont Triad Partnership since 2016.
"David's impact on the community is an inspiring example of leadership to everyone who knows him. As the Chair of our Board of Directors, he has been a great partner in bringing Greater Winston-Salem, Inc.'s vision to life and promoting our core mission of advancing economic opportunity for all here in Forsyth County," Greater Winston-Salem, Inc. President & CEO Mark Owens said. "I am honored that David has chosen to include our organization among the many ways he is involved in the community, and we are better for it."
Neill is a 1983 graduate of the University of North Carolina at Chapel Hill. He has been a member of the UNC Shuford Program in Entrepreneurship since 2018 and served as its inaugural board chair from 2018 to 2019. Neill received the Chancellor's Leadership Award for Meritorious Achievement in Entrepreneurship in 2021.
Neill and his wife, Scottie, have four children and one grandson. He has been a member of St. Paul's Episcopal Church since 1961 and a member of the Rotary Club of Winston-Salem since 1990.