Tuesday, September 13
11:30am-1:00pm | Benton Convention Center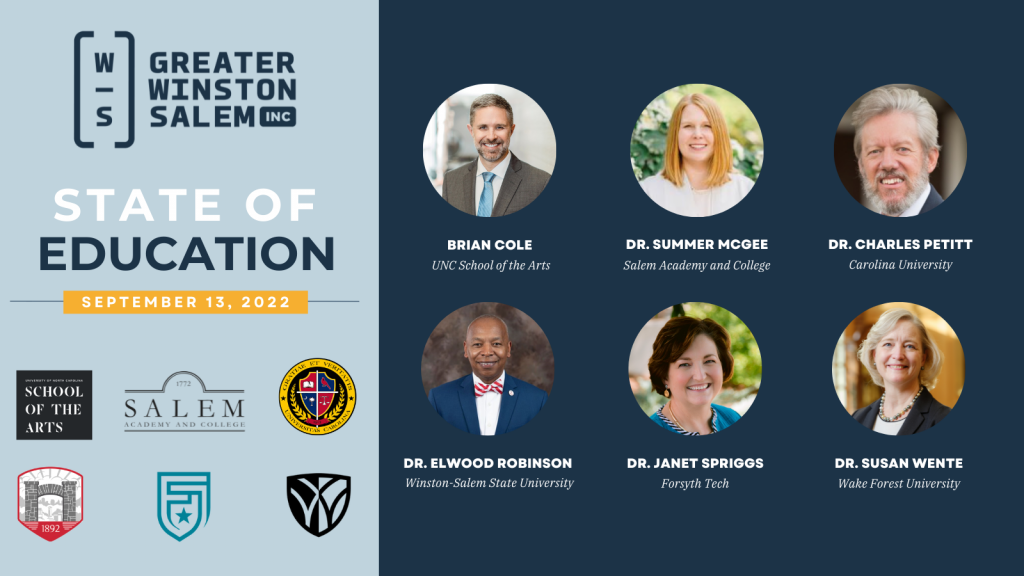 Panel Speakers:
Brian Cole, Chancellor, UNC School of the Arts
Dr. Summer McGee, President, Salem College
Dr. Charles Petitt, President, Carolina University
Dr. Elwood Robinson, Chancellor, Winston-Salem State University
Dr. Janet Spriggs, President, Forsyth Tech
Dr. Susan Wente, President, Wake Forest University
Winston-Salem/Forsyth County is home to one of the broadest and most unique higher education ecosystems in the country where six local institutions, both public and private, serve 25,000+ students each year. Our local colleges and universities attract young talent from around the country, while also connecting with local students through collaborations with Winston-Salem/Forsyth County Schools.
At this event we will bring together our academic ecosystem and the business community to collaborate on efforts to align the workforce while providing educational opportunities for everyone to succeed.
A strong talent pipeline which inspires, engages, and prepares the next generation's workforce includes alignment of opportunities for children of all ages. Superintendent Tricia McManus will provide opening remarks about WS/FCS and its integral role in cultivating talent prior to the higher education panel.