At the State of the Economy presented by Wake Forest University, we looked at Forsyth County's economic progress throughout 2022 and opportunities ahead in 2023.
Our discussion featured Mit Shah, CEO of Noble Investment Group and member of the Wake Forest Board of Trustees.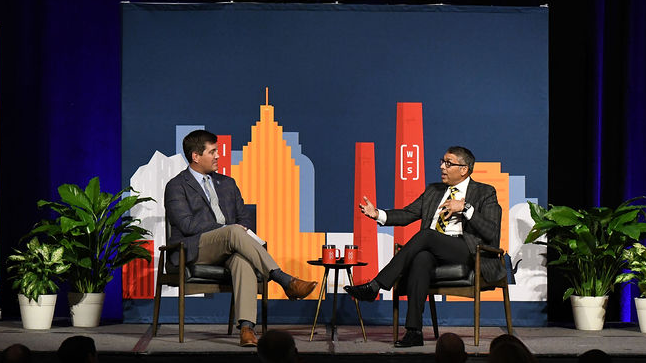 Mark Owens spoke about how our community is working towards our 2030 Vision: to be the top mid-sized city in the Southeast, to be a more equitable community, and to be the best place to raise a family.
We introduced a platform for benchmarking our progress: Greater Winston-Salem, Inc.'s Community Insights.
This online dashboard is designed to be an interactive and accessible go-to resource for our community. Data is updated in real-time as indicator sources release new figures.
What we are tracking: The Community Insights dashboard includes two primary sections: A Peer Metro Analysis that looks at Winston-Salem in context with other like Southeast metro areas, and an Opportunity Analysis that examines detailed information on Winston-Salem's demographics, workforce, economic mobility, and more.
How to use the dashboard: In Community Insights, you can explore a wealth of data visualizations. You can export data, filter the parameters on charts and graphs, download content, and link content on your own platforms.
The presentation included a look at Community Insights data and some of our wins for the year: an active pipeline of 70 projects, national recognition as one of the most affordable metro areas in the US, and more. Please use and share this data as we all celebrate our community's wins and progress! 
Sponsors
Wake Forest University
Cook Medical
Javara
Mercedes-Benz of Winston-Salem
Truliant Federal Credit Union