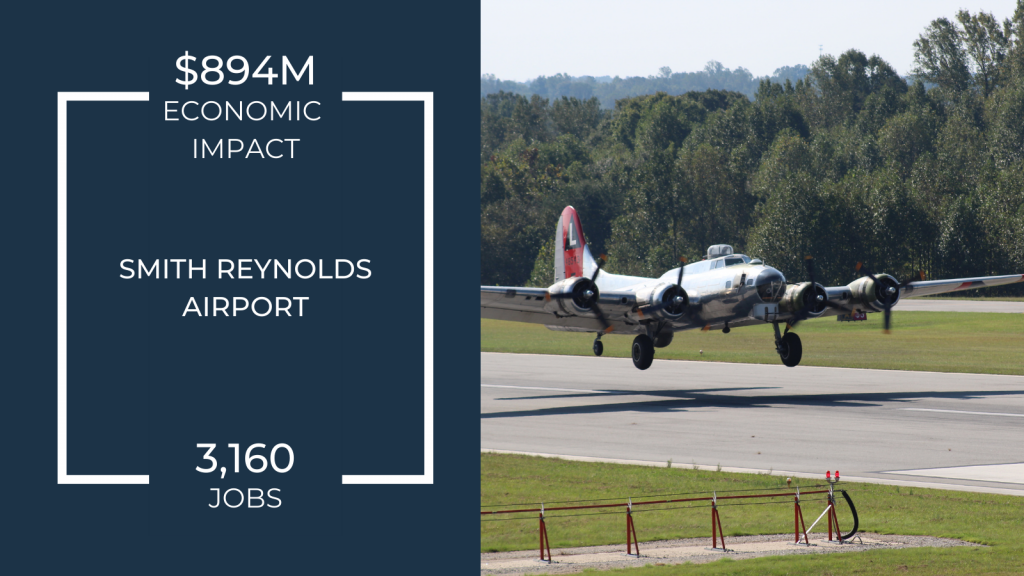 Smith Reynolds Airport is the state's leading general aviation airport for economic impact, generating $894 million of economic impact on the local economy and supporting 3,160 jobs, according to a new report from the N.C. Department of Transportation's Aviation Division. 
The North Carolina: The State of Aviation report shows the economic impact of the state's 72 publicly-owned airports and their related aviation and aerospace assets. The report was created as a guide for aviation investment and to help with recruiting aviation and aerospace businesses. 
The report said Smith Reynolds, a county-owned and operated airport located on North Liberty Street, once again created the most economic impact among the state's 62 general aviation public airports, which don't offer commercial service. The report also found Smith Reynolds contributes $213 million in personal income and $22.3 million in state and local tax revenue. The airport is used for corporate aircraft, air charter services, general aviation, and air cargo. Its tenants include Signature Flight Support, Signature TECHNICAir, Piedmont Flight Training, Look Up Aviation, Epes Transport Systems, Avis Budget Group, Aero8, Piedmont Propulsion Systems, the Forsyth Tech Mazie S. Woodruff Aviation Technology Lab, and North State Aviation, which does aircraft maintenance, repair, and overhaul (MRO).  
"Every two years we are excited to receive the Economic Impact Study since it allows us an opportunity to measure our progress. Forsyth County and our local legislators are committed to the future success of the Airport and millions are being invested in the infrastructure to keep and create jobs," said Smith Reynolds Airport Director Mark Davidson.  
The report found that the state's public airports contribute more than $72 billion to the state's economy and $3.7 billion in state and local tax revenues. They also support 330,000 jobs that provide $23 billion in personal income.
"North Carolina's aviation system continues driving the economy by connecting people, companies and communities to markets and destinations worldwide," said Bobby Walston, director of NCDOT's Division of Aviation.  
Related Links