Cathy Pace, President and CEO of Allegacy Federal Credit Union, to serve as Board Chair through 2025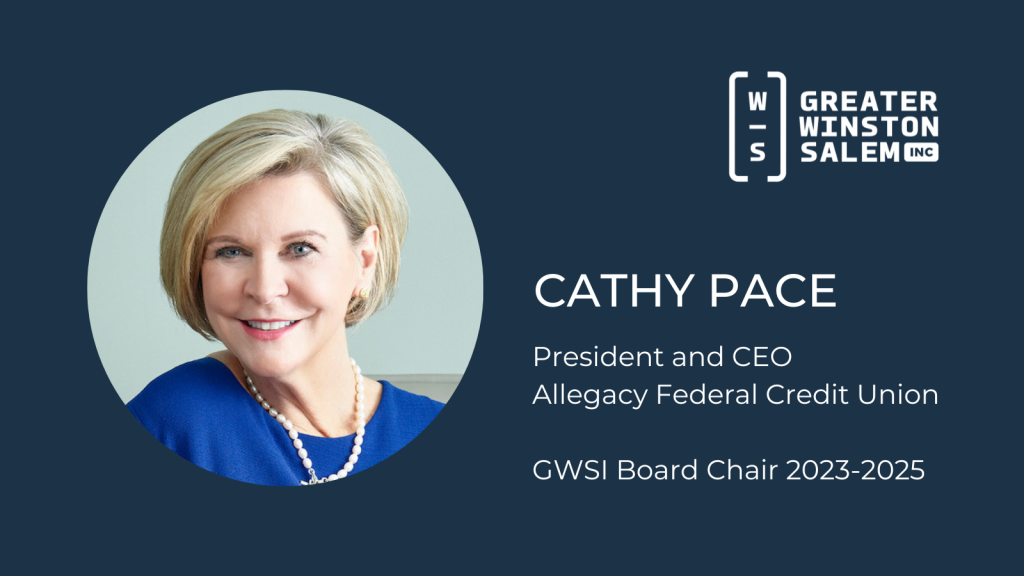 Greater Winston-Salem, Inc. announces new leadership as positions on the Board of Directors go into effect for 2023. Greater Winston-Salem, Inc.'s board provides oversight and strategic direction for the organization's initiatives. It also guides the planning and direction for the 2030 Vision: to be the top mid-sized city in the Southeast, to be a more equitable community, and to be the best place to raise a family.
The board is comprised of a number of committees focused on the development of Greater Winston-Salem, Inc.'s key initiatives including economic retention, public policy, engagement, entrepreneurialism, and emerging leaders. 
2023 Board Leadership Positions
Chair: Cathy Pace  
Chair-Elect: Mike Lancaster  
Treasurer: Aprille Bell  
Secretary: Dr. Elwood Robinson  
Immediate Past Chair: David Neill  
Economic Retention Chair: Dr. Janet Spriggs
Public Policy Chair: Sam Metzler 
Engagement Chair: Coleman Team 
Entrepreneurial Chair: Steve Lineberger 
Emerging Leaders Chair: Mamie Sutphin
"Since launching in 2020, Greater Winston-Salem, Inc. has been a major contributor to growing and expanding opportunity in the local economy," says Cathy Pace, President and CEO of Allegacy Federal Credit Union and incoming Greater Winston-Salem, Inc. board chair. "I am honored to help guide their efforts that are influential in promoting the success of local businesses and recruiting new companies and talent that help our community grow."
"Thanks to the leadership of our board and the diligent efforts of our team, Greater Winston-Salem, Inc. saw strong results in 2022," says Mark Owens, President and CEO of Greater Winston-Salem, Inc. "This includes the creation of more than 1,000 new jobs, $1.5 million invested in local startups, and welcoming more than 115 new member businesses. I am grateful to the board for their support in reaching these milestones, and I am confident that through their leadership we will continue to see a strong impact in 2023."