In the 2022 cycle of the MBE Grant program, the Entrepreneurial Advisory Committee has distributed a total of $223,000 in funding to 21 locally-owned small businesses. The MBE Grant fund was established in 2020 through private donations to promote sustained economic recovery from the pandemic and job retention for Black and Latinx-Owned small businesses in Winston-Salem and Forsyth County. The fund will allocate a total of $1.2 million over five years, culminating in 2024.
Grants awarded in December 2022 ranged from $3,000 to $20,000 per business. Award amounts were based on the applicant's requested amount and proposed use of funds, sustainability, and impact. Businesses that received grants during this cycle are in fields including construction, financial services, mental health and counseling services, transportation, early education and childcare, and more.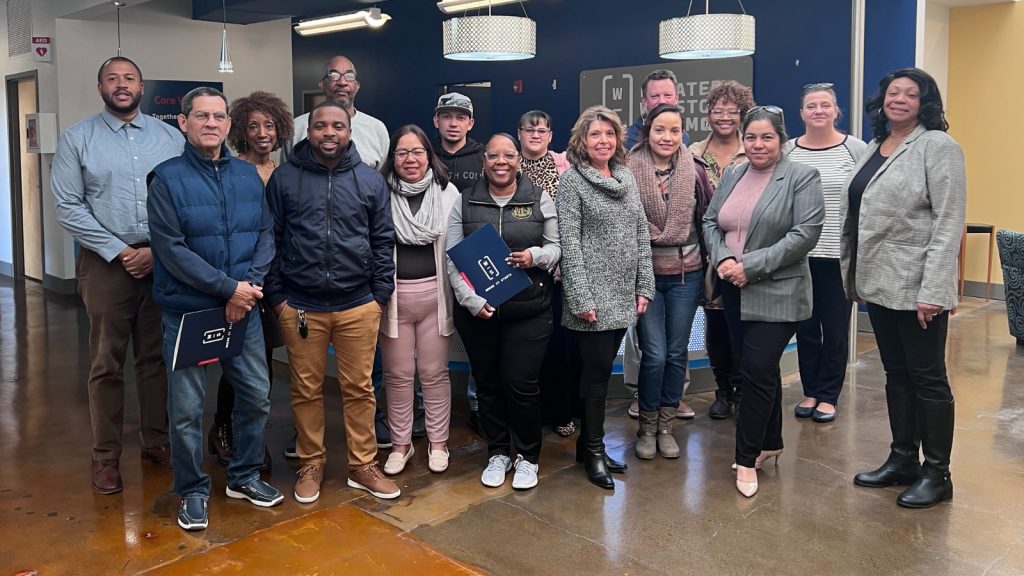 Abel Flores Masonry, Inc.
Able Transporation Services
Clean and Clear Residential Cleaning Service
Creando Familias Felices
Design Edge
Dignity Justified
Dove Inner City Notary
Dove's Inner BEAUTY
Eljean Transport Inc.
Flores Cruz Masonry Corp.
Gentileese Place – Bailey Preschool
Infinity Care
Landamur Inc.
Little Gifts Learning Academy
Ondrea Dignity Products Inc.
RubyG's Buttercreme Sensations
Sandra's Family Child Care
Sherman's Drop In, Inc.
Team J Construction
Total Enterprise Majorel
Winston-Salem Tees
MBE Grants can be used for special projects or general operating expenses such as salary, wages, lease or rent payments, working capital, and capital expenditures. Grantees will report quarterly on the use of the funds and the outcomes generated.
"Local businesses that are thriving and diverse are essential to promoting a strong local economy and sense of community," says Lorena Muñoz-Holladay, co-chair of the Entrepreneurial Advisory Committee and member of the Hispanic League board of directors. "MBE Grant recipients have been able to enhance the economy and provide new jobs while overcoming the challenges of business ownership throughout the pandemic."
"The MBE Grant program is focused on providing equitable opportunity for business development. As businesses emerge from the pandemic, the grants can open up ways for them to adapt to changing business models and better serve the needs of their clients, customers, and employees," says Bill McClain, co-chair of the Entrepreneurial Advisory Committee and member of the Greater Winston-Salem, Inc. board of directors.
In 2020, $229,000 was distributed to 21 businesses and in 2021, $219,715 was distributed to 17 businesses through the MBE Grant program.
"We have seen the impact of this program in allowing minority-owned businesses to achieve sustainable growth and success over time," says Mark Owens, President and CEO of Greater Winston-Salem, Inc. "This program, supported entirely through private local funding, is integral to our goal of being a more equitable community. I am grateful for the support of our donors and the leadership of the Entrepreneurial Advisory Committee in making this program possible."
The MBE grant program is managed by the Entrepreneurial Advisory Committee, consisting of Black and Latinx business leaders in Forsyth County. Greater Winston-Salem, Inc. provides the grant program with financial oversight and organizational structure.
Applications for the next grant cycle will be announced in the Fall of 2023.
Current donors include Allegacy Federal Credit Union, Atrium Health Wake Forest Baptist, Mr. and Mrs. Bruce Babcock, The Budd Group, Alan and Lisa Caldwell, Cook Medical, Jean C. Davis, Brenda Diggs, Duke Energy, Flow Automotive, Flow Lexus, Front Street Capital, Paul Fulton, Drew and Kelley Hancock, Javara, Bill McClain, Modern Automotive, L. David Mounts, David Neill, Novant Health, the Prim Family Foundation, Reynolds American, Ben C. Sutton, Jr., the Truist Charitable Fund, Claire and Randall Tuttle, Wake Forest University, Wells Fargo (Business) and the Wells Fargo Foundation, John Whitaker, and the Whitaker Park Development Authority.