Frank L. Blum Construction has relocated to its new headquarters on Pilgrim Court just in time to celebrate the company's 100th anniversary in May. Blum announced the expansion last August which included a $3.5 million investment and 35 new jobs. The company has a total workforce of 250 employees throughout North Carolina with approximately 130 of those positions based at the Winston-Salem headquarters.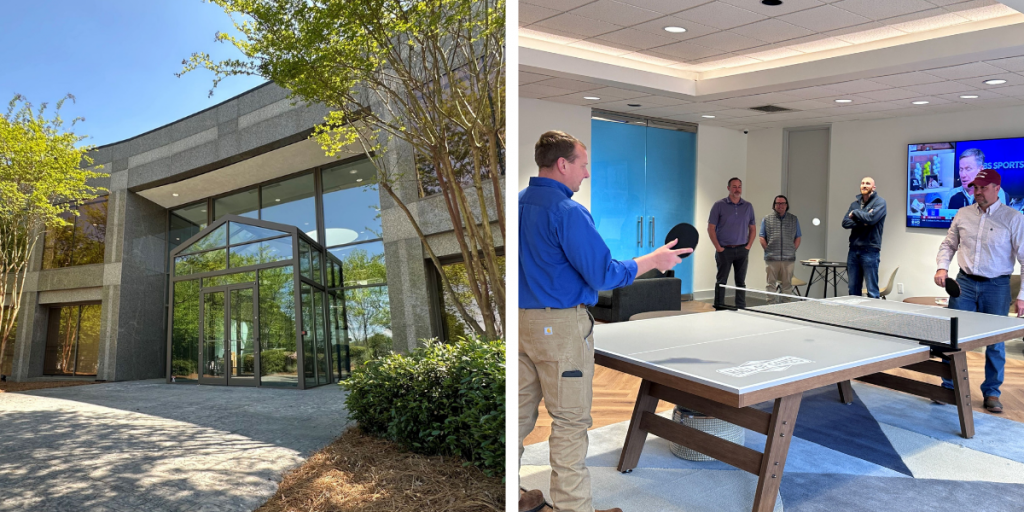 Blum Construction's purchase and renovation of the Pilgrim Court building allows the company to accommodate additional employees in various departments and provides much-needed breakout and meeting space for group collaboration. Additional features are a flexible work environment with a work café, a lounge with game tables, a mothers' room, and a large outdoor work area.

Blum Construction will continue to use its former headquarters at 830 25th Street for further expansion of its in-house equipment, masonry, drywall, and concrete divisions.
"We are thrilled about our new headquarters. It's an ideal reuse of a building in a prime location," Frank L. Blum Construction CEO Mike Lancaster said. "The new building provides ample space for marketing, human resources, and accounting operations to support all Blum locations across North Carolina. It also offers expanded space for our virtual design and construction teams as well as a variety of other corporate functions. Best of all, the building will support future job growth in the Triad.

"We're now well positioned to retain and attract a highly skilled workforce in a highly competitive industry," Lancaster added. "During our 100 year history Blum Construction has remained true to our roots as a builder. As a true builder, we understand what it takes to successfully put work in place. We're also particularly proud that we can handle key critical aspects of projects like masonry and drywall with our in-house crews to allow us to better control the craftsmanship, schedule, and cost of projects."

The move to Pilgrim Court provides ideal conditions for the company's Virtual Design and Construction arm. As an industry leader in this area, Blum Construction works to use all the latest technology to transform and optimize the construction experience by solving potential issues before they happen, virtually. Integrating the right builders with the right technology improves collaboration and communication.  

The company will mark its 100th anniversary with a special event in Winston-Salem in May and with additional events in Asheville, Charlotte, Greensboro, and Raleigh later this year.
Related Links