Deere and Company has acquired majority ownership of Kreisel Electric, an Austrian manufacturer of lithium-ion battery systems, which allows the companies to work in tandem to advance the development of hybrid and electric off-road equipment. Kreisel will locate adjacent to John Deere's existing Kernersville manufacturing facility on Mountain Street with an expansion that will generate 60-90 new jobs and more than $65 million in capital investment.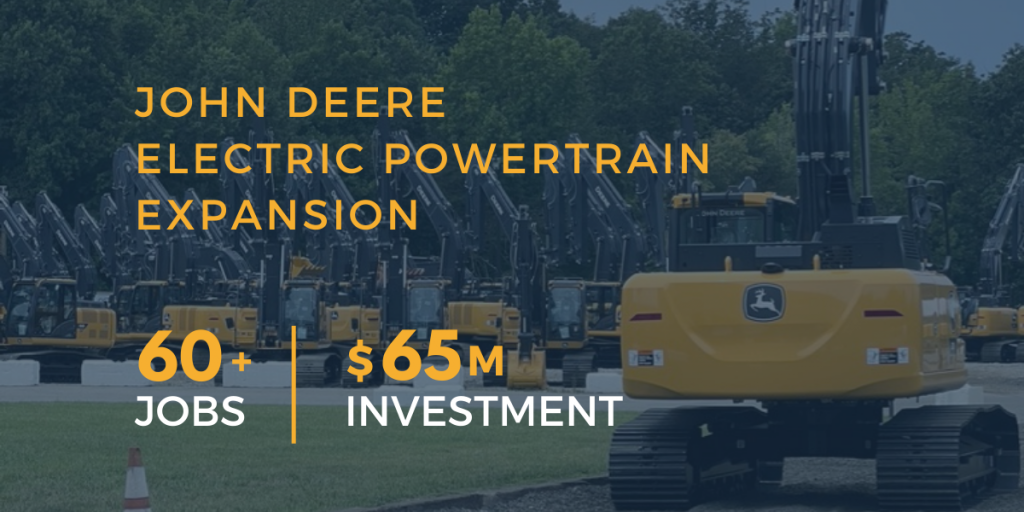 John Deere announced an agreement to acquire majority ownership of Kreisel Electric in 2021 as part of its long-term commitment to build its portfolio of low to near-zero emissions propulsion systems. This project, which brings Kreisel Electric to Forsyth County to create the North American Headquarters for John Deere Electric Powertrain, is a continuation of those efforts. In the new facility, the companies will work together to manufacture cutting-edge battery technology for off-highway applications.
"Kreisel Electric and John Deere both perceive a growing demand for more sustainable, electric-powered technology in the heavy equipment market," says Jennifer Preston, Global Director, John Deere Electric Powertrain and CEO of Kreisel Electric. "This joint venture brings together our expertise in battery technology and charging systems with John Deere's off-road equipment engineering and manufacturing excellence. It is a great match that will allow for rapid innovation in the market."
John Deere has been operating in Kernersville for 35 years and manufactures a variety of hydraulic excavators on-site. "We are a proud member of the community here in Kernersville and excited to welcome another extension of John Deere's business to Forsyth County," says Bryan Swerbinsky, Director of Operations, John Deere Kernersville.
"This project exemplifies Forsyth County's long history of excellence in manufacturing while also showcasing our region's prominence in innovation and new technologies. Interest is growing in the Triad and the Carolina Core for next-gen product supply such as electric battery systems. We have the educational capabilities to supply talent and the location and infrastructure advantages that help companies reach their customers globally. These advantages position Forsyth County on the forefront of innovation." says Mark Owens, President and CEO of Greater Winston-Salem, Inc.
John Deere Electric Powertrain plans to develop a workforce of 60-90 new jobs by 2028 with an average wage above the county average. In addition to Forsyth County incentives, the company is also working with the State of North Carolina on incentive opportunities.
"As the EV market grows, we are proud that Forsyth County leads industry adoption for construction equipment with this new headquarters," says Don Martin, Chair of the Forsyth County Commissioners. "This project highlights the importance of retaining and supporting the growth of local employers, like John Deere Kernersville, which has operated here for 35 years. As the company grows and innovates, it continues to generate new investment and jobs that benefit our community and workforce."
John Deere Electric Powertrain's expansion is expected to generate more than $65 million in total capital investment.
Related Links