ProKidney, a biotech company focused on treating chronic kidney disease (CKD), has announced that it will expand its headquarters in Winston-Salem. ProKidney will expand its footprint of manufacturing, office, and lab space in facilities on Westpoint Drive and Empire Drive. The expansion will generate $21 million in capital investment and 50 new jobs by 2027.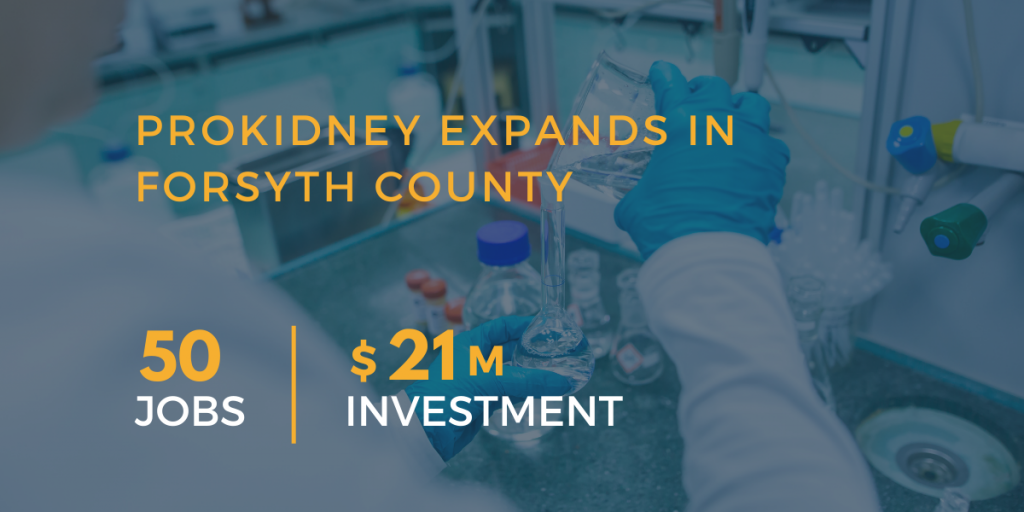 ProKidney is a clinical-stage biotech company known for its REACT (Renal Autologous Cell Therapy) Platform – a cell therapy that uses a patient's own renal cells to manufacture a treatment to stabilize and preserve kidney function. The manufacturing process, which is individualized to each patient's biopsy sample, requires highly specialized facilities and equipment that meet global regulatory requirements for cellular products.
The biotech expansion aligns with industry sector growth in healthcare and life sciences in Winston-Salem, where the Wake Forest Institute for Regenerative Medicine (WFIRM), the RegenMed Development Organization (ReMDO), and other biomedical research efforts create an R&D hub for medical innovation.
"Winston-Salem's industry concentration in regenerative medicine and biomedical manufacturing is a great asset for our continued growth," stated Tim Bertram, CEO of ProKidney. "We believe in providing a transformative clinical solution that aims to preserve kidney function, improve patient outcomes, and deliver a better quality of life for those with advanced diabetic chronic kidney disease. Being among a shared network of life sciences companies here in Winston-Salem helps us leverage resident expertise and ideas to deliver therapeutic solutions to the market more quickly."
"ProKidney's expansion represents exciting potential for regenerative medicine therapies to be translated into clinical practice," says Dr. Anthony Atala, founding Director of Wake Forest Institute for Regenerative Medicine and W. Boyce Professor and Chair of Urology. Projects such as this are the goal of WFIRM and ReMDO as we seek to provide benefits to all – patients benefit from more effective treatments and therapies, the community benefits from new capital investment and job growth."
The 50 new jobs anticipated by 2027 are primarily in manufacturing, engineering, and quality control, and would come with an average salary higher than the County average. The $21 million capital investment includes a mix of property and equipment.
"Winston-Salem is a nationally recognized leader in the field of regenerative medicine as the home of the Wake Forest Institute for Regenerative Medicine. WFIRM's commitment to advancing the field has created an exciting mix of industry growth that combines the development of new medical ideas with the manufacturing processes required to deliver them to patients. We're proud to deliver the talent pool, facilities, and industry expertise the biomedical field needs to grow and manufacture products here, and we are looking forward to working with ProKidney as they expand." says Mark Owens, President and CEO of Greater Winston-Salem, Inc.
ProKidney is seeking support from the State of North Carolina to assist with the expansion, along with incentives from the City of Winston-Salem and Forsyth County.
Winston-Salem Mayor Allen Joines says "the City of Winston-Salem is proud to support ProKidney's growth. We are grateful for their commitment to invest here and bring new jobs to the workforce that provide family-sustaining wages for our residents."
"We are seeing a growing need to provide assets suitable for highly specialized advanced manufacturing processes. As innovation across industries accelerates, we want to be ahead of the curve in delivering commercial properties that meet these needs," says Kyle Haney, Community and Economic Development Director for Forsyth County. "ProKidney is a prime example of what the future of manufacturing will look like, and we're excited to see that developing here in Forsyth County."
An estimated 38-39 million adults, representing approximately 15% of the U.S. adult population, currently suffer from some form of CKD. REACT has received Regenerative Medicine Advanced Therapy (RMAT) designation from the FDA for slowing the progression of chronic kidney disease and improving kidney function. Early studies indicate a potential for REACT to stabilize renal function. ProKidney has trials underway seeking approval by the FDA for REACT to be approved for commercial use in the U.S.