Crisis Control Ministry – Hope du Jour
On Tuesday, May 5, 2020, Crisis Control Ministry was to host its 30th annual "Hope du Jour" fundraiser, benefiting its programs and services provided to families throughout Forsyth County. Due to the Covid-19 pandemic, the fundraiser is rescheduled for Tuesday, September 8, 2020.
Over 130 restaurants, bakeries, breweries and coffee shops in Winston-Salem, Kernersville and throughout Forsyth County come together to support Crisis Control Ministry by donating 10% of their proceeeds from the entire day to the organization.
"Hope du Jour has become a great tradition in our community," said Margaret Elliott, Executive Director of Crisis Control Ministry. "With all of the restaurants being impacted by the Coronavirus and the stay at home order, we have jointly agreed to reschedule Hope du Jour for the fall. We
encourage people to support Hope du Jour partners still open by ordering takeout and gift cards."
In lieu of Hope du Jour being on Tuesday, May 5, 2020, Crisis Control Ministry is hosting May of Hope that day encouraging people to order takeout from the Hope du Jour restaurants still offering takeout, curbside pickup, and/or delivery.
Link Apartments IQ Donates to HEARD Collaborative
The Link Apartments at Innovation Quarter is donating 2% of all rent paid by May 1 to a local cause, along with offering prizes from downtown shops, restaurants, and breweries at their virtual resident events.
The Link IQ selected the HEARD program, organized by Chef Jeff Bacon, as a recipient charity. The HEARD program brings local chefs together to cook and provide meals to service industry members and families in need.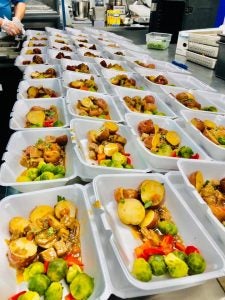 High Point Rockers Give to United Way of High Point
The High Point Rockers 2020 season, which was supposed to start Thursday, April 30th, may have been delayed due to the COVID-19 pandemic but the team is using the opportunity to embrace and celebrate members of the community and raise funds during their "Opening Week #SafeAtHome". The Rockers will be engaging with the High Point community and celebrating frontline workers through various charitable initiatives and partnerships.
"Opening Day is a time when the community traditionally comes together so what better time to introduce some positive initiatives to show our appreciation of High Point and our fans," said Pete Fisch, new President of the High Point Rockers.
The Rockers announced a new "Safe At Home" T-shirt for sale online. The pre-order shirts will be available in two different colors and can be purchased for $20, plus shipping, from now until Friday, May 15th. All net proceeds of the sale will go to benefit the United Way of Greater High Point (UWGHP) Emergency Fund. To purchase the shirt, simply slide to www.HighPointRockers.com.