Many workers have left America's largest metro areas in the past three months. Some of them will not be going back. According to the Wall Street Journal article titled "When Workers Can Live Anywhere, Many Ask: Why Do I Live Here?" anywhere from 3 to 10 percent of the workforce in large cities like New York, Chicago, Atlanta, and Seattle have relocated, at least temporarily, to smaller towns during the pandemic. Experts predict that a combination of virtual working environments and shifting ideals will lead to that change being permanent for some.
Attracting Talent to Forsyth County
With larger metros losing their appeal, Forsyth County is well poised to attract some of the workforce that's looking to relocate. Over the past year, Greater Winston-Salem, Inc has developed and implemented a talent attraction campaign that showcases the community's Lifestyle, Cost of Living, Workforce Advantages, and more.
Winston-Salem is ranked among the top 25 cities nationally in terms of Housing Affordability, according to a June 2019 index, and has a lower cost of living than Raleigh, Charlotte and many others across the country.
COST OF LIVING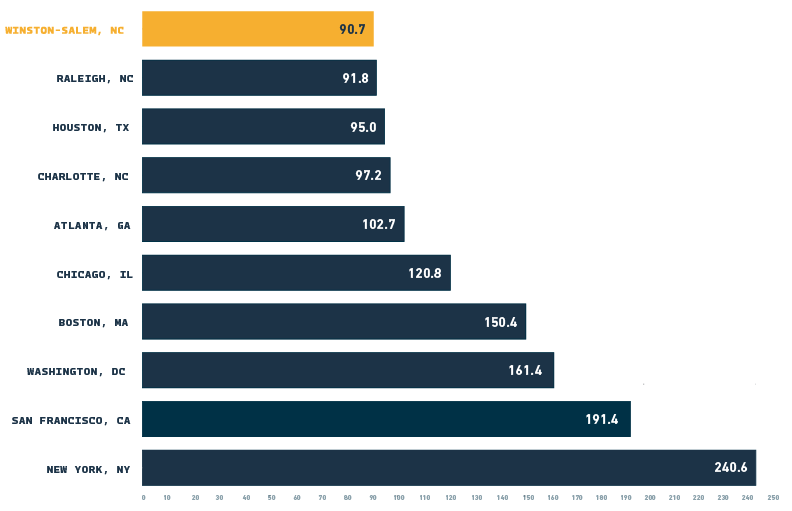 A vibrant downtown, access to recreational areas, job opportunities, and a diverse and broad array of higher education opportunities are also among the top decision-making factors for people who are choosing to call Forsyth County home.
These factors and more are conveyed in our talent attraction marketing campaign, which continues to develop and evolve as more people start to reconsider life in major metro areas. We received an CACCE Communications Award for this campaign and accompanying video.
We're also actively engaged with economic development partners across the region to coordinate economic and talent attraction efforts such as Find Your Center NC and the Carolina Core.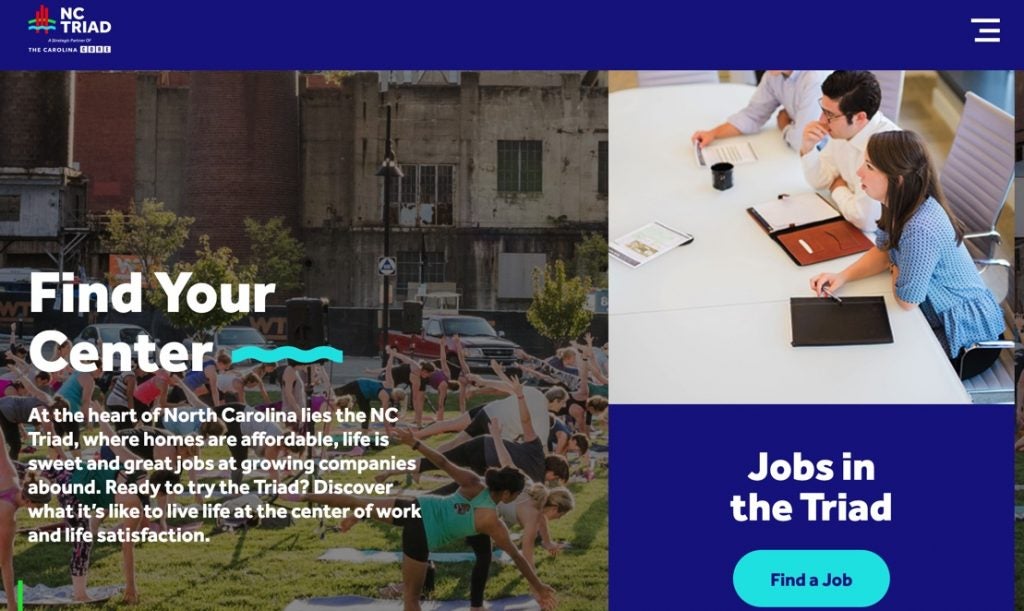 Find Your Center NC, an initiative of the Piedmont Triad Regional Council, offers a regional hub for relocation and community information, jobs, and housing information for those looking to relocate while providing local employers with information and collateral to assist with talent attraction.
This initiative is also a strategic partner of the Carolina Core, which promotes the region's globally competitive assets, infrastructure, and developable sites to economic developers and site selectors around the country and world.