The COVID-19 pandemic has created a sea change in the way that people work. Changes in company policies have many employees working from home. Early on in the crisis, the Wall Street Journal found that up to ten percent of the workforce in America's largest cities were relocating, at least temporarily, to smaller cities and towns.
More recently, a Finance Buzz survey of 1,500 American workers found that more than 1 in 4 respondents said they would consider relocating permanently because of COVID-19.
A big reason that some of these workers have considered relocating is that their jobs have transitioned to remote work. With the flexibility to work from home, where do workers want to live? A lower cost of living (41%) and less population density (29%) top the list of factors that workers are looking for in a new city.
Winston-Salem stands out for these factors and other comforts that are convenient and attractive to remote workers. When Finance Buzz ranked America's best locations for newly remote workers it found that Winston-Salem was one of the best places to live if you work from home. Winston-Salem ranked #15 on the nationwide list, and North Carolina overall ranked favorably with all five of its largest cities earning a top-25 ranking.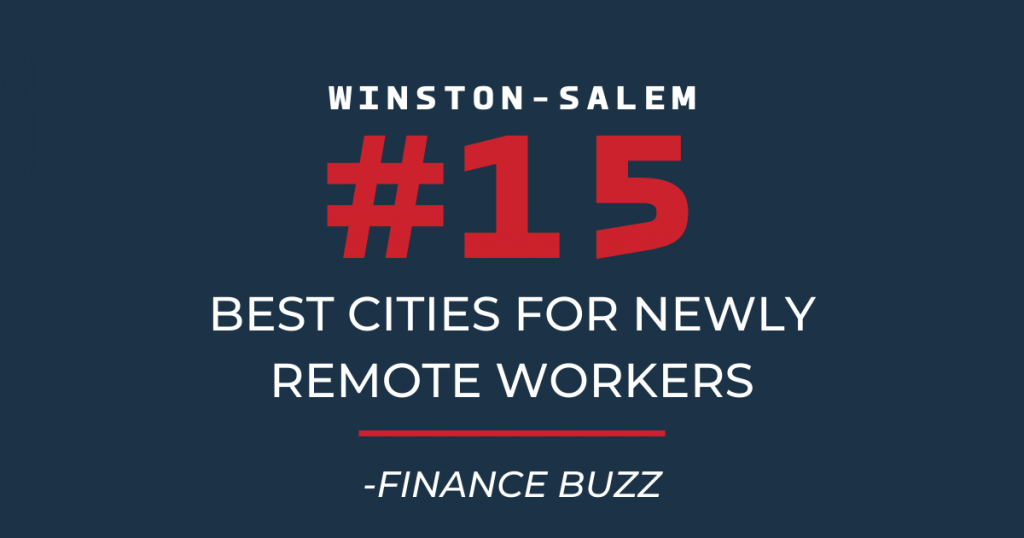 The ranking weighed factors like cost of living and wi-fi speed, but also considered amenities like green spaces, restaurant dining and delivery options, and housing costs:
Cost of living (40%)
Wi-Fi speed (20%)
Delivery options (10%)
Parks per capita (10%)
Proximity to a major airport (10%)
Affordable three-plus-bedroom homes on the market (10%)
Winston-Salem's cost of living is less than half of major metros like San Francisco and New York City – but it also stacks up well against peer cities. At 90.5% of the national average, Winston-Salem is more affordable than many Southeastern mid-sized metros like Chattanooga, TN (94.7), Greenville, SC (95.4), and Charlotte (97.9). Council for Community & Economic Research, 2019
With more than 3,500 acres of parks and 25+ miles of greenways, Winston-Salem's lifestyle offers room to explore, and our housing market was ranked one of the best in the nation.
While these characteristics are ideal for remote workers, they're also attractive to companies seeking expansion opportunities. Anywhere that a company's workforce can experience a great quality of life increases their potential to attract talent and grow.